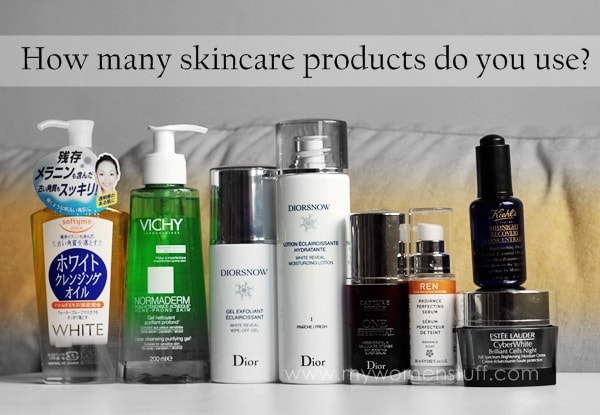 I met some people recently, and we got to talking about skincare. We were discussing various products like cleansing oils, serums and toners or lotions. I was mildly surprised (putting it mildly) when the consensus was that including cleansing, the most products the other ladies put on their faces was 3, maybe 4.
I sat there quietly counting in my head the number of products I use, and my brain shut down after 5. At any one time, I use at least 8 products, especially at night. Sometimes, its 9 if I'm doing a mask. I don't know when was the last time I did 3 or 4 and left it at that.
So, I'm curious. Just how many products do you use in your skincare routine for day and night?
The picture above is what I'm using currently for my night time skincare routine. I double cleanse as a general rule so that's 2 cleansers. I use a wipe off gel exfoliator thingy, a lotion or face spray, my pre-serum, a serum and then a moisturizer mixed with an oil. Some items may change in terms of brand, but my skin has benefited from this regime and as I've been doing this for quite a while now, I don't intend to stop.
In the day, the list is markedly shorter. A face wash, a facial spray, serum, moisturiser and sunscreen. If I skip the serum, that's 4 items already.
I'm not saying that less is more or that more is better. There are many schools of thought on this and I subscribe to none. I do what my skin likes and prefers and so long as my skin is happy, I'm happy too. I must say though that ever since I set up this sort of routine, I have been seeing better results on my skin. Does it take me longer? Not really. It never takes me more than a few seconds to pat or apply everything on in any case.
Someone with more problematic skin may benefit from using fewer products. We're all different. But it would be interesting to know just how many is your optimum number 🙂
Your Say: How many products do you use as part of your daily skincare routine?
Paris B