Everytime I see the name "Juliet" my brain immediately tags on "Romeo and…" in front of it. I can't help it. Its like when someone says "Jerry" and I think "Ben and…" Can't help it! 🙂 Please tell me I'm not alone.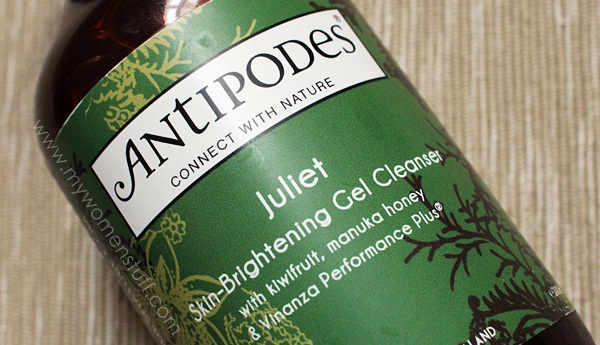 This Juliet however, isn't part of a tragic love story. In fact, I have no idea why it is called Juliet. I tried searching for a back story but there is none. None of the other Antipodes products are named after females or tragic Shakespearean heroines as far as I can tell.
This is the Antipodes Juliet Skin-Brightening Gel Cleanser, which is as the name implies, a face cleanser. Antipodes is a brand of natural and/or organic skincare from New Zealand. I say natural and/or organic, because not every product in their range is organic although they claim to be mostly natural. Its actually my first time trying a product from this brand, and when I saw that this gel cleanser is formulated with kiwi fruit and manuka honey (two of my favourite NZ imports!) I just had to see how it would fare.
Well, to start with, this is as the name implies, a gel based face cleanser. It is supposed to help reveal clear and blemish free skin thanks to – kiwifruit for its exfoliating properties, manuka honey for its antibacterial properties and Vinanza Grape for its antioxidant properties.
Well, what the combination of ingredients makes for, is a very interestingly coloured and a little strangely smelling product. The gel is a slightly translucent brown as you see in the picture. It actually doesn't look all that pleasant, if you are used to the clear gels of most skincare.
Secondly, it has a strange spicy musky smell with a hint of sourness. It actually reminded me a little of how pure manuka honey smells if you were to mix it with spices. If you take pure certified manuka honey, you will know what I mean. It smells and tastes a little sour and has that raw honey smell that you either love or hate. I love manuka honey but even then, I was a little taken aback the first time I used this gel cleanser.
Very little is enough as it will foam up a little once you add water. Not super foamy though, but enough to wash your face. What I like is that after washing, the skin doesn't feel tight or uncomfortable at all. In fact, it feels smooth. Might it be the kiwi fruit at work? I'm not sure.
However, I'm not one to believe that just by using a face cleanser you can get brighter skin, even if its what the brand promises. A cleanser only sits on your face for a few seconds before it is washed away. So really, how much can it do to brighten your skintone in those few seconds? If it really did work that way, I'd be seriously worried.
So, to me, this is a very nice non drying face wash that you only need very little of each time. That makes the 200ml bottle quite economical. I've been at this for over a month used once a day and have barely made inroads into it. I think it will easily last me 5-6 months or more. Used twice a day, I reckon 3-4 months is a safe bet.
The bottle is brown plastic and the dispenser is via a hole so you can control how much product you want each time.
I initially didn't like that. It sort of gets a bit messy if you aren't careful. I personally prefer a flip top type cap with the nozzle dispenser, or even a pump dispenser. That said, over time, I've gotten used to it and I can see the point of using this sort of dispenser. It does help you control just how much you need each time, and there is less wastage than if you go through a pump. Still, a flip top would be nice, if anyone from Antipodes is listening 🙂
In a nutshell

The Antipodes Juliet Skin-Brightening Gel Cleanser is a light foaming gel cleanser that promises to give you brighter more even toned skin. It contains natural ingredients and the brand hails from New Zealand. I like that it is a very gentle cleanser that does not strip my skin nor leave it feeling dry and tight after use. Its comfortable and that makes it nice to use. Only very little is needed each time so I anticipate that one bottle can last at least 5 months quite comfortably.

Pros: Gentle gel cleanser for all skin types, Not drying on skin, Economical to use as only very little is needed each wash

Cons: Scent may not appeal to everyone, Initial cost is pricey for some

Who will like this: Anyone who is into natural products, Anyone who is looking for a gentle face cleanser that does not leave the skin stripped and dry
I was quite happy with my first experience with Antipodes products. It might just be a face cleanser, but I've discovered that sometimes, face cleansers are the hardest items to get right in a range of products. I do still subscribe to the save on cleansers theory but if I break it down to 5 months use, it works out to about RM23/month (RM115/200ml) so ultimately, it probably isn't that bad, and I should be taking a little more care of what cleansers I put on my face. Who knows if it might contribute to drying out my skin further eh? I certainly don't need more lines and larger pores 😉
Have you tried this one? Or have you tried anything from Antipodes skincare before? Care to share your thoughts on what I might try next? I'm all ears! This wasn't exactly a love story for me, but at least it wasn't a tragedy! 😀
Paris B
Antipodes Juliet Skin-Brightening Cleansing Gel Price: RM115/200ml Availability: TNS Skinlabs stores or online
Ingredients: Aqua (water), herbal extract mixture of vitis vinifera & actindia chinensis (Vinanza Performance Plus sauvignon blanc grape seed & kiwi, Vinanza Kiwi fruit pulp), sodium cocoyl glutamate, sodium lauroamphoacetate, wheat germamidopropylnium, hydroxypropyl hydrolysed wheat protein, sodium hydroxymethyl glycinate, persea gratissima (avocado) oil, (jojoba) oil, leptospermum scoparium mel (manuka honey), hibiscus sabdariffa (hibiscus) flower extract, sodium benzoate, gluconolactone, calcium gluconate, essential oil fragrances of green apple & cardamon: benzyl alcohol*, cinnamal*, citral*, citronellol*, geraniol*, limonene*, linalool* (*component of essential oil)