Some reviews, especially anything related to skin care, can't be rushed. And sometimes, two or three is almost certainly better than one. These 2 tenets have held true for me, in trying out these Antipodes products – the Divine Oil, Hosanna Serum and Apostle Serum which I've been playing about in different ways for nearly 3 months.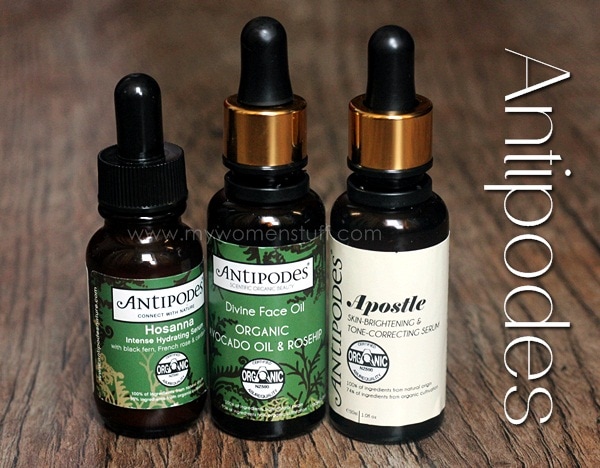 I've tried only one other item from Antipodes, a certified Organic brand from New Zealand, which is the Juliet cleanser. I liked it, and I'm still using it every morning because I like how my skin feels and how non-drying it is. I haven't experienced any change in scent or texture so I'll keep using it till that happens. It says a lot about me if I stick to a product, because I'm one of the most fickle people out there when it comes to skin cleansers 😛
I started out trying the Hosanna Intense Hydrating Serum a few months ago. By way of preliminary opinion then, I thought it really nice. It is non oily, being water based, and absorbs quickly into my skin and it did seem to help keep my skin feeling hydrated. I liked it, but I wasn't in love with it.
But then came the Divine Face Oil and that sort of changed everything. I have been on this skincare combination for a couple of months now, and I love it. I was told that this was the "3 Perfect Potions" and whilst the 3 products work well together, I prefer to only use a combination of 2 items. I'll tell you what I think of each item and then tell you which I like 😉
Hosanna Intense Hydrating Serum – RM142/25ml
This product seems to have had a name change to Hosanna H2O Intensive Skin Plumping Serum but I hope it is the same thing. 25ml does seem like very little, but as you only use about 2 drops each time, its alright, and the one bottle I have is still going strong although I've been using it daily for a few months.
The product comes in a brown glass bottle, with a dropper style dispenser. 2 drops is all you need, smoothed over clean skin before moisturiser, and it absorbs almost immediately into skin without leaving a sticky feel, and skin feels lovely and hydrated and plumped up thereafter. I was using this on its own together with other skincare for a while and it does do a good job at boosting skin hydration so if you are into organic products and want something that really does help dehydrated skin, this serum is worth taking a look at. I'm always on the lookout for hydrating products and this fit right into my routine.
The only drawback is that it doesn't smell super pleasant. The scent reminds me of the Juliet cleanser – a little musky but I, for some strange reason like it.
Ingredients: Lavendula Angustfolia (Lavender) Distillate**, Cyathea Medullaris (Mamaku Black Fern) Leaf Extract, Vitis Vinifera (Vinanza Grape Grapeseed) Extract, Naticide (Natural Preservative), Caprylic/Capric Triglyceride, Xanthan Gum, Essential Oil Fragrances Of French Rose Oil And Cardamon: Benzyl Benzoate*, Cinnamyl Alcohol*, Citral*, Citronellol*, D-Limonene*, Eugenol*, Farnesol*, Geraniol*, Linalool* (*Component of Essential Oil; **Certified Organic Ingredient)
Divine Face Oil Organic Avocado Oil and Rosehip – RM128/25ml
I know what some of you are thinking. Oils on my face? Won't that make my oily skin even oilier? Actually, that's a common fallacy and oily skin can benefit from using face oils too. The Divine Face Oil on its own does feel a bit oily and heavy. Personally, I don't like using it on its own either.
Again 25ml seems like very little, but you only need 2 drops each time, and the dropper makes is super easy to ensure you get that 2 precious drops. I only use it in the evenings, and I have only used very little from the bottle so I can expect this bottle to last quite a while. If you want to use it on its own, just drop 2 drops in your palm, smooth it between your palms to warm it up and then press on your skin and massage it in if you prefer. It is not oily once you let it absorb into skin, and makes my skin feel comfortable. You can also use it in the day, but I find it too heavy so I only use it in the evening, as my night moisturiser and it works well. My skin feels comfortable and not dry when I wake up, even though I'm in an air-conditioned room.
Again, on its own, I thought it was ok, but not wonderful. It makes my skin feel comfortable and non oily but it sort of lacked an oomph. The oil has a scent too, that again, isn't terribly pleasant but not unpleasant either. It was only after I combined it with the serums that I actually found myself appreciating how well my skin took to it 😉
Ingredients: Persea Gratissima (Avocado Oil)**, Macadamia Ternifolia (Macadamia Oil)**, Buxus Chinensis (Jojoba Oil)**, Rosa Canina (Rosehip Oil)**, Cananga Odorata (Ylang Ylang Oil), Santalum Album (Sandalwood Oil), Amyris Balsamifera (Torchwood), Jasminum Officinale (Jasmine Oil), Citrus Sinensis (Orange Oil), Benzyl Benzoate*, Benzyl Salicylate*, Citronellol*, D-Limonene*, Farnesol*, Geraniol*, Isoeugenol*, Linalool*, Vitamin E (*Component of Essential Oil; **Certified Organic Ingredient)
Antipodes Divine Face Oil
Apostle Skin-Brightening and Tone-Correcting Serum – RM208/30ml
This one is the only serum I feel "meh" about. "Meh", if you are wondering, is that feeling where you go "So, I tried it. What's the fuss then?" I used this Apostle serum on its own for a while but I found it a little drying on my skin and I don't know if there was any skin brightening or tone correcting benefits, but my skin at that point was not at its best and didn't look like it was getting better. Needless to say, I wasn't too bothered about this serum.
Truth be told, even after combining the potions as advised, I still don't find any great benefit from using the Apostle serum. Most days, I just skip it. Maybe it could work over a long term, but I'm using other products that give me much better results and better skin overall so I'm happy to skip this one totally.
Ingredients: Aqua, Aloe Vera Juice Extract, Mamaku Black Fern Leaf Extract, Gluconolactone, Sodium Benzoate, Amigel (Sclerotium Gum), Vitis Vinifera (Oxifend Grapeseed) Extract, Xanthan Gum, Vitis Vinifera And Actindia Chinensis (Vinanza Performance Plus Grapeseed And Kiwifruit) Extract, Actinidia Chinensis (Vinanza Kiwi) Fruit Pulp Extract, Rubus Idaeus (Raspberry) Oil, Gandoderma Lucidum (Reishi Mushroom) Extract, Essential Oil Fragrances Of Green Apple And Cardamon: Benzyl Alcohol*, Cinnamal*, Citral*, Citronellol*, Geraniol* (*Component of Essential Oil)
Antipodes 3 Perfect Potions… or maybe Just 2
So apparently, these 3 products – Divine Face Oil, Hosanna Serum and Apostle Serum – work very well together and form the Holy Trinity of 3 Perfect Potions. The Divine Face Oil acts as the hydrating moisturiser that strengthens skin, while the Hosanna Serum hydrates and plumps up skin and the Apostle Serum brightens and evens skin tone.
Its terribly easy to use too, just drop 2 drops of each product into the palm of your hand, blend it by pressing your palms together and then apply onto skin.
(1) Hosanna Serum (2) Divine Face Oil (3) Apostle Serum
When you blend the serums with the Divine Face Oil, the first thing you'd notice is that it stops feeling oily, and sinks into skin almost immediately. I think its because you end up with a 2/3 serum 1/3 oil ratio which is, I believe optimum for skin and absorption.
As for the Apostle Serum, remember I said it felt drying on my skin when used on its own (even with other products)? It no longer does. This combination of products makes my skin feel plumped, hydrated and very comfortable to the extent that I feel no need to use other products in the evening.
However, because I'm on the fence about the Apostle Serum, I usually skip it when mixing my potions. I do 2 drops of Divine Oil mixed with 2 drops of Hosanna Serum and I like the slightly oilier feel which sits well with my skin. It must be noted that I do have skin that is a little dry so this might be why it feels comfortable to me. It doesn't look or feel like an oil slick though. In a few minutes, its all absorbed and it looks normal.
Has it helped my skin look better? I cannot tell you. The reason is because I have taken to using a strong Vitamin C + E serum in the evenings that I credit with the improvement in my overall skin texture. However, I also use this combination of products in the evenings as my night moisturizer (my evening routine is super simple now by comparison!) and its all looking good because my skin looks and feels hydrated and firm and just looks good overall. So good, I'm not thinking of stopping 🙂
In a nutshell

Antipodes is a certified organic skincare brand from New Zealand. These three products – Divine Face Oil, Hosanna Serum and Apostle Serum – can be used separately but work very well together on skin. The Divine Face Oil is light but on its own, can feel a little heavy on skin. It however does absorb quite easily and my skin does feel very comfortable and hydrated with it on. The Hosanna Serum is a hydrating serum that is water based and very comfortable on skin. I like how it hydrates my skin and keeps it hydrated and plumped up. It is a good product on its own. I'm on the fence about the Apostle Serum which, on its own, I find a little drying and did not give me great benefit. Blended together, all three products work well, feel comfortable and absorb very easily into skin, leaving skin looking and feeling hydrated and plumped and in my case, generally looking good. I however tend to use only the Divine Face Oil + Hosanna Serum because I'm not sold on the Apostle Serum. If you only want to pick one, I'd pick the Hosanna Serum because I think it does an excellent job at hydrating skin. If you want to try a face oil, the Divine Face Oil is worth a go. I think these two are sufficient and you probably don't need the Apostle Serum.

Pros: Hosanna Serum is a very good hydrating serum that absorbs quickly into skin and plumps up skin and makes it feel very comfortable, Divine Face oil isn't very sticky nor thick and absorbs well into skin, Oil feels smooth, Divine Oil blends well with the serums and becomes less oily, Divine Oil + Hosanna Serum makes a good night moisturiser for me

Cons: Pricey, Apostle Serum felt drying on my skin when used on its own or with other skincare, Some people may not like the 'natural' scents

Who will like this: Anyone familiar with the concept of using face oils, Anyone who wants to try organic skincare that works well
I have tried a few face oils but have never really stuck to any. The one I stuck to the longest was the Kiehl's Midnight Recovery which doesn't work the same way, if you are wondering. I find that the Divine Face Oil can be likened to a face moisturiser while I treat the MRC as a serum or a booster. Its different stuff 🙂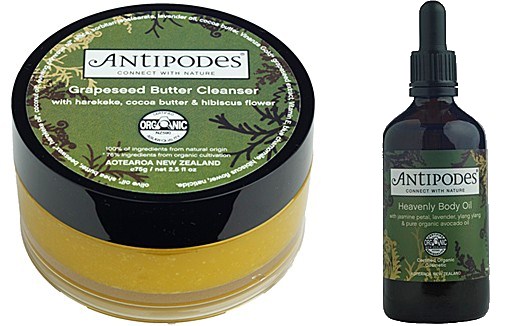 Itching to try these now!
Have you tried either of these products whether separately or together? How do you feel about using a face oil?
I must say that I've been very happy with this for use in the evenings and I haven't used a "night cream" for months now. It works well, and now that I combine it with my Vitamin C + E serum, I'm reaping huge benefits and my skin has never looked better *touchwood* I think I might have really found a keeper this time 😀 I've actually been happy with products I've tried from Antipodes and I'm thinking of trying their Butter Cleanser (looks similar to the Eve Lom one!) and Body Oil the next time I stop by the store or maybe just get them online. Yeah, me and my body oils 😀
Paris B
Antipodes is a certified organic skincare range from New Zealand : Divine Face Oil Price: RM128/25ml; Hosanna Serum Price: RM142/25ml; Apostle Serum Price: RM208/30ml Availability: TNS Skin Lab stores or online