I was passed a tube of the new Kiehl's Double Strength Deep Wrinkle Filler a while ago to try. The problem was that I did not have a very drastic wrinkle problem, and I wanted to test the claims that this product would "instantly fill lines and wrinkles while minimizing the depth of facial lines over time". So, I got a willing friend to be my guinea pig 🙂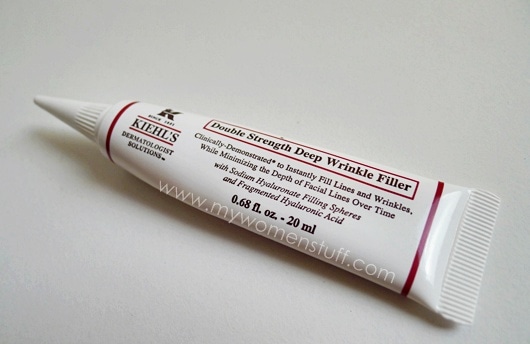 What this product is, is a concentrated cream, to fill lines and wrinkles and plump it up. With hyaluronic acid forming one of the key ingredients, I really had no doubt about its skin plumping qualities. Also how this cream works is like a spot treatment. The pointed tip makes it easy for you to squeeze the cream out along your wrinkles and lines, and then you pat in the cream and step back to be amazed. Do note that you aren't supposed to use this all over your face, only on the lines.
My friend who took it for a test run wasn't quite as convinced.