I was passed a tube of the new Kiehl's Double Strength Deep Wrinkle Filler a while ago to try. The problem was that I did not have a very drastic wrinkle problem, and I wanted to test the claims that this product would "instantly fill lines and wrinkles while minimizing the depth of facial lines over time". So, I got a willing friend to be my guinea pig 🙂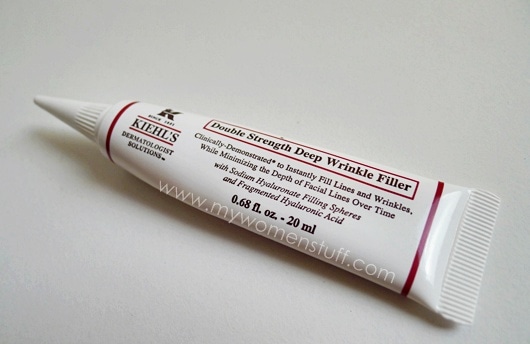 What this product is, is a concentrated cream, to fill lines and wrinkles and plump it up. With hyaluronic acid forming one of the key ingredients, I really had no doubt about its skin plumping qualities. Also how this cream works is like a spot treatment. The pointed tip makes it easy for you to squeeze the cream out along your wrinkles and lines, and then you pat in the cream and step back to be amazed. Do note that you aren't supposed to use this all over your face, only on the lines.
My friend who took it for a test run wasn't quite as convinced.
I asked if there was an immediate plumping effect, but was told that there was none that was really perceptible to the naked eye. Then again, this cream was being tested on some serious lines that had been etched into the skin for years so it would have been magic had it smoothened out the lines immediately.
Here are some before and after shots, after regular use just on those lines for about a month.

Truth to tell, if we had not taken these two pictures to compare the before and after after a month's use, we wouldn't have noticed much of a difference. In reality, the lines are still there so do take note – you aren't supposed to expect a miracle to happen. Perhaps if your lines are faint to begin with, or new, the results might be more positive. These lines have been around a while but even then, I did notice that the deepest line between the eyes had lightened significantly. The lines on the nose were less reduced.
On the forehead, the most noticeable plumping up was of the old scar that you can see on the left. On the right, it seemed to have flattened out a little. In real life, its still there, but it does look less obvious. The lines are still there, as you can see, but have also lightened.
We did not take pictures of the lines around the eyes, but there was no significant improvement there, as my friend noted. Perhaps results may vary from person to person.
So my friend's conclusion is that this Double Strength Deep Wrinkle Filler does work to plump up some lines but not others. We can't understand why this is so either. The overall results is that it works but your mileage may vary.
Pros: Deep lines appear softened with regular use
Cons: Pricey, Does not work on all lines
I personally feel that this product may work better if used in conjunction with a firming or lifting range of products so there is a better overall effect. Also, these were results shown after a month's regular use day and night and I'm told that the 20ml tube is already feeling rather flat. You might expect better results if you use it longer.
Here's the ingredient list:-
This is a new product from Kiehl's introduced early this year. Did you try it? I'm not sure if they have samples of this one, but you know the Kiehl's sampling policy – if they have a sample of it, you can request it to try 🙂 If you have tried this one, please share your experience with it too!
Paris B
The Kiehl's Double Strength Deep Wrinkle Filler retails at RM160/20ml at Kiehl's stores and counters.