A while ago, I commissioned a tub of Lavshuca's loose powder in Lucent from Taiwan. There are 2 colours available, Lucent being the translucent one while the other has a pink tone for brightening.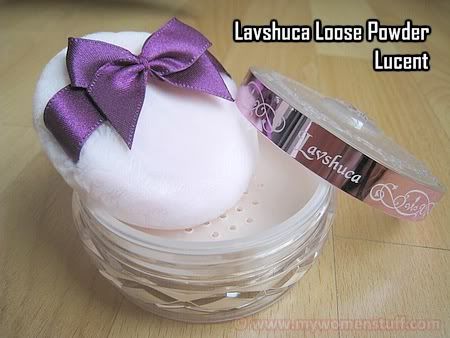 Having tried a few Lavshuca products, mainly the eye makeup, I have been far from impressed. Gorgeous Japanese packaging aside, Lavshuca has always managed to underwhelm me once I get my hands on it.
Its an expensive mistake to make too because Lavshuca is presently not available in Malaysia and is only available in Japan, Taiwan and Hong Kong. Might we see it come in soon? Its hard to say.
Lavshuca, for the uninitiated, is a drugstore brand under the Kanebo Cosmetics umbrella. They are girly with an edge but put them side by side with Majolica Majorca from Shiseido and I have to say that Majolica Majorca edges Lavshuca out in terms of product quality.
This perception changed however when I'd tried the Lavshuca loose powder. If there is one product that can rival the loose powder of any high end brand, its gotta have to be Lavshuca for me!!

My loose powder of choice thus far is Make Up For Ever super matte loose powder. This position of power has now been usurped by Lavshuca Loose Powder and I think it is going to stay that way. Here's why:-
Lavshuca loose powder keeps my skin matte
The powder is very light and satiny in feel. Patted lightly on the skin with the thick luxurious puff that comes with it, my skin stays matte and shine free all day long. I must say I don't have super oily skin to start with but my makeup has never looked as flawless as it has with this loose powder dusted over. And it stays that way till evening. I don't use a lot and you don't need a lot at all so one tub can last quite a while.
Lavshuca loose powder adds a glow
Although it says Lucent (translucent) there is some very minute shimmer in the powder. It doesn't make you shiny however, just adds an inimitable glow to the skin.
Lavshuca's loose powder looks gorgeous
Imagine that tub sitting on your plain dresser and immediately the luxury level is upped an ante. The tub is faceted plastic and comes with a plastic sifter and a luxurious powder puff. The purple satin ribbon makes it at once girly yet is functional to hold onto your hand. I always feel like a million bucks when I puff my face in the mornings to set my makeup 🙂
Presently, Lavshuca isn't available in Malaysia and I cannot remember how much this was purchased for in Taiwan – it should not have been more than RM90 for a 16g a tub. If you can get your hands on it, I say get it – you won't regret it, I'm sure. Lavshuca has changed the packaging for their new season (less pretty) and I'm not sure if the powder has been reformulated.
PJ from A Touch of Blusher too ranks the Lavshuca loose powder among her favourites and no wonder why! It's absolutely worth it!
Pros: Sets makeup well, Adds a glow, Keeps skin smooth and shine free, Looks gorgeous

Cons: Not available in Malaysia

[rating:5/5]