Most of us have heard of cleansing oils which are sold commercially under various skincare and makeup brands. These cleansing oils are oils combined with emulsifying chemicals to clean the skin of dirt and impurities. I myself am a loyal user of cleansing oils to remove my makeup at the end of the day.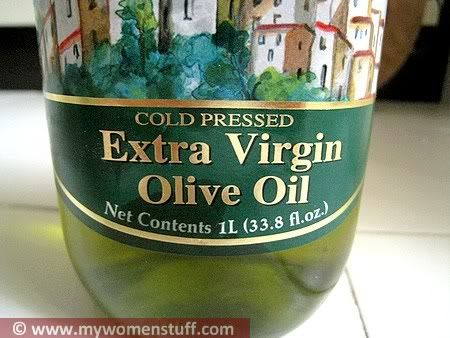 However, I've recently been made aware of something called the "Oil Cleansing Method" that has no bearing on the products I've been using. Many people who use the "Oil Cleansing Method" say that it helps their skin improve in texture and clarity keeps them blemish free.
I was intrigued – what is this "Oil Cleansing Method"?
Oil Cleansing Method
The "Oil Cleansing Method" uses oil to cleanse the skin. Not those commercial oils you find at the store, but actual oil which you can use to cook with or edible oils e.g. olive oil, sunflower seed oil, coconut oil, castor oil etc. The principle is thus: Oil is only broken down by oil. Sort of like fighting fire with fire. You use oil to breakdown the oils and dirt on the face and remove impurities from the pores.
The basic principle is thus as extracted from here:
Mix Olive Oil with Castor oil – mix olive oil into castor oil to make it easier to spread and castor oil has anti-inflammatory and healing properties while olive oil is touted to have anti-oxidant properties.
Pour the oil mix into the palm of your hand and spread on your face, massaging lightly to remove makeup and impurities from the skin. You can't rush this because these oils take a longer time to work compared with commercial cleansing oils.
Once you have fully massaged in the oils into the skin, wet a facial washcloth with warm (not boiling hot but steaming) water and place it over your face, allowing the heat and steam to soften the oils. When it cools, gently wipe your face with the wash cloth and repeat twice.
You will find that the heat from the water will remove the traces of oil from the skin and the skin ends up feeling very soft and smooth.
I tested this method myself recently after reading about it. Initially, I was sceptical. I had a bad experience with using Olive Oil as a home made oil cleanser before and I did not want to have to repeat that experience. However, after reading the many articles online about the Oil Cleansing Method or OCM, I realised that I had been doing it wrongly all along, which possibly explains why it did not work for me.
I'd missed out the crucial hot water cleansing step which is the step that actually helps with the deep cleansing and oil removal from the skin. Be careful when using hot water as water that is too hot can cause broken blood vessels on the skin which can be unsightly.
Using Olive Oil to cleanse skin
I don't have other oils on hand as I tend to cook with Extra Virgin Olive Oil or an oil blend and I did not relish going out to get a bottle of sunflower seed or almond oil or even jojoba oil which is lighter than Olive Oil just for the purposes of this experiment. So, I took the plunge with Extra Virgin Olive Oil used by itself without castor oil. Here's my experience:-Continue Reading