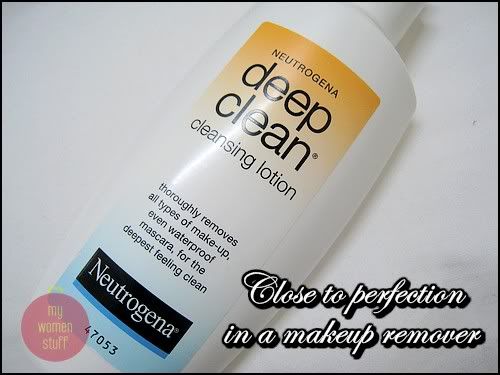 Some of you might remember my musing about how a discount can affect my purchasing patterns when I picked up the Neutrogena Deep Clean Cleansing Lotion Makeup Remover. Irrational as it was, I love it when an impulse purchase like that turns out to be a good buy. Better yet, its a bargain good buy!
The Neutrogena Deep Clean Cleansing Lotion is a true blue winner for me. I have combination-dry skin where I'm oily on the forehead, nose and chin and dry on the cheeks. Quite a common affliction in this hot and humid tropical climate we live in.
The Neutrogena Cleansing Lotion boasts that it removes all makeup, even waterproof mascara. So, I put it to the test. I'd use a piece of cotton with some cleansing lotion to clean my eye area and waterproof mascara. It cleans off eyeshadow and liner well enough but takes a bit of wiping for waterproof mascara to be fully cleaned off. So I prefer to use a dedicated eye makeup remover instead like my L'oreal Eye and Lip makeup remover. I also found that if I got the lotion into my eyes, it stings! I hate that 😛
It comes into its own when used on the face. For the face, I'd squirt 2-3 pumps of cleansing lotion into my palm, rub my hands together and then massage the lotion all over my face. I'm prepared to be generous with its use because its not bank-breaking after all.
After massaging my face with the lotion for a few minutes (its quite relaxing really), I place a piece of tissue paper over my face to soak up the excess lotion and then wipe off the residue. What I'm left with is a nice clean face. Lovely!
I do this right before I get into the shower and then I rinse my face and use a different cleanser after that. You probably don't have to but I'm used to double cleansing and I believe it gets my skin cleaner and more trouble free.
Using this method, I've not touched any cleansing oil in this time and I think I might not touch another cleansing oil after this or for a very long time more anyway. This Cleansing Lotion seems to suit my skin fine, leaving it feeling clean and moist (no dry tight feel) and might even be keeping my skin nice and clear. Best of all, its cheap as chips!
A 200ml bottle of Neutrogena Cleansing Lotion retails at RM22.90 or if you're lucky like me, you could get it for RM19.88 when it goes on sale.
Pros: Cleans off makeup well, Leaves skin feeling clean and moist, Very affordable

Cons: Stings the eyes, Waterproof mascara takes a while to remove
I groused about not finding this in a smaller size than the 200ml bottle it comes in, but now I'm grousing about it not coming in a larger bottle! Women! Can't please them eh? 🙂
Have you tried this one? Does it work for you?
Stay beautiful,
Paris B