I'd been on the lookout for a good eye cream for a while. I thought I was fine line free. Rather, I did not think I had that obvious fine lines – just like I think I'm going to be 18 forever I guess 😛 When I tried the StriVectin SD eye cream, I suddenly noticed fine lines I never saw before because they were gone! Its like how you never notice something when its there until its gone.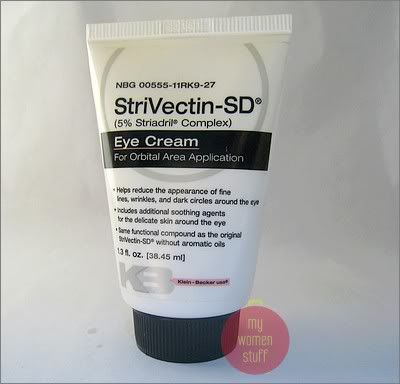 Just 1 application of StriVectin-SD eye cream and suddenly I realized that my eye area was looking smoother than I ever remembered. I was a little stunned. I never expect things to work immediately you see, but StriVectin-SD eye cream did.
The StriVectin-SD eye cream works using the same anti-wrinkle, fine line busting formula as the original StriVectin-SD for stretch marks turned anti-wrinkle buster. The difference is that its now been formulated for the sensitive eye area so the aromatics have been removed.
I use only very very little. The cream is a concentrate so you are advised to only use a dab and massage it into your eye area. I swear, the results are truly (almost) instantaneous and my eye area feels so smooth after that. Here's a visual example of what I mean (warning: big scary eye pics!).

The picture quality isn't great and my lines are very fine (for now) but it gives a fair idea of the effectiveness of the cream after 10 minutes of application.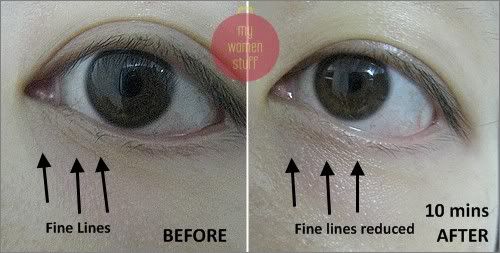 The fine lines are noticably reduced for me and yes I took the most unflattering shot I could to show this LOL… In the after shot taken from the same angle, you may notice that the lines are only slightly reduced but visibly so. I've been using this for about 3 weeks. Perhaps with prolonged usage, we might be able to say "Eh? What lines?!" 😀
It also says that it will help reduce dark eye circles. I don't have chronic dark eye circles. If I have enough sleep, my dark circles are almost non existent. When I don't have enough sleep, this cream helps a little but the results aren't quite as instantaneous as its line-erasing qualities, so I cannot quite vouch for this cream reducing dark eye circles.
I use this twice a day – morning and night. You are warned not to use it more than 3 times a day. I do have to let it set for a while before doing my eye makeup as the eye area can feel a little oily after application.
The fine line-flattening effects do last. At least while I use it. I tried stopping its usage and whatever lines I had did not come back any worse than before. I do not know how it'll work if you have deeper lines or wrinkles. Maybe I should let Mom try this hehe…
The fly in the ointment is the price. Good things do not come cheap. Anyone who has heard about the original StriVectin SD cream will know its very pricey. The eye cream is no exception.
A 1.3oz tube (approx 38ml) retails for RM295. Its pricey yes, but you use so very very little, I don't know how I'd ever finish 1 tube in a year. At a conservative estimate I'd say it should last at least 6 months. I'd say its one of those things you could splurge on if you're feeling flush or maybe put on your wishlist and hope someone gets it for your birthday or Christmas 😉 Its after all cheaper than botox LOL…
Update: There is no scent which is another reason I like this eye cream 🙂
Strivectin-SD and the StriVectin-SD eye cream can be found at Parkson Pavilion, Parkson KLCC, Parkson 1U,Parkson Gurney Plaza (Penang), Parkson Holiday Plaza (Johor Bahru), Isetan The Gardens, Metrojaya Mid Valley, Metrojaya Bukit Bintang Plaza, Escentials Tangs Pavilion and Escentials Starhill Gallery. Its also available online at StrawberryNET.com
Ingredients: Deionized Water, C12-15 Alkyl Benzoate, Sesame Oil, Caprylic/Capric Triglyceride, Cetearyl Olivate, Sorbitan Olivate, Sweet Almond Oil, Striadril TM Complex (Consisting of Palmitoyl Pentapeptide-3, Phyllanthus Emblica Fruit Extract, Siegesbeckia Orientalis Extract, Polyglyceryl Methacrylate, Propylene Glycol, Palmitoyl Oligopeptide, Glucosamine HCL, Algae Extract, Yeast Extract, Urea, Butylene Glycol, Hydrocotyl Extract, Coneflower Extract, Hydrolyzed Wheat Protein, Hydrolyzed Wheat Starch, Imperata Cylindrica Root Extract, Bearberry Extract, Licorice PTH), Glycerin, PPG-12/SMDI Copolymer, Glyceryl Stearate, PEG-100 Stearate, Stearic Acid, Cocoa Butter, Kukui Nut Oil, Santalum Album (Sandalwood) Extract, Phellodendron Amurense Bark Extract, Hordeum Distychum Extract, Meadowsweet, Hydrocotyl Extract, Amino Acids, Green Tea Extract, Shea Butter, Algae Extract, Mugwort (Artesemia Vulgaris) Extract, Plantago Lanceolata Leaf Extract, Crithmum Maritimum Extract, Phenoxyethanol, Natural Tocopherol, Mango Butter, Methylparaben, Xantham Gum, Triethanolamine, Propylparaben, Dipotassium Glycyrrhizinate, Stearyl Glycyrrhizinate, Disodium EDTA, Tetrahexyldecyl Ascorbate (Vitamin C), Retinyl Palmitate.
Pros: Works immediately to flatten fine lines and wrinkles, Leaves eye area feeling smooth

Cons: Pricey
Movie Night!
After all that help getting dark circles NOT to show up, I'm going to have a late night at the movies tonight! 😛
I can't believe that its been ages since I've been to the movies. I do want to see Harry Potter: The Half Blood Prince but the negative reviews are making me think twice. Has the movie outlived the book? I can't even remember if I read the book! I know I didn't read The Deathly Hallows though I know the ending 😉
That said, I'm seeing "The Ghosts of Girlfriends Past" tonight. It should offer just about the right mix of humor (or not) and light entertainment my brain-dead body craves. Yes. Its been a very long tiring day and I'm so glad there's going to be something to look forward to at the end 😀 Now I hope I don't fall asleep halfway through!
What have you seen at the movies lately?
Stay beautiful,
Paris B