If there's one thing I particularly love about blogging and what I do, is the incredible opportunities I've had to meet with, talk to, and pick the brains of makeup artists, skincare founders and experts in the industry. It never gets old for me, and there's always something new to learn.
It's no secret that I love prying behind and digging deep into the different aspects of beauty, makeup and skincare, and I love it when some brands recognise that and give me the opportunity to do so (for better or for worse).
Recently, during the official launch of the new Bobbi Brown store at Pavilion KL (now on the 3rd Floor) I had the opportunity to catch up with one of my favourite makeup artists out there – Felix Nguyen, Regional Education & Artistry Manager of Bobbi Brown Asia-Pacific, who I unfortunately ambushed with a few hard questions about the brand. Oops! To his credit, he didn't get flustered, and was quite open to share. The other pro makeup artist I love is Junior Cedeño of Dior, who single-handedly changed and cemented my foundation application technique for life.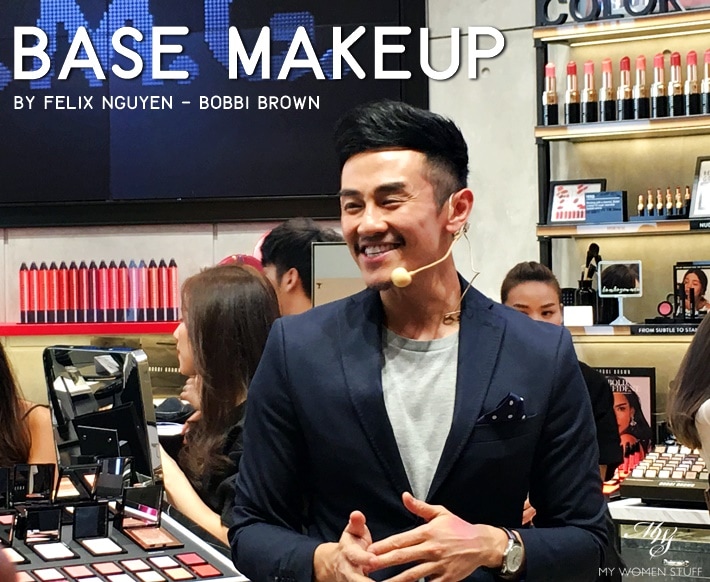 It helps that they're both hot (eye-candy helps you concentrate 😛 ). Unlike many makeup artists I've met, who are a little more distant and sometimes more aloof, Felix is friendly, and as generous with his makeup and skincare tips as he is with his boyish grins. Ok, I promise I'll stop simpering after this 😛
So, while I was there, Felix did a little base makeup demonstration and I love learning new things about base makeup, so I was taking down copious notes. Since some of you on Instagram were so kind to compliment me on my generosity with sharing knowledge, I decided I'd be generous again this time. Ahem 😛
But here's the rub. As a friend and I observed, while being back-benchers for the day, hiding behind the crowd who were there, mostly to get up close with the cute makeup artist (oops! there I go again!), the model had great skin to start with. Naturally, the thin layers of makeup, as Felix was explaining should be used, combined with his expert skills, would render her flawless without too much effort. How about picking one of us mortals, who have blemishes and all, instead? 😛
I was thinking about that, as I was writing up my post about the base makeup tips I'd picked up. So I decided I'd do you a step-by-step, to show you how he demonstrated how you can get a flawless base, but I'd use me – imperfections and all, and my rudimentary non-makeup artist skills. I really wanted to see if his tips would work for those of us at home, so I only attempted this once as you see here – without a lot of expectations 😀 It could have gone remarkably wrong.