Sometimes, when a product comes highly raved, there are 2 things that can happen – I can hate it or I can fall head over heels in love with it and declare us soulmates, BFFs, till death do us part. Ok, death is a bit extreme, but you get my meaning. Some products, you just want to use them forever and ever.
That's me and the NARS Radiant Creamy Concealer.
Well, these aren't me with the concealer of course LOL! 😀
I bought it online on the strength of rave reviews from everywhere online (Arianne, I have to blame you too!). I just HAD to get it. You know how it is – herd mentality and all 😀 I have been disappointed quite often by many NARS products so I didn't expect much from this. I picked up the shade Vanilla (Light 2), after hmming and hawing over the shade selection (ever tried to select your concealer/foundation shade online? Its bonkers I tell you!), again on the strength of recommendations from my online friends (thank you Tracy! What will I do without them?!)
Incidentally, I am quite consistently a Light 2 in NARS i.e. the 2nd lightest shade. NARS has Light, Medium and Dark and the numbers indicate the intensity. I wear their foundation in Light 2 (Mont Blanc) and now the concealer in Light 2 (Vanilla) both of which are yellow based with slight pink tones. I'd put them as being a little more neutral than other shades. I only hesitated to get Light 2 Vanilla because online swatches show it to be practically white. It isn't the case.
So NARS Radiant Creamy Concealer. How do I love thee? Let me count the ways…
#1 I love thee for your creamy lightweight texture that feels like nothing on skin
The texture of the product is very light and very creamy. Will it suit someone with oily skin around the eyes? I don't know. I don't have oily skin around my eyes and I can't help you there. The product spreads and blends very easily into skin and feels like nothing on. I use my finger to blend. It helps it set better and I never have to touch up.
#2 I love thee for having high coverage without looking cakey
The beauty about the NARS Radiant Creamy Concealer is the coverage. I have used many of these tube type concealers and quite often, I find that they thicken up and turn cakey. If they have higher coverage, they tend to be a bit thick. If they are thin and creamy, they tend to have light coverage. Well this one bucks the trend. The product is creamy yet the coverage is very good and it blends into skin like a dream. Best of all, it doesn't budge. All day. Love!
#3 I love thee for hiding my dark eye circles, redness and blemishes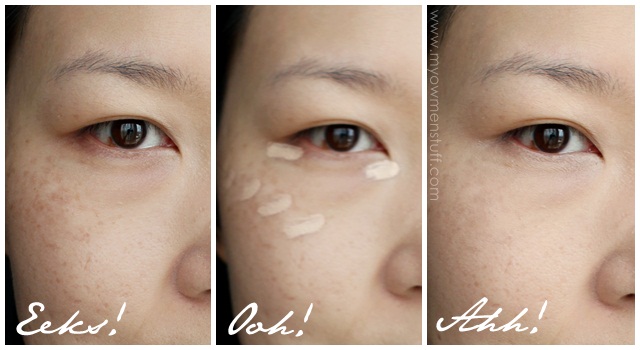 Before and after – this helps me fake having a good night's sleep and better skin
The relatively high coverage really does conceal my dark eye circles very well. The shade Vanilla suits me perfectly although it might look a bit light at first instance, but once I blend it out, it is seamless. The slightly lighter shade also helps make the eye area look brighter without ever looking fake nor does it give the dreaded reverse panda effect.
I also found that it works beautifully to conceal blemishes too. I dot it over the worst of my pigmentation and I get it 80% concealed. If I have a pimple mark, I dot it on and blend it out and it's concealed.
#4 I love thee for the radiance it gives to my skin
Radiance – not something I expect from a concealer, but this one fits the name perfectly. The product has no noticeable shimmer in it, but it gives a radiance to the skin that allows you to even use this to highlight and conceal lines. Raise your nose bridge by drawing a line down your nose and blending it out. Hide your laugh lines by dotting some product along the side of your nose and blend it out. It hides and highlights beautifully. I've even replaced my beloved Dior Skinflash with this, because this just does so many things so much better. That's saying a lot!
#5 I love thee for the portability and ease of use
It comes in a slim tube and doe foot sponge applicator. This one goes everywhere with me. I mean it. Everywhere. I have gone back to using some other concealers but I always see the failings in them and am always disappointed one way or another. They are all too cakey, too sheer, too fussy… but the Radiant Creamy Concealer ticks all the right boxes.
I find the applicator easy to use. It does pick up a lot of product, so be sure to scrape it alongside the tube opening. Then, I just dot them where I need coverage, as you see above. Don't over do it. It blends out very well so less is more. I start with one thin layer, then top up if I want even more coverage. That rarely happens.
#6 I love thee for being the perfect shade for my skin
I wear the Radiant Creamy Concealer in Vanilla – Light 2. I think it should be the same as your foundation shade. If you share my foundation shades (which you can glean from my various foundation reviews) then you too may be a Vanilla. I haven't seen the others, so I can't tell you what your shade will be so the best suggestion I have is to work out your foundation shade then look for a review from a blogger who has a similar shade. Trust me when I tell you that looking at the comparison swatches won't help. I got terribly confused and almost ended up with one 2 shades darker. Reviews are the most helpful.
Also, this was swatched with a cleaned applicator and you can see just how creamy the product is and also the radiance it gives off. This little product would quite easily be used for me to conceal my whole eye and cheek area or 2 eyes. The coverage is very good, don't over do it.
#7 I love thee for making my skin look smooth and radiant
I have read that it can settle into fine lines around the eyes so you may want to have a think about that. I don't see it happening to me. If anything, it seems to smoothen the skin where I apply it and it just helps it look so much better. I dot it on only after foundation most of the time, so my foundation already does most of the concealing. I use this for additional help, if you may. If I use a BB or CC Cream, I will use it too just to add that oomph!
#8 I love thee for being an all in one concealer!
Notice I said I use this one for the undereye area and also blemishes? I started out using this on the undereye area. Then, one day I used too much product, so I blended it out further and noticed how well it concealed my blemishes. Interestingly, it doesn't move anywhere despite it being creamy and sets to an almost powder, non budge finish. It's wonderful because now, I only ever need ONE concealer to suit ALL my needs. Value for money, yo!
In a nutshell

The NARS Radiant Creamy Concealer is for me, my Holy Grail of concealers. Ever since I got it, every other product fails to measure up in one way or another. This has thus far, been THE ONE for me and although it is pricey I'm not giving it up. I've had it since the early part of the year and I don't see me putting any dip in this one yet. A definite repurchase, over and over.

Pros: Nos. 1-8 above

Cons: Pricey, May settle into fine lines around the eyes

Who will like this: Anyone still hunting down a good creamy concealer that can serve an all in one purpose for the under eye and blemishes, Anyone looking for a concealer that does not look flat and cakey on skin and infuses skin with radiance while doing a good job at concealing
NARS Cosmetics in Malaysia!
Normally, I'd end off by saying "I wish NARS was here so everyone can share my love for this product" but this time, I won't because NARS will be in town come November this year! Hip hip hurray! 😀 Malaysian fans can look out for the store popping up in Pavilion KL come November with a few more slated to open after that. I know NARS colours will get everyone hyperventilating (ahem Orgasm anyone? :P) but I'm less of a fan of their colours and more of a fan of their base products.
So, I'm throwing this out there. I've tried quite a few NARS products in my time and some have been reviewed here but if you'd like me to give a quick run down of my thoughts on the products I've tried and used over the years before the store opens, let me know and I'll line up a few reviews (which I should have done a long time ago, but never did due to inavailability) 🙂
Now, are you as in love with the NARS Radiant Creamy Concealer as I am? If you have it, it will be helpful to have an idea of your foundation shades and the corresponding concealer shade you use, so it can help other readers out there!
I love it, as you can see from my breathless raves. I could toss out every single concealer in my drawer right now, and live with just this one. THAT'S how much I love it 😀
Paris B
NARS Radiant Creamy Concealer comes in 10 shades Price: US$28/15ml Availability: Anywhere that sells NARS online (I got it from Kissandmakeupny) and soon at the NARS store in Pavilion KL from November 2013