If there's one thing I particularly love about blogging and what I do, is the incredible opportunities I've had to meet with, talk to, and pick the brains of makeup artists, skincare founders and experts in the industry. It never gets old for me, and there's always something new to learn.
It's no secret that I love prying behind and digging deep into the different aspects of beauty, makeup and skincare, and I love it when some brands recognise that and give me the opportunity to do so (for better or for worse).
Recently, during the official launch of the new Bobbi Brown store at Pavilion KL (now on the 3rd Floor) I had the opportunity to catch up with one of my favourite makeup artists out there – Felix Nguyen, Regional Education & Artistry Manager of Bobbi Brown Asia-Pacific, who I unfortunately ambushed with a few hard questions about the brand. Oops! To his credit, he didn't get flustered, and was quite open to share. The other pro makeup artist I love is Junior Cedeño of Dior, who single-handedly changed and cemented my foundation application technique for life.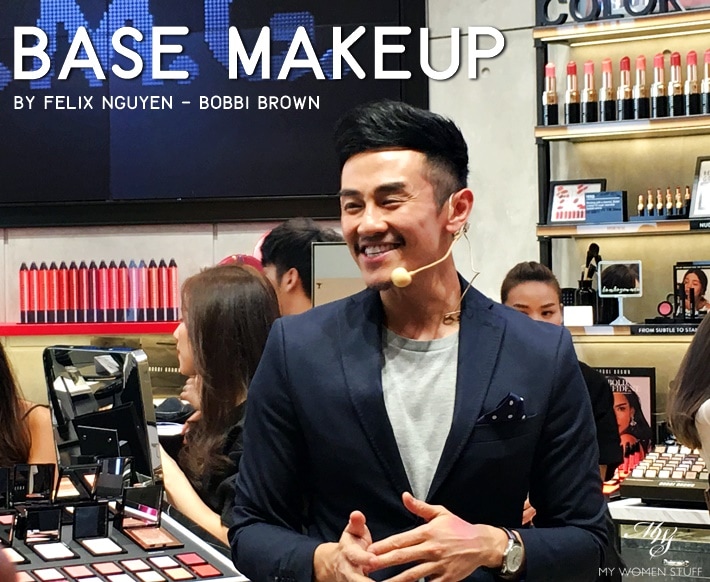 It helps that they're both hot (eye-candy helps you concentrate 😛 ). Unlike many makeup artists I've met, who are a little more distant and sometimes more aloof, Felix is friendly, and as generous with his makeup and skincare tips as he is with his boyish grins. Ok, I promise I'll stop simpering after this 😛
So, while I was there, Felix did a little base makeup demonstration and I love learning new things about base makeup, so I was taking down copious notes. Since some of you on Instagram were so kind to compliment me on my generosity with sharing knowledge, I decided I'd be generous again this time. Ahem 😛
But here's the rub. As a friend and I observed, while being back-benchers for the day, hiding behind the crowd who were there, mostly to get up close with the cute makeup artist (oops! there I go again!), the model had great skin to start with. Naturally, the thin layers of makeup, as Felix was explaining should be used, combined with his expert skills, would render her flawless without too much effort. How about picking one of us mortals, who have blemishes and all, instead? 😛
I was thinking about that, as I was writing up my post about the base makeup tips I'd picked up. So I decided I'd do you a step-by-step, to show you how he demonstrated how you can get a flawless base, but I'd use me – imperfections and all, and my rudimentary non-makeup artist skills. I really wanted to see if his tips would work for those of us at home, so I only attempted this once as you see here – without a lot of expectations 😀 It could have gone remarkably wrong.
Except of course, as you'll see, it didn't go wrong and I surprised myself!
For this purpose, I wanted to show you that while Felix used Bobbi Brown products (naturally), you can use anything you already own. Will BB like me saying this? I don't think so, but I'll say it anyway 😛 Also, even if you're not a makeup artist, like me, you too can do this! 🙂
So, first thing I did was get everything I needed in one place:-
A corrector (optional to be honest) – Bobbi Brown Intensive Serum Corrector
A concealer – Nars Radiant Creamy Concealer
A light-medium liquid foundation – EX1 Invisiwear Liquid Foundation
A stick foundation (optional) – Bobbi Brown Stick Foundation
A pressed or loose powder – Bourjois Healthy Balance Unifying Powder
2 brushes – 1 foundation brush, 1 powder brush
It looks like a lot of products, but you only use very little of each. The trick is really, layers. Thin layers, for a natural, flawless finish. Incidentally, it fits my current motto of makeup application so I was already doing something similar, except I'm not as clever to execute it as cleverly as a professional makeup artist does 😛
TIP 1 – PREP YOUR SKIN
First thing that Felix recommends is that beautiful makeup starts with beautiful skin. So, be sure you prep your skin with skincare properly. He recommends a drop or two of facial oil, massaged into the skin, which he says, helps makeup sit better. Dry skinned gals, take note because this might be a game changer. I used to blend a drop or two of oil into my foundation – the glow is beautiful and it actually helps your makeup stay on better too. Ironic, I know. But hey, whatever works! 🙂
TIP 2 – CORRECT AND CONCEAL
According to Felix, if you don't feel like having a lot of makeup on, sometimes, a corrector and/or concealer is all you need, just to take away the tiredness, especially from around the eye area. So, start with a corrector to neutralize the redness and dark eye circles, and then a concealer that acts as a bit of a highlight and to cover.
I personally don't use a corrector. Bobbi Brown is known for their correctors, but I find it an unnecessary extra step. That said, when I DO use a corrector, it often makes a difference. But I'm just too lazy – not ashamed to say so 😛 I tested this out using the Bobbi Brown Intensive Serum Corrector in Bisque. I feel it to be a bit more peachy than I like and I'd call it and say it's optional. BUT if you use this technique, it can be an essential step.
That's me, bare skinned with just my usual skincare and sunscreen. By no means am I model material, which is why I had to see how effective this technique was.
Dot corrector under the eyes, then use your fingers to blend out, patting into skin. I used the Bobbi Brown Intensive Serum Corrector in Bisque.
Then, dot on concealer where you need it. I used my favourite NARS Radiant Creamy Concealer in Vanilla on the under-eye area and along the tops of my cheeks, and then blend it out with fingers. Pardon the out of focus shot – I only realised it after I was prepping these photos and couldn't be arsed to take another shot. You get the idea.
That's just with corrector and concealer around the undereye area and along my cheeks. Ok, Felix was right. I could be quite happy to just live with this on a no-makeup day, with a dusting of powder.
TIP 3 – FOUNDATION
For the rest of the face, Felix suggests that you use less foundation, for a more natural appearance of skin. You don't want to mask your skin. So, use a light-medium liquid foundation (he used the Bobbi Brown Skin Foundation), squirted onto the back of your hand, and then use a foundation brush, blending it on the back of your hand, working the product into the brush to give you better coverage.
Felix also used a flat paddle brush, but I detest flat paddle brushes so I used the Real Techniques Expert Face Brush instead for this purpose.
PRO TIP: If your foundation is streaky, or you see foundation lines or brush strokes on your skin,you likely have too much foundation on your skin or too much on your brush. Wipe off the excess and then blend it out.
Now, apply the foundation, starting where you need it most. This is usually in the middle of your face, blending outwards to your hairline.
You may notice that it's the center of your face that sometimes has the redness, around the nose and cheeks. Applying foundation in this area also "lifts" the complexion, and gives the appearance of a highlight. You also usually need less product around the sides of your face. If you use the same quantity all over your face, it looks flat.
You'd be surprised that using this tip of working the foundation into the brush before applying, I actually used very little foundation! It was just about half a pump, and I used the EX1 Invisiwear Liquid Foundation in this demonstration.
Apply liquid foundation where you need it, starting from the middle of your face and working your way outward to the sides and hairline. Don't forget to work it into your hairline or you can risk looking like you're wearing a mask.
Next, if you desire better coverage, use a stick foundation (Bobbi Brown Skin Foundation Stick ) and dot it where you need it, or use a brush to pick up the product and then apply to your skin and BLEND. Trick is SHEER LAYERS. I applied just a little to the tops of my cheeks and blended it out. While I initially thought this was overkill, I was surprised at how it made the base more flawless, without my having to use more product than necessary. This is of course, an optional step.
Next, load up your powder brush with some powder (I used the Bourjois Healthy Balance powder), tap off excess (ALWAYS tap off excess) and then apply it only to where you need it. Again, this is usually on the centre of your face, where you may tend to oil up. PRESS your brush into your skin, instead of brushing it on. This helps the powder adhere to your skin better, and you can touch up as the day goes on, instead of looking cakey.
And I'm done! I made sure I only use thin layers and the techniques Felix talked about, and I have to say that the end result did rather surprise me. While I'm still not model material, and I'm no makeup artist, my skin does look much better than it did without any base on.
Here's the side-by-side comparison of how it looks before and after so we know I'm not just talking through my hat.
Not bad right? I guess the tips did work after all, even on non-perfect looking skin and executed by an amateur! 😀
The trick here is to use thin layers, and build it up. This way, your base makeup won't crack and your skin still looks natural. It doesn't take as much time as you took to read this post and is quite quick in fact, once you have everything on hand. I find the finish more elegant yet very natural as compared to my usual technique so I really like how it looks! 🙂
Did you find these base makeup tips useful? Will you try it?
While it won't take the place of my 5-line foundation technique, and I do still prefer applying my concealer AFTER foundation, it is something I'll be keeping on hand because this one seems to help my base last better too 😀 Do let me know if you try this – I'd love to know how well (or not) it worked out for you 🙂
Paris B