If I have heard one common lament with users of cushion foundation (myself included), it is this – the coverage is too sheer and light. Yes, there are some brands that make cushion foundations with higher coverage, but they are the exception rather than the norm. Most take on a lighter, sheerer, more dewy texture on skin which makes it an excellent touch-up product, but when used on its own, isn't as flattering unless you have beautiful skin. Well, let me show you how to get better coverage with cushion foundation, using a simple step-by-step guide!
When I covered the week of cushion foundation a while ago, that was the most glaring thing I noticed -sheer coverage. Barring the exceptions, if you were to try to use these cushion foundations as your primary base (foundation) product, then some people might be disappointed. Ah, but here's where I can help you! 😀
A while ago, I was at a Sulwhasoo event, where the makeup artist showed a neat trick that I picked up and filed away in my mind to try. Try it I did (without using Sulwhasoo products, oops! 😛 ), and now I can show you that not only does it work, it's a great way to wear only a light base, yet look like you took great effort with your foundation. It's quite impressive! 😀 And I was even hardworking enough to take step-by-step pictures 😛
Before you start, you have to assemble a few items first.
The secret here is really all about thin, light layers of makeup, as I will show you.
So, what you will need are these:-
A cushion foundation of your choice (naturally!)
A concealer
A compact powder
As promised, here's the step-by-step picture tutorial on how you can get better coverage with cushion foundation of your choice.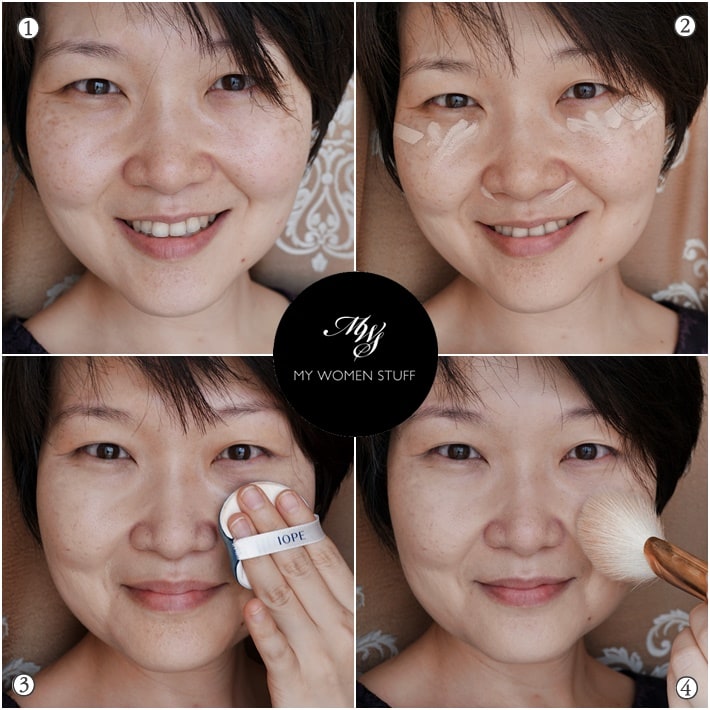 Starting out with a bare face – skincare and sunscreen only.
Dab your concealer where you need it. In my case, it is under the eye area (draw an upside down triangle towards your cheeks, to lighten the under-eye area more naturally), along the cheekbones and around the nose. Blend gently with fingers or a sponge, as you prefer.
Pick up your cushion foundation, press the sponge into the cushion to pick up product, and then apply to the skin by pressing the sponge against the skin in a slow patting motion. This makes the foundation adhere better to the skin than if you were to use any other tool. Trust me on this. Repeat as required, applying a thin layer of the foundation on your skin. You will find that the coverage is better when you layer over the concealer, and on the parts that don't need concealer, it evens out your skintone so you don't need to layer very much product.
Take a large fluffy brush, tap into the pressed powder and apply on your skin where you need it – forehead, nose and perhaps lightly on the cheeks to set your base. These are also the areas that tend to oil up more quickly so the powder makes the base last longer. You don't have to apply it all over.
Here's one I prepared earlier LOL! 😀
No base on left, and just using the technique I showed you here on right. No other makeup applied. It isn't a full coverage base, as you will notice, but it covers the bases, as it were, and offers a very lightweight finish, quite different from using a regular medium coverage liquid foundation. It also lasts quite well, and you can then use the cushion to touch up along the way, if you prefer.
While most of us might apply the foundation first and then apply the concealer where we need it, I found that this technique allows you to actually identify where you need the concealer most, and because the concealer has a creamy texture, it sticks to your skin better than when you do it the other way around. Cushion foundation often is more dewy so it might cause the concealer to move around more. This way, it all stays put. The cushion foundation acts like a touch-up in that sense, offering a little more coverage. Where you don't really need help, the sheerness of the cushion foundation allows skin to come through, while offering a more even, more natural you-but-better skintone.
The secret, as I've said, is all about thin layers. Thin layers do not add weight nor do they feel heavy on skin. In fact, it doesn't feel like much, and it's taught me to appreciate these new-fangled cushion foundation thingies instead of just dissing them 😛
Do let me know if you try this trick or if you already use it!
I'd love to know if you found this helpful to get the most out of your cushion foundation. Because I'm not a huge fan of cushions, I have to try to find a way to make them work for me. Thus far, this does and I've actually found myself using them more, and to appreciate them better! Let me know how it goes for you yeah? 😀
Paris B