Whew! What a week it has been! These sort of posts are incredibly time-consuming to prepare, as you might imagine, but I think, ultimately helpful to see detailed comparisons back to back of the new cushion foundations out in the market.
My one caveat which I've repeated ad nauseum through the week is that I had only featured primarily western brand, or I'd like to think of it as mainstream brand cushions, that have just come onto the market. The primary reason is because a bunch of them landed on my desk, so what better way than to pit them against each other! 😀 As much as I'd like to feature more, I didn't want my blog taken over by cushion foundations so maybe I'll work on a sequel for the future if I receive more of these. If not, I'm afraid I don't buy for review purposes anymore – my wallet forbids me to in these trying times.
The secondary reason is that I am not generally a fan of Korean cosmetics. I never had a good result with them, and while I hated my experiences with Korean BB Creams, I enjoyed using the Western brands. As for cushion foundations, I'd never been a fan before this – I still am not – but the one I did enjoy using was a Korean branded cushion.
So, with this in mind, let me take you on a quick round-up and some final thoughts on Cushion Foundation Week, and NOW you can chime in with your thoughts on cushion foundations haha! 😀
Cushion Foundations: What are they really?
The lazy girl's liquid foundation. LOL! No, seriously. What it basically is, as made popular by Korean brands, in particular Laneige (I dare you to ask anyone what their first cushion is, and I'm quite sure you'd get Laneige as an answer at least 80% of the time! I tried! 😀 ) a sponge cushion in a compact case. Think of it as a hybrid of the portability of a powder foundation and the dewy finish of liquid foundation. What the Koreans did was take a sponge "cushion", stick it in a compact, and saturate it with BB cream or liquid foundation, and put in high sun protection and a handy puff.
They are marketed not only as a foundation, but also as base makeup (you apply foundation over for better coverage), sunscreen (horrors!) and a touch-up sunscreen/foundation for use through the day. The puff and formula allows you to lightly pat on product through the day as your makeup wears off, and if you so wish, to top up your sunscreen protection.
The formula of the liquid foundation in there is usually fairly light and fairly sheer. This is two-fold. Firstly, to allow you to layer the product without it looking thick and cakey as the day wears on. Secondly, to give skin a perpetually glowy, dewy effect which I'm told is very popular in Korea (I can't say, as I'm not a K-pop fan and don't keep up with the dramas, popstars etc)
Because the sponge is exposed to the air as you use the product, it will dry out quite quickly over a few months, and for this reason, many Korean brand cushions come with a spare refill and sponge. You usually end up with 2 in a box, and refills may be sold separately.
This is an express introduction to cushion foundations, which I'm sure many of you are more familiar with than I am – I freely admit to NOT being an expert in this field, and NOT a particular fan of the product 😛
My round up today will only focus on the 5 products I have featured in the past 5 days – Iope Air Cushion XP, Bobbi Brown Cushion Foundation, Dior Diorsnow Bloom Perfect Cushion Compact, Clinique Super City Block BB cushion foundation and Shu Uemura Blanc:Chroma Cushion Foundation.
Sunscreen protection : Usually at least SPF50 PA+++
All the cushion foundations featured in the past 5 days boast a high sun protection rating, with broad-spectrum protection. Most of them have Titanium Dioxide or Zinc Oxide as their UV blockers.
While the high sun protection lulls us into a sense of false security, I'd like to reiterate that this is like BB Cream – makeup. Use your regular sunscreen, then use this as makeup or a top up during the day if you like. Don't rely on this as your primary source of sun protection for the simple reason, you may not use enough.
The Packaging & Refills
Except for Iope and Dior which came with spare refills, the rest of the Western cushions did not come with a refill. Refills are sold separately and are easily snapped into the sturdy cases. Don't worry about being a klutz. It's really easy, and if you can change the cover of your mobile phone, you can swap out refills.
I found that Dior and Iope were interchangeable (so if you already have either case, you can just buy the refill which is cheaper, and it'll fit). I have read that among the Korean brands under the same umbrella e.g. Amore Pacific which makes many brands, the compacts usually can be swapped, which makes it useful if you want to try a different bunch of cushions without wanting to buy the case.
I also found that Dior and Iope were remarkably similar in construction and design, with the same silver band on the cover, the clear perspex dome on top and the same rounded base, that I'm wont to believe that they come from the same factory. Don't quote me though they are very similar.
Bobbi Brown stands out for their coffee capsule style packaging, that comes without a cover. This means you need to get a set before buying any refills. I think their design stands alone out there.
Clinique's has a fairly typical cushion design, but their refills did not fit Iope or Dior.
Shu Uemura stood out in that every component of their cushion foundation is sold separately, which grates on my nerves. Also, theirs was the only refill that did not come sealed on the cushion (or what passes for one).
I do have to note the content weight of product, which I only just realised as I was doing this round up. Most Korean brand cushions come in at 15g which causes a lot of griping among users because it isn't very much product. That is probably why it comes with a spare refill, that brings it up to 30g, the usual size of a bottle of liquid foundation. By contrast, some of the Western brands had only 12g and 13g of product! Ok, I liked Clinique's but that's VERY little product!
I've also included the price comparison based on your 1st purchase, which means the case + refill:-
Iope – 15g x 2
Dior – 15g x 2 = RM268 for 30g = RM8.93/g
Clinique – 12g (!!) = RM146 for 12g = RM12.17/g
Bobbi Brown – 13g = RM185 for 13g = RM14.23/g
Shu Uemura – 13g = RM190 for 13g = RM14.61/g
Incredibly therefore, Dior actually weighs in as the best value product gram for gram! Never thought you'd see "Dior" and "Value" in a sentence eh? 😛 I couldn't compare Iope as there's no consistent local price but I can safely tell you that it will offer the best value for money. Very good since that's my favourite of the lot 😛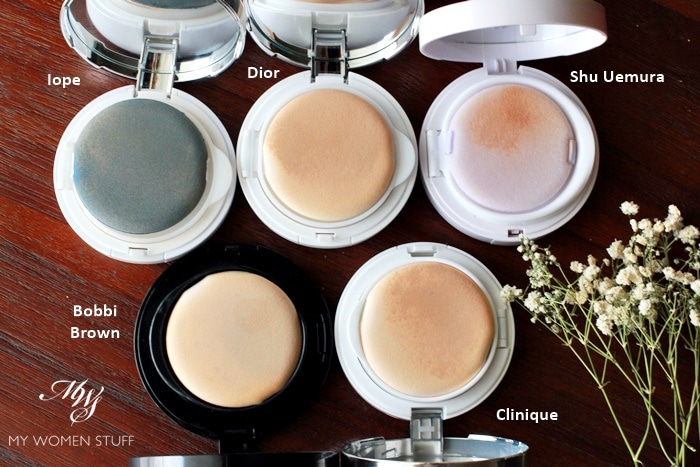 The Sponge Puff
I wanted to show you how the puffs look after they're used. Not very pretty as you can see. You can wash them. Daiso's puff cleaner will do a good job unless they've discontinued it. I found that 4 of them felt very similar, having the usual sponge/rubber texture. Shu Uemura stands out with their flocked sponge that makes me wonder what they're smoking.
Most Korean brands will use a sponge/rubber backing, because based on what I've tried, this texture, strange as it might seem, seems to actually pick up product from the surface of the cushion better without absorbing too quickly, and when you pat it on your skin, it makes the foundation adhere better. Think of the way you use a beautyblender or similar face sponge and that's the concept used here.
While they look alike, they don't feel alike. I found that Iope's sponge felt more dense, and I also find that it does not absorb product as quickly. Bobbi Brown's had more give, but was more dense when compared to Dior and Clinique.
Does this make a difference to your application? Well, I think that the denser puffs apply the product to skin more quickly. Don't quote me, it's just my observation.
The Cushion
I found that Dior and Iope's cushions felt very similar. You can even see in the picture that they look quite similar as well. They are both a little drier on the surface but Iope's formula is far superior in my view.
Bobbi Brown's cushion is softer to the touch and less dense. The white parts that aren't soaked with product feel a bit harder than the soaked parts, but it does feel less dense compared to Iope or Dior.
Clinique's is quite a loose sponge and it is so saturated that you only need to very lightly dab on the surface of the sponge cushion to pick up product. The product seems to be overflowing from the cushion! Good and bad. Good, because it's easy to pick up product. Bad, because you might pick up more than you need. Because of their higher coverage formula, I think less is more.
Shu Uemura… I don't want to talk about Shu Uemura. You can read my rant here 😛
Texture, Coverage, Finish, Shade
Most of the cushions I've featured and tried have a fairly typical light and sheer texture. Even when I tried out the Laneige BB Cushion back in the day, that was how my perception of cushion foundations were – light and sheer. However, depending on the formula, some work better than others.
Iope – Lightweight, Fairly sheer coverage, but evens out skintone beautifully and naturally without too much glow and shine
Bobbi Brown – Slightly heavier texture, without too much shine, but with a light coverage
Clinique – Lightweight, but with a light-medium coverage that seems to be more of a light foundation, evens out skin without too much shine
Dior – Lightweight and very sheer with very little coverage and a lot of glow and moisture
Shu Uemura – Slightly heavier texture without too much shine and with a light-medium coverage
The shades offered by the Western brands differ quite broadly. Dior kept to a very safe 2 shades only which would work best for those with a light skintone. Perhaps that's their target market.
Bobbi Brown and Clinique have more options for those with medium to deeper skintones and so are more friendly to the Malaysian public. I do find however that Bobbi Brown's deeper shades pull a little orange so it's best to test in store. Shu Uemura has a broad shade range for different base tones as well.
Here are how the different shades I have tested swatched against each other.
You may notice how Iope, Clinique and Dior have a similar shade except that Dior is really the sheerest of the lot. Bobbi Brown was a little light, I feel, yet the next shade up was a little warm for me. Shu Uemura's was the most yellow and had the driest texture.
Scent
All the cushion foundations I tested barring Clinique have a scent. Dior's has the strongest scent (I can smell it even after it dries!) while the rest dissipate. If you need something fragrance-free, you want Clinique's.
Did I like the Western brand Cushion Foundations?
I think the western brands made a good effort, and because the market is craving cushion foundations right now, they are giving the market what they want. But at the same time, not all of them have gotten the essence of the cushion foundation right.
I have not tried ALL the brands in the market, naturally. But based on what I've tried, I can safely say that the western brands know a good thing when they see one. They have made cushion foundations so much more accessible to everyone, as most of these brands are found in most major cities worldwide. With Korean brands, because most of them are only sold in Korea, it's always a gamble getting the right shades or testing them. With the Western brands being so accessible, no one is very far from a counter and with the expanded deeper shades offered, more people can use cushion foundations now.
That said, I find the price points a deterrent for many who might want to try these western brands. Most of them are pretty pricey, in particular as they do not come with spare refills the way the Korean ones do. By way of example, I helped my friend purchase a compact from Sulwhasoo (a premium Korean brand and a cushion I plan to try soon) and the compact + spare refill was RM190 (then). By contrast, RM190 would only get you 1 Bobbi Brown compact or 1 Shu Uemura compact or 1 Clinique compact, with no spare refill. Once you add on the cost of the spare refill, the price shoots through the roof!
In that sense therefore, I feel the Western brands may not be as successful in their cushion venture – but it will remain to be seen!
So in a nutshell, here are my favourite cushion foundations based on what I tested and featured in the past 5 days, in descending order:
Iope Air Cushion XP
Clinique Super City Block BB Cushion Compact
Bobbi Brown Skin Foundation Cushion Compact ties with Diorsnow Bloom Perfect Perfect Moist Cushion as I can't decide which is better
Shu Uemura Blanc:Chroma UV Brightening Cushion Foundation
I would put Shu at No. 10 if I could, but since I only have 5, it sits at the bottom of the heap.
Do I think they're worth trying? Well, why not? However, I wouldn't spend so much money on these things. In many ways, cushion foundations tend to focus on the "Korean glow" and if I'm to be honest, I don't think this glow thing translates well in a hot and humid climate. Perhaps, where the weather is cool and dry, a moist and glowy finish makes skin look healthier. Otherwise the skin can look flat and dry and dull. Where it's hot however, you are likely to glow anyway. We call it "sweat" and no one in their right mind wants to walk around with a sweaty face lol! 😀 So personally speaking, I think this works best in a cool dry climate. Where is hot and humid, go for something with a more satin finish. It will oil up as the day wears in and give you that glow you so crave.
If you got till this line, WELL DONE YOU! 😀 I hope you've enjoyed Cushion Foundation Week and if I happen to accumulate more cushion foundations, I'll do a sequel. Maybe. Possibly…. 😛
Do you enjoy using cushion foundations? What are your top favourites?
I had one from Hera arrive in the post so Hallelujah! More cushions! LOL I also want to try Sulwhasoo as I'm told it's very good too. I'm not sure what else I'll try though. I hear Estee Lauder has one in the mail, but they've just slipped past my CFW so I'm not sure when that'll be featured 😛 I've had people ask for YSL and Givenchy but I'm not able to oblige as we don't have YSL here in Malaysia as of now, and Givenchy's is very expensive. I'm not sure I'm keen to drop that sort of money for something I may not use as often as I should. As you might have noticed, most of those featured were sent to me – and I thank the Brands who did, because I'm not sure CFW could have happened otherwise! If I happen to get others in future, I'll work on a sequel. Maybe next time, if I have enough, I'll do one with Korean brands 😀 Hit me with your TOP FAVES! 😀
Paris B
Read more cushion foundations here