Welcome friends, to Day 3 of Cushion Foundation Week on My Women Stuff!
This has been the new wave of foundations to hit our counters, popularised by Korean brands and formulations, so I wanted to keep it all in one place. What I'll be doing over the next few days, will be to tell you what I think of the cushion foundation from a particular brand, and suspending all other regular programmes. The remaining cushion foundations will be from the Western brands, because that's what I have on hand. At the end of the 5 days, I'll do a quick round up with some general thoughts, and also tell you what I think about cushion foundations in general so look out for it then.
Today's cushion foundation from a western brand, turned out to be a sleeper hit for me. It's the Clinique Super City Block BB Cushion Compact and it turned out to be pretty decent!
Cushion Foundation: Clinique Super City Block BB Cushion Compact
I didn't know that Clinique was also doing a cushion foundation, until one landed on my desk. It cemented my views on the cushion foundation wave that was lapping at the beauty shores. Similar to Bobbi Brown, I had never pegged Clinique for being at the forefront of new innovations, but this time, it would appear that everyone has gotten their ducks lined up all together, and are ready to release them on the world!
Sunscreen protection : SPF50 PA+++
This Clinique cushion compact offers SPF50 and PA+++ sun protection that is very high and broad-spectrum, and perfect for where I live. I however, use this on top of regular sunscreen, not as a replacement for it. I find it interesting that Clinique placed this in their City Block range of products, which is their sun protection range. Clinique is therefore positioning this as a tinted sunscreen/BB cream thing, which seems to jive with the Korean way of looking at a cushion foundation.
The Packaging & Refills
The Clinique Cushion Compact Foundation comes as only 1 product – a case with the refill and a sponge. There is no refill offered in the same box, although you can buy refills separately.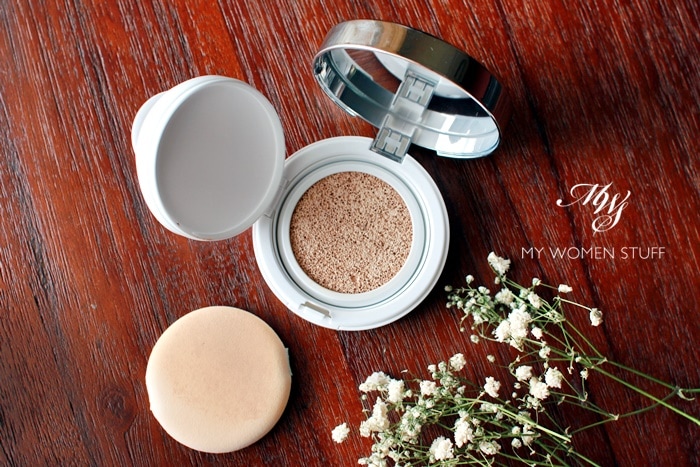 The refills are traditional cushion foundation packaging, with the cover connected to the cushion. The refill comes in a sealed pack for freshness and a new, sealed sponge. The packaging is otherwise quite standard, except that the cover is the typical metallic Clinique instead of a white to match the bottom of the case.
The Cushion
The cushion is pretty typical in that it comes pre-soaked. The new ones will be sealed for freshness and to prevent it drying out, so you have to peel off the plastic before using. I find that the cushion is well soaked, so it's easy for the sponge to pick up the product. As the cushion dries out with use and exposure, you will naturally have to depress a little more. Like the Iope one, you can use a tweezer to flip it over when it's almost done, to use up what's left at the bottom.
The Sponge Puff
The sponge puff applicator is the usual one with a slightly rubbery feel like that of a traditional Korean cushion foundation. The sponge is similar to that of the Bobbi Brown one. It's decent, but does absorb a little more product than the Iope one. Honestly, seeing as to how Bobbi Brown and Clinique have the same parent company, I'm not too surprised that the sponges may be similar LOL! 😉
Like all cushion foundations, slip your fingers through the band on the sponge, press it lightly on the surface of the cushion and then, PAT the product on your skin. The sponge picked up product quite easily without me having to press on it. That said, this is fairly fresh so I'd expect that.
Texture, Coverage & Finish
I found the texture of the Clinique Cushion Compact Foundation a little bit of an in-between. It wasn't very lightweight, having a slightly creamy feel, but it wasn't too creamy, as it still maintained a light feel.
Coverage is sort of in between as well. I thought it had a fairly decent coverage, which surprised me, because I wasn't expecting too much of this product! I follow up with a concealer if I want better coverage of blemishes and pigmentation, but on its own, it's pretty decent as it stands.
The other thing I quite liked was that the finish wasn't too dewy or moist. Now, I know that the goal of most cushion foundation is to give your skin the dewy, glowy finish that people associate with healthy, translucent skin. But I don't quite like that, because in this hot weather we have here, you're more likely to look oily and greasy instead.
Here is an idea of how it looks in a before-after photo using Clinique Cushion Compact Foundation in Light.
Coverage is light-medium, but it evens out skintone and neutralises redness in skin quite well, which surprised me. Light is a good colour match for me, and I find that this performs quite well as a light foundation. Because it isn't too glowy, I can wear this on its own without really needing to touch up, as it doesn't make my skin oily either. All in all, I'm pretty happy with this one, which is saying a lot for this picky person! 😀
Shade selection
There are 3 shades in this range – Light, Medium and Deep. I'm not too sure how deep the other 2 shades are, as I haven't seen them myself. So, I'd suggest that you hoof down to a Clinique counter to test, although you can buy this online.
Here is a swatch of the Clinique Cushion Compact foundation in Light compared to other foundations I wear.
While the Clinique cushion in Light has a slightly yellow tone, it's quite light and neutral so I'd safely say that it would work for most fair skins.
Scent
For those who are sensitive to fragrance in products, rejoice! The Clinique Cushion Compact foundation is fragrance free! I liked that very much.
Do I like this?
Yes I do. I like the finish on my skin, its coverage and how comfortable it feels when I wear it. It isn't too shiny or glowy, and I like that I don't really have to top up with powder to hold the shine at bay. I also like the price-point, which is among the most affordable from the range of Western cushion foundations I've come across, in the department store brands.
IN A NUTSHELL

The Clinique Cushion Compact foundation has a lightweight texture but for me, it belies the coverage which is light-medium. I find that it isn't too glowy or dewy in its finish so I don't have to set it with powder. It is comfortable, the shade is a good match for my skintone, and it's easy to use. All in all, a good effort from Clinique!

PROS: Easily available, light texture, Evens out skintone and redness, Easy to use, Gives skin a nice satin finish without too much glow, High sunscreen protection, Portable packaging, Refills available separately, Not fragranced, Available in a slightly deeper shade

CONS: Low coverage, Will potentially dry out quickly, Does not come with a spare refill

WHO WILL LIKE THIS: Anyone who wants to try a more affordable western cushion foundation, Anyone who wants a cushion foundation that is not too glowy or dewy on skin

PRICE: RM146 (case + refill) Refill available separately at RM117 each – 3 shades available Light, Medium and Deep

AVAILABILITY: Clinique counters, stores and online – Possibly exclusive to Asia for now
If you're interested in what's in there, here's the ingredient list
Does this western Cushion Foundation intrigue you? Have you checked it out?
I admit to being surprised that I liked this one. It sat well on my skin and the light-medium coverage suited me well, as well as the slightly satin finish that did not need any setting. I'd say this is one to take a look at, if you have a deeper skintone and can't find a Korean brand to suit you 🙂
Paris B
More cushion foundations can be found in this category.