Welcome friends, to Cushion Foundation Week on My Women Stuff!
This has been the new wave of foundations to hit our counters, popularised by Korean brands and formulations, so I wanted to keep it all in one place. What I'll be doing over the next 4 days, starting today, will be to tell you what I think of the cushion foundation from a particular brand, and suspending all other regular programmes.
I will also tell you that the cushion foundations of the next few days will be from the Western brands, because that's what I have on hand and that's the interesting part for me. All these western brands jumping on the cushion foundation bandwagon! I do not have all, naturally, but I will feature some of the more prominent brands. At the end of the 5 days, I'll do a quick round up with some general thoughts, and also tell you what I think about cushion foundations in general so look out for it then.
But I wanted to kick off Cushion Foundation Week, with a Korean brand cushion which, as it happens, is my favourite. So, every other product will be measured next to this one – I can't help it.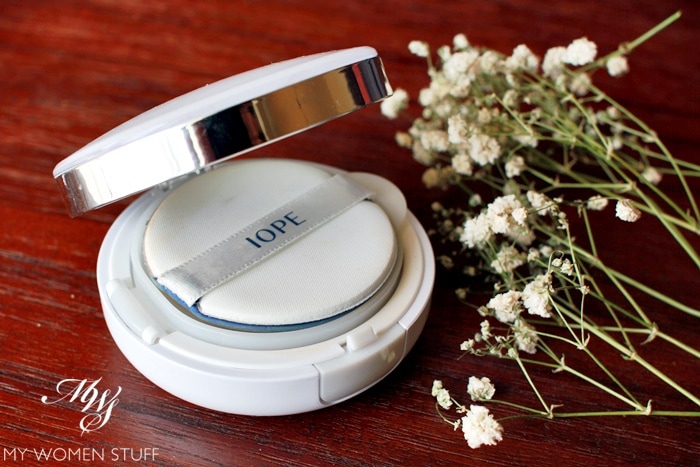 I was incited to pick up the Iope Air Cushion XP cushion foundation by my friend LeGeeque, who told me that she had experimented with it, and that she really liked it, and that I might too. Actually, I think she said that I would love it as much as she does hers! LOL! She knows me well 😀
Iope (I'm reliably told is pronounced 'eye-oh-pay' and not 'ee-op' as I was calling it before) is a Korean brand of skincare that sits on the slightly more premium price level. I haven't tried anything else from the brand, but I am very keen to because I'm told that the products from the brand are well formulated. But I digress. Today, we want to focus on the cushion foundation and what I think of it.
Cushion Foundation: Iope Air Cushion XP
I believe that Iope has a few different lines of cushion foundations. The one I bought is the Air Cushion XP, which is apparently their most popular cushion or quite possibly, THE MOST POPULAR cushion foundation in Korea, if the stats are to be believed. One sold every 6 seconds? Well, I certainly contributed to that number! 😛
Sunscreen protection : SPF50+ PA+++
Cushion foundations are sometimes marketed as skincare or tinted sunscreen, because of the high sunscreen protection it offers. The very lightweight and sheer formula of this Iope Air Cushion XP certainly adds to that, in that it makes it so easy to touch up both makeup and sunscreen throughout the day. I like how it has SPF50+ and PA+++ sun protection that is very high, and perfect for where I live. For some, this might take the place of your daily sunscreen. For me, this is makeup and therefore, goes on top of my regular sunscreen.
The Packaging & Refills
The Iope Air Cushion XP comes in a largish box containing a case with a cushion capsule included, and a sealed cushion refill.
The cover of the cushion, which is what helps keep it from drying out, is attached to the capsule so every refill comes with its own cover and own sponge for hygiene reasons. The cushion also comes sealed. I'm unable to ascertain at this time if the refills are sold separately (but they usually are). If you know, please share in the comments.
The Cushion
What makes a cushion foundation, a erm.. cushion foundation is the erm… cushion! (how many cushions did you count?!) The cushion/sponge that holds the Iope Air Cushion XP foundation is firm, and well saturated with product from the get-go. Interestingly, I've been using mine for quite a few months, and it still hasn't dried out. Cushion foundations do have a reputation of drying out quickly (It happened to my Laneige one years ago) but this one seems to be doing well. I also find that while it is saturated, it isn't OVER saturated, so product is easily picked up by the sponge-puff, but it doesn't have a spillover when you depress the sponge into the cushion.
I read that if it's starting to feel dry, grab a pair of tweezers and flip the sponge over. There's more product at the bottom!
The Sponge Puff
The other thing that makes a cushion foundation what it is, is the applicator – the sponge puff included with every refill. Many people don't like it and I admit I took some time to get used to it. However, I have found that it is this sponge that actually helps the cushion function the way it does. Not fingers (sorry LeGeeque!) and not a brush. This sponge is what makes this product unique.
To use, slip your fingers through the band on the sponge, press it lightly on the surface of the cushion and then, PAT the product on your skin. The sponge of the Iope cushion has a slightly rubbery texture, which holds the product without allowing it to absorb, and the patting motion deposits the foundation on your skin, and makes it adhere better. This is important, because of the texture and coverage. You can use a brush if you like as well (I've tried using a flat top brush like this one to dab on the surface of the cushion and applying to skin). I do prefer the sponge. Plus, because of how the sponge is made, you don't use very much product at all!
If you're a bit of a clean freak, you can wash the sponge out with your regular brush/sponge cleaner. I'll be honest and say I don't. When I finish, I'll just toss it and move on to the refill and new sponge.
Texture, Coverage & Finish
Like many Korean cushions, the texture of the Iope Air Cushion XP foundation is very lightweight and coverage tends to be on the sheer side. That said, I do find that this one isn't as sheer as I expected, because it did offer SOME coverage, but not as much as a regular liquid foundation would. I found out that the one I picked, C21 offers a little more coverage than N21 which has a more natural (even sheerer) coverage. I'm glad I picked the one I did.
The texture is very light without feeling oily, although I felt that putting it immediately on my skin, it felt a little sticky. It goes away, but it felt that way to me. I did feel that this sticky texture is what holds it on the skin a little better.
Coverage is relatively low when it comes to blemishes and pigmentation, and yet I really like this, because it evens out skintone beautifully. When I use this, I usually pat a light layer all over, just to even out the colour, conceal redness and then go over the areas I need more concealing with a proper concealer. The finish is a little more dewy/glowy than I like (I have normal-dry skin and live in a hot, humid climate) so I like to lightly dust some powder over. If you like the dewy/glowy look, then you can put this on and go.
Just to give you an idea of how it looks on me, here's how it looks in a before-after photo using this Iope Air Cushion XP foundation in C21.
Coverage is low, as I've pointed out, but I like how it just evens out the skin. Because it's light, I can layer it on where I want a little more coverage without it looking heavy or cakey. The sponge again! Pat, pat pat and it's done! You can even treat this as a base and apply a BB Cream or foundation on top for better coverage, and then use this for touch-ups, if you're the sort to touch-up makeup.
I wear this on weekends on its own if I'm feeling it, or sometimes, even on weekdays, by adding on concealer and a little loose/pressed powder for a little more coverage. After I bought this, it quickly became my go-to lightweight, easy to wear, fuss-free, natural look base. It holds up decently well without making my skin shiny (if I apply powder over, if not it does look a bit more shiny than I like) and for me, it ticks all my boxes.
Shade selection
This being a Korean brand, the shade selection is fairly poor, leaning to the lighter end of the skintone spectrum and coming in only 2 shades – 21 and 23. I wear Shade C21, which I have compared to a few other swatches of liquid foundation I regularly use below. Up to a light-medium skintone, you can find a shade match. Anything deeper, I'm sorry, these aren't made for you.
You may notice that the Iope C21 is a little more yellow than the other shades I commonly wear. But because it's fairly sheer on skin, it's fine and even has a slightly brightening effect. Texture wise, it is light (I layered on a few dabs to get the shade to show up) compared to the other products I've featured.
Scent
Yes, there is a scent so if you're sensitive to fragrance in skin products then be wary. It's not overpowering nor uncomfortable, so I don't mind it.
Do I like this?
Oh yes I do! It's so portable, I can touch up if I want without disturbing my makeup, and it's so lightweight and comfortable. The shade suits me, the texture is lovely and thanks to this one, I'm so much more receptive to trying MORE cushions! 😀
IN A NUTSHELL

The Iope Air Cushion XP cushion foundation is supposed to be a very popular cushion foundation in Korea. I like that it's very lightweight on the skin, yet adheres well, and offers a nice skin-evening tone albeit a little light in the coverage department. I have had my cushion for a few months, and have not yet experienced it drying out. The sponge cushion is easy to use and is what I think helps this foundation work. All in all, I'd say this is a winner!

PROS: Lightweight texture feels featherlight on skin, Evens out skintone very naturally, Easy to use, Gives skin a glowy effect, Not drying nor oily, High sunscreen protection, Portable packaging, Comes with a refill which makes it value for money

CONS: Low coverage, Scented, Some people may not like the sponge for application or hygiene purposes, I don't mind, Hard to get locally but easily available online

WHO WILL LIKE THIS: Anyone who likes using cushion foundations, Anyone who is new to using cushion foundations

PRICE: US$29-$45 for a box containing 1 case & 2 refills. Prices vary depending on where you buy from

AVAILABILITY: Local: Hermo.my, Althea.kr International: Strawberrynet (that's where I bought mine), Koreadepart (This site sells at the lowest price but I've never shopped here before so shop at your own risk), YesStyle, Peach & Lily
If you're interested in what's in there, here's the ingredient list
Water, Cyclopentasiloxane, Zinc Oxide, Titanium Oxide, Ethylhexyl Methoxycinnamate, Peg-10 Dimethicone, Phenyl Trimethicone, Butylene Glycol Dicaprylate/dicaprate, Lauryl Peg-9 Polydimethylsiloxy-ethyl Dimethicone, Arbutin, Butylene Glycol, Mineral Water, Lipase, Chitosan, Acrylates/ethylhexyl Acrylate/dimethicone Methacrylate Copolymer, Sodium Chloride, Aluminum Hydroxide, Hdi/trimethylol Hexyllactone Crosspolymer, Polyhydroxystearic Acid, Disteardimonium Hectorite, Stearic Acid, Polymethyl Methacrylate, Triethoxycaprylylsilane, Ethylhexyl Palmitate, Lecithin, Isotearic Acid, Isopropyl Palmitate, Ethylhexylglycerin, Acrylates/stearyl Acrylate/dimethicone Methaacrylate Copolymer, Dimethicone, Polyglyceryl-3 Polyricinoleate, Disodium Edta, Trimethylsiloxysilicate, Dimethicone/vinyl Dimethicone Crosspolymer, Silica, Phenoxyethanol, Iron Oxides, Fragrance
Have you tried this Iope Air Cushion XP cushion foundation before? What other Korean-brand cushions should I be looking at?
The first time I tried a cushion foundation was Laneige, a while ago. I remember I liked it. But since then, the market has exploded, with cushions coming from almost ALL brands! Watch out for some of the Western brands in the next few days 😀 I hope you enjoy the Cushion Foundation Week! It's been a while coming! 😀
Paris B
More cushion foundations can be found in this category.