Welcome friends, to Day 4 of Cushion Foundation Week on My Women Stuff!
This has been the new wave of foundations to hit our counters, popularised by Korean brands and formulations, so I wanted to keep it all in one place. What I'll be doing over the next few days, will be to tell you what I think of the cushion foundation from a particular brand, and suspending all other regular programmes. The remaining cushion foundations will be from the Western brands, because that's what I have on hand. At the end of the 5 days, I'll do a quick round up with some general thoughts, and also tell you what I think about cushion foundations in general so look out for it then.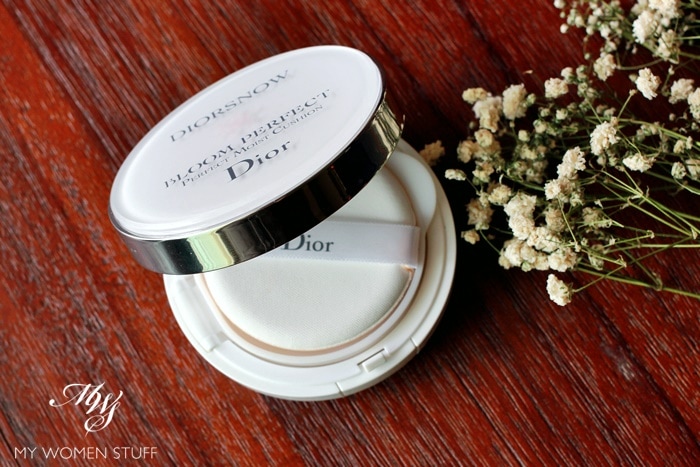 Today's cushion foundation from a western brand, is the Dior Diorsnow Bloom Perfect Perfect Moist Cushion. Unlike the others we have seen so far, and will see, the Dior one comes, much to my surprise, with a spare refill in the box! Dior… I didn't see that coming! 🙂
Cushion Foundation: Dior Diorsnow Bloom Perfect Perfect Moist Cushion
Alright, this one I didn't see coming either. Well, maybe not this quickly. But they have most certainly gotten a jump start over their direct luxury competitor, Chanel in this department. I haven't heard of a cushion coming out of the House of Chanel just yet 😉
By placing their cushion foundation under the Diorsnow range, I can imagine that this might be exclusive to Asia for now. Diorsnow is the "whitening" range of skincare and cosmetics in the Dior range, and quite often, they release products that are only sold in Asia, targeted at Asian skin and concerns.
Sunscreen protection : SPF50 PA+++
The Dior Bloom Perfect cushion foundation offers SPF50 and PA+++ sun protection that is very high and broad-spectrum, and perfect for where I live. I however, use this on top of regular sunscreen, not as a replacement for it. The high sunscreen protection jives with the intended use of these cushion foundations, as popularised by the the Korean brands – as a sunscreen top-up you can use through the day.
The Packaging & Refills
This is where Dior steals the march on its competitors. The Dior Bloom Perfect Cushion Foundation comes in a largish box, with a case filled with the cushion compact, and a spare refill and sponge! This is the first time I've seen a western brand package their cushion foundation this way, and I give them props for that. Refills are also sold separately.
The refills are traditional cushion foundation packaging, with the cover connected to the cushion. The refill comes in a sealed pack for freshness and a new, sealed sponge. The packaging is otherwise quite standard, except that Doir put a layer of clear perspex on the cover, which does add to a slightly more luxe factor. I thought it interesting to mention that I found that the Dior refill fits into the Iope cushion foundation case. From my understanding, this means that the refill will fit into most of the cases of cushion foundations made by Amore-Pacific e.g. Innisfree, Laneige etc. Don't quote me on that, since I don't have any other brands to test with, but purists might be interested to know this little fact. This again, makes it very close to the ideology of the Korean cushion foundation.
The Cushion
The cushion is pretty typical in that it comes pre-soaked. The new ones will be sealed for freshness and to prevent it drying out, so you have to peel off the plastic before using. I find that the cushion is well soaked, and it feels soft and firm to the touch. It also feels very similar to the Iope cushion, which has started me thinking that they may be coming from the same source! I do find however, that for some reason, the surface of the cushion is a little drier than others I have tried, so you have to depress the sponge with a little more effort to get the product on the puff.
The Sponge Puff
The sponge puff applicator is the usual one with a slightly rubbery feel like that of a traditional Korean cushion foundation. I find that it feels similar to the western ones I've showed you before this, in that it's spongy, but it absorbs product a little more than the Iope one. In terms of product, it actually looks incredibly similar to both Clinique and Bobbi Brown.
Like all cushion foundations, slip your fingers through the band on the sponge, press it lightly on the surface of the cushion and then, PAT the product on your skin. I find I have to depress it a little more as the surface of the cushion feels a little drier.
Texture, Coverage & Finish
This is where I feel that the Dior Bloom Perfect cushion foundation falls a little short for me. True to its name, Perfect Moist Cushion, I find this cushion a little too moist for my liking. The texture is very lightweight on skin and feels fairly comfortable.
However, I find that it goes on skin a little too "wet" so if you love the dewy, glowy look then you may not mind it. I don't like that "wet look". I like looking just natural and if I were to look that moist, anyone would hand me an oil blotter. As I told a friend, when I apply this cushion foundation, it looks like I just got off a 20 minute run on the treadmill – no, it's not glamorous. I just looked oily.
To get around it, what I do is to lightly dust some powder along my T-zone and cheeks. This tones down the shine and even then, it isn't gone. As the day wears on, I find that the shine eventually returns. I have normal-dry skin so I'm not speaking for everyone, but I hesitate to see how this will work for those with oily skins.
Here is an idea of how it looks in a before-after photo using the Dior Bloom Perfect cushion foundation in 010.
I find coverage fairly low. It evens out skintone and the shade I use 010 seems to cancel out some redness in skin. However, unlike the Clinique version, I find blemishes and pigmentation wasn't concealed, even marginally. It's quite fortunate (depending on how you look at it), that when I was doing this series of photos, my skin was going through a nasty patch so it's been interesting to see how well or not, these cushion foundations fare. I find there is some brightening of the skintone as well. The picture isn't terribly clear, but there is a lot of glow in this product and in person I don't find it as flattering as it should be.
Shade selection
There are 3 shades in this range – 005 (brightening), 010 and 020. This again, makes this a very traditional Korean cushion foundation, in that the shade selection is poor. To have just 2 foundation shades for an international brand is I feel, a little remiss. Dior has a fairly comprehensive foundation shade selection most of the time so this bugs me.
Here is a swatch of the Dior Bloom Perfect Cushion foundation in 010 compared to other foundations I wear.
I wear Dior foundations in shade 010 in all their foundation without exception. You may be able to see how close the shade is to the Diorskin Nude Air foundation in a similar shade. Even after all the swatches have set about an hour later, I still see a sheen on the Dior Bloom Perfect cushion foundation and that just doesn't work for me.
Scent
There is a strong fragrance infused in this cushion, which shouldn't surprise anyone who is familiar with the brand. Dior has fragrance in all their cosmetics, so be warned!
Do I like this?
I'm afraid I'm not a fan. I find the finish far too moist and the coverage too low. I like the high SPF and the fact that Dior borrowed heavily from the Korean brands who seem to know best. Yet, I also feel that they have upped the moist/glow factor to a degree that I don't think is very flattering. I'm not saying it's a bad product. I have worn this a few times, but it's not something I'd pick from the ones that I currently have. Oh and the price is a little off putting as well. Weighing in at RM268 for a first purchase, I feel it to be a little hefty. Granted, you get a spare refill but what if you didn't like it (like me) in which case, the refill is basically wasted. At those prices, I'd suggest just getting a bottle of their foundations – I am a big fan of Dior liquid foundations so I think they're a safer bet.
IN A NUTSHELL

The Dior Bloom Perfect cushion foundation is lightweight with low coverage, but goes on skin with a very moist sheen that doesn't quite set. I find this not very flattering as I feel it looks oily as opposed to glowy. I've worn this in an air-conditioned environment and a non-airconditioned environment so I can say that it's not something you want to wear out in the sun. A light touch of powder helps to set and tone down the shine. I like that it comes with a refill, which is perfect if you love the product, but not if, like me, you don't.

PROS: Easily available, light texture, Evens out skintone and redness, Easy to use, High sunscreen protection, Portable packaging, Comes with a spare refill, Refills available separately, Refills fit some Korean brand cases

CONS: Low coverage, Very moist and shiny texture, Will potentially dry out quickly, Highly fragranced, Pricey, Only 2 shades available

WHO WILL LIKE THIS: Anyone who likes their skin to look highly glowy, Anyone willing to pay the very high asking price

PRICE: RM268 (case + refill + spare refill) Refill available separately at RM130 each – 3 shades available 005 (brightening), 010 (light) and 020 (light-medium)

AVAILABILITY: Dior counters and beauty boutiques – Possibly exclusive to Asia for now
If you're interested in what's in there, here's the ingredient list
Does this western Cushion Foundation intrigue you? Have you checked it out?
As much as I love Dior foundations, I'm rating this one a pass, but that's because I don't appreciate the texture. However, if you want a Korean-feel formula and packaging in a Western brand, then this will be the one to look for. It's very… Korean! Daebak! 😀
Paris B
More cushion foundations can be found in this category.