We all know the mantra:-
Prep Skin
Concealer
Foundation
I'm going to turn it on its head and tell you to try applying your concealer AFTER your foundation. Weird tip?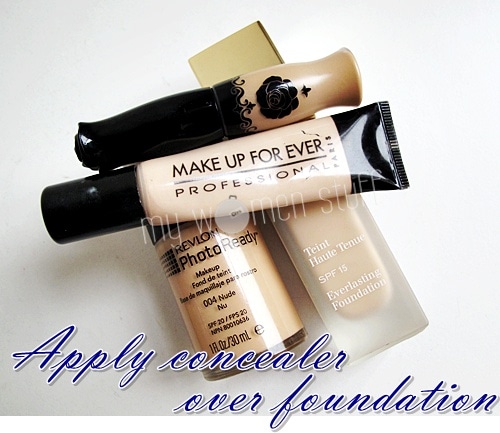 I used to do the whole concealer before foundation thing and have been doing it for years. But recently, I found that when I apply my concealer and then my foundation, I sometimes have to touch up my concealer because in applying my foundation, whether with brush, sponge or hands, some concealer may get rubbed off.
So, I got irritated and the next time I did my makeup, I put on my foundation first and then touched up with concealer.
Voila!
There was no need for additional touch ups, and I found I was using less concealer because some problem areas may already be sufficiently covered by the foundation!
These days, I apply my concealer after foundation – its faster and more efficient use of my time in the mornings – cuts time by half actually 🙂
The concealers I use regularly for now are:-
One caveat: This tip might work better if you use liquid concealers. You can blend it over powder or liquid and it doesn't get cakey. I love Full Cover for this purpose. It works over and under foundation, covers beautifully and I seriously need to replace mine!
Have you tried this tip? Do you already practice it and am I the last to know? 😉
Paris B