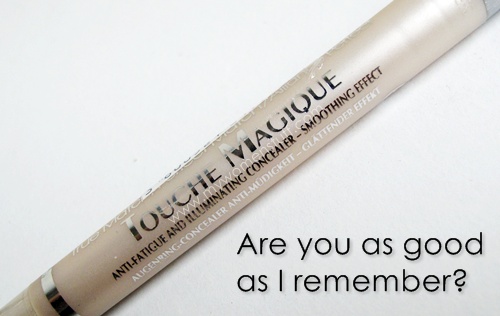 The L'Oreal Touche Magique concealer was a firm favourite of mine – it was one of the first concealer/highlighters I'd ever used and it was affordable and worked well. And then it disappeared off our shores. The link will take you to my original review in 2007.
Many years later, its back! With new packaging and a new name – L'Oreal True Match Touche Magique Anti Fatigue and Illuminating Concealer – Smoothing Effect. *pause for breath* Whew!
Naturally, once I spotted it in a local mag a few months ago, I had to pick it up to see if it withstood the test of time. In the interim of course, I'd found other similar concealers that did the job well so this had some living up to.
First off, packaging. Nothing has changed here. Its still a clicky pen with brush mechanism. The clicky mechanism however feels a bit stiff and the brush poked my skin. I did not like that 🙁 I tried softening the brush by brushing back and forth across a piece of tissue paper but it still remained pokey. Less so now after use, but still… pokey! 😛
Secondly formula. It feels and looks thicker than I remember it to be. I also remember that Touche Magique had these little shimmer bits in it for highlighting purposes. This seems to be gone. Its now just a straight undereye concealer for me.
I got it in 01 which applies on my skin a little whiter than expected. Once blended in, its alright and it seems to cover dark circles nicely. Do note that I do not have very dramatic dark eye circles. What I have are shadows and this concealer covers it nicely enough that I look bright eyed and bushy tailed and raring to go.
It lasts the whole day on my skin too. Do bear in mind that I do not have oily lids and I always brush a light layer of powder or foundation over my eyes once I'm done with my base makeup, before I do my eye makeup. Its all good.
But I don't know. Something's missing. Its missing that je ne sais quoi.
Pros: Does not settle into lines, Covers dark circles well, Is not cakey or thick, Lasts the whole day, Affordable

Cons: Shades are very limited so darker skinned girls will have problems finding a match, Brush feels pokey and stiff, Turning mechanism is a bit stiff
I found the formula a little thicker than I liked. So I make sure I brush on a thin layer only. 1 turn of the pen gives me enough to cover both eyes. I actually found myself preferring the Revlon Spa Concealer pen. Its a little bit pricier, but I felt it did the job better (and the brush did not poke my skin). A slightly similar product is Diorskin Skinflash, but that's in a different price bracket altogether 😛
Do you remember the old L'Oreal Touche Magique pen concealer? Have you tried this new one and do you like it?
Paris B
L'Oreal True Match Touche Magique pen concealer comes in 2 shades and retails for about RM19.90 at all L'Oreal counters.