Treat Me Nice.
Ooh I will indeed! How could I not with that gorgeous olive green winking at me? 😉
Treat Me Nice is one of the new Superslick Liquid Eyeliner pens from MAC Cosmetics. This is a new offering from MAC and if you remember, was a product MAC Senior Pro Makeup Artist Victor Cembellin was raving about for Fall 2010.
The applicator is quite unique. A tapered felt tip, not a brush. It is quite firm when applied, so you can get quite a decent strong line with it, without having your liner look wobbly or wavy. It is great for a nice thick line but less so for a thinner line. Also, you might find it picking up a lot of product so its advisable to wipe off excess on the side of the tube before applying.
Straight from the tube, Treat Me Nice looks dark and quite uninspiring. I must confess to feeling a little disappointed when I saw it. However, slicked on the skin, it takes on a gold shimmer infused olive green that is very pretty…. when wet. In the swatch below, I took the picture while the liner was still wet and I've got more swatches of the rest of the colours below.
Isn't it terribly pretty. Look at all that gold shimmer winking away at you. However, when it dries (which is very quick by the way) the finish is a little more matte. Still a bit shiny but not so in your face anymore. Depends on how you like it.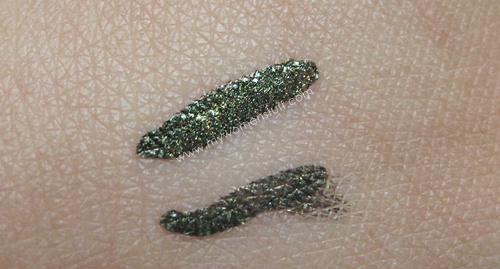 The swatch of Treat Me Nice below which is a little smudged is dry. I smudged it while it was drying. If you can see the marginal difference between the two swatches, you'll know what I mean.
What I really like about the Treat Me Nice Superslick Liquid Eyeliner is that the colour is strong. I like coloured eyeliners, but I am tired of applying coloured liquid liner that does not show up. This one does and in a very pretty way. The MAC website calls this Emerald but I think its closer to olive green than emerald. In fact it reminds me much of Sweet Sage Fluidliner, if you remember that one. I had it a long time ago but the colour wasn't as good as this liquid eyeliner is.
I'm still trying to work it into an eye look. Presently, I'm wearing it on its own with some gold shadow, or when I wear green eyes which is pretty but quite unadventurous. If you have ideas or a tip, do share! Oh and it does not crease on me. Very few things do. And it lasts the day and washes off nicely with my regular cleansing oil or makeup remover. In fact, I rubbed it off the back of my hand using just water.
I do get quite a strong chemical smell when I open the tube. The smell does not last nor does it transfer to my skin. Its only when I open the tube, like how some mascara smell. It would be great if MAC could make it so the smell is less obvious.
Pros: Good strong bright colour, Good staying power, Easy to use applicator, Does not rub off

Cons: Pricey, Strong smell, Dries more matte
If you have been reading MWS long enough, you will know that MAC Cosmetics and I aren't the best of friends. But I have been finding gems in the brand as I have said before (Mineralize Skin Finishes come to mind), and I'm glad. One should not shut one's ears and eyes just because one does not like what the mainstream does 😉
Anyway, here are all 9 colours of the MAC Superslick Liquid Eyeliners I managed to sneak from the store.
As you can see, the finish when dry is more matte but the colour is good and strong. Only the silver and gold continue to show up strong and metallic.
I am keen on checking out more of the Superslick Liquid Eyeliner colours. Perhaps the Nocturnal (silver)? Or maybe just the plain black? 😉 Which one catches your eye?
Paris B
MAC Cosmetics Superslick Liquid Eyeliner comes in 9 colours and retails at RM75 at all MAC Cosmetics stores and counters. It is Limited Edition.