Every time Hourglass releases a new Ambient Lighting palette, I tell myself I'm not getting it. Every single time (almost), I fail in my resolve LOL!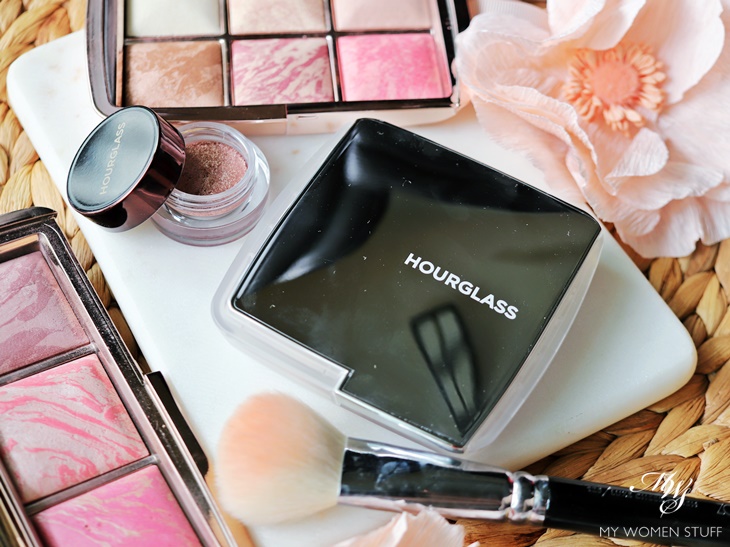 This year, when Hourglass leaked pictures of their upcoming Ambient Lighting Edit Palette – Ghost, I had a deja vu moment. It looked far too much like the other Ambient Lighting Edit Palettes I already own (original, Vol. 3 and Unlocked) to justify buying. Also, I found it sadly unexciting.
Then, a few days later, I came across another release – the Hourglass Ambient Lighting Blush Quad – Ghost. And on this, I pounced! 😀
Hourglass Ambient Lighting Blush Quad – Ghost
The Hourglass Ambient Lighting Blush Quad – Ghost, is part of the Hourglass Ghost collection they've released for the Holidays. I'm not sure why they are leveraging on a non-corporeal being for the festive season, but I guess that's creative license for you 😛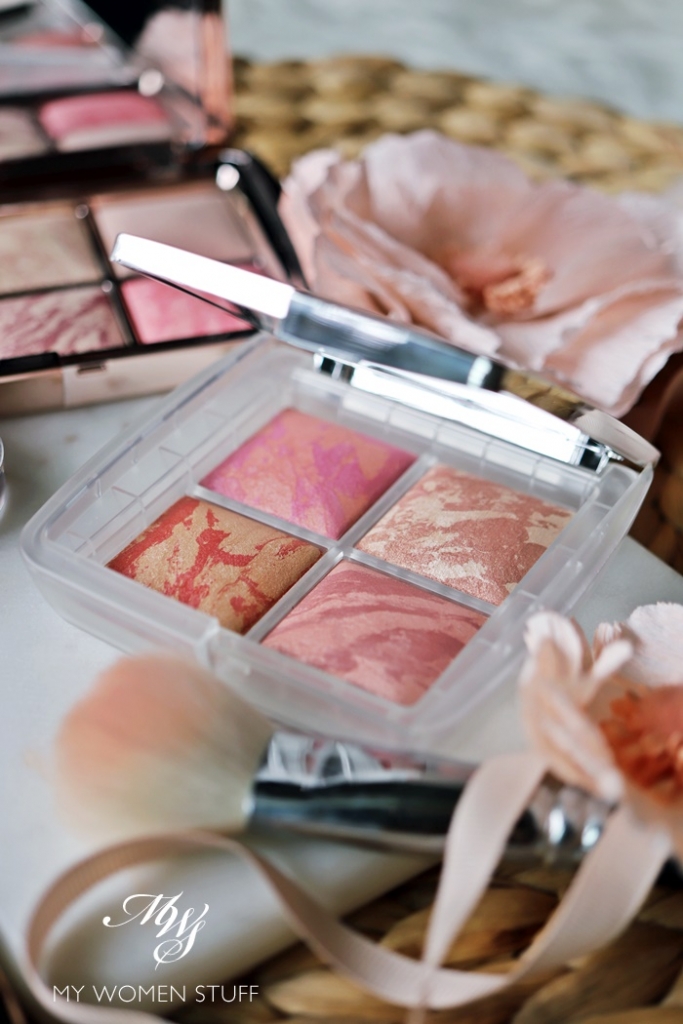 In line with the spiritual theme, the packaging is rather different from previous palettes. The cover is a reflective silver, and the body is a translucent plastic.
I initially felt that it might look or feel cheap, but as it turns out, it doesn't. It doesn't look as luxurious as the other Hourglass products, that much I'd admit, but it isn't insubstantial, as the name might imply.
Blush quad for blush lovers
Well, the reason I had to have it is two-fold. First, I love blush, as many of you maybe aware. Hourglass blushes are of very good quality, pigmented, translucent, and flattering.
RELATED READING: I have a few Hourglass blushes but only ever really wrote a review on one, which I still love till today! READ HERE
Second, I snapped up the Hourglass Ambient Lighting Blush trio that was released a few years ago.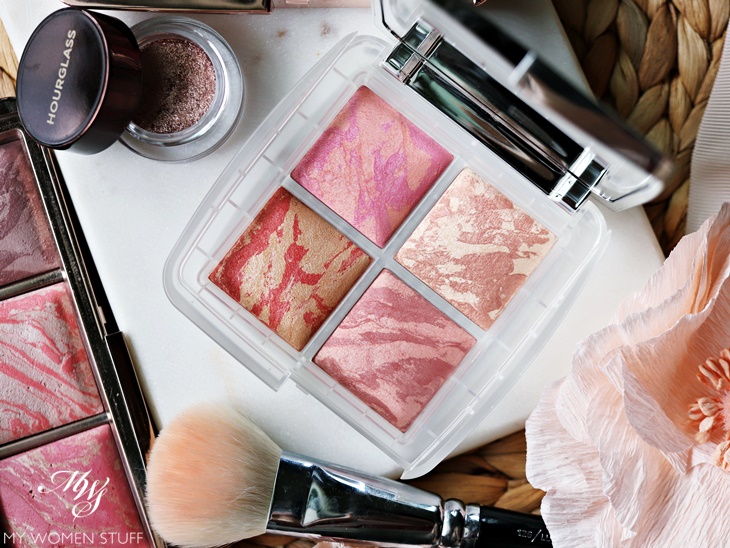 That's the trio on the left of the picture above.
I loved it to bits! It was handy, so I could carry a selection of blushes around, the packaging was slim and compact, and the colours were very flattering on skin. I wore them so often and still reach for it at any given opportunity.
Oddly enough, Hourglass never saw fit to release another blush palette, focusing instead on the Ambient Edit palettes (with the 6 pans). Well, until now, that is! 🙂
In the palette are a selection of bright and warmer colours. You can use them separately (if your blush brush fits) or as I like to do, just mix them up and go. It's just easier.
The swatches are as best as I can get them to show. The powders are quite transparent, so they aren't conventionally pigmented. There is colour, and it will show up very easily on skin, but it doesn't translate to an opaque band of colour on skin.
The shades in the quad are:
Surreal Effect (new) – This is a light pink that looks youthful on skin. However, don't let the pale swatch fool you. When you use a brush, it translates as a lovely light pink.
Brilliant Nude – This is an existing shade, and has a golden sheen. Use it as a highlight, or just blend it with one of the other colours, to create a more golden tone
Lucid Glow (New) – A deeper flush of pink, this should show up on those with a deeper skin tone. If you have lighter skin tone like I do, it can be easy to overdo. When I use this, I just dab my brush on the surface, then blend it into my skin. That way, it looks more natural.
Infinite Flush (New) – This one's the warmest shade, being a warm peach. While not a shade I normally wear, I like mixing it with Surreal Effect, for a touch of pink, that is more flattering on my skin tone.
Small and mighty palette
I am very pleased with my purchase, as you can tell. It isn't very cheap, but you get good variety, if that is something you look for in your makeup.
The pan sizes are the same size as that of the Ambient Edit palette, which makes it quite small. The pan sizes of the blush trio are larger. But it is large enough that you can use a blush brush quite comfortably with it.
Don't be fussy about wanting to be specific with your colours. It is designed to be blended and enjoyed as a whole, as much as it can be enjoyed separately, and that I think is what makes this quite a catch!
I don't plan to pick up many items from the Holiday collections, but this is one that I could not resist, and am very happy I didn't! 😀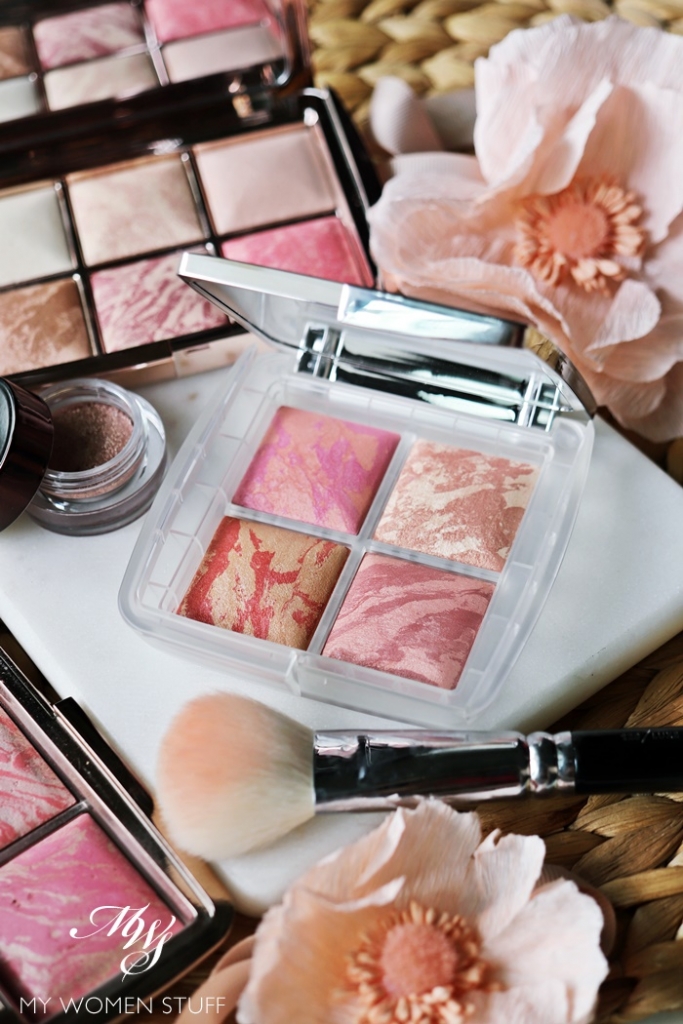 IN A NUTSHELL

The Hourglass Ambient Lighting Blush Quad – Ghost, is limited edition blush quad released for the Holiday/Christmas collection. Housed in a case with a silver cover, and a translucent base, there are 4 blush pans, featuring 3 new shades and one existing shade. The blush colours are flattering on most skin tones, and the texture is light, transparent, yet pigmented. Brushes pick up colour easily, and they blend easily and beautifully into the skin, offering a lit-from-within look that is flattering. If you can get hold of it and love blush, I'd say, buy it. It's expensive, but worth the money you'd pay for it.

PROS:
Transparent luminous colour
Not powdery but easy to pick up colour with a brush
Pigmented colour
Easy to blend on skin for a natural finish
Portable packaging

CONS:
Pricey
Limited Edition

WHO WILL LIKE THIS: Anyone who enjoys using blush and wants a portable, good quality blush palette

PRICE: US$58 | £45

WHERE TO BUY: Cult Beauty, SpaceNK, Beautylish, Sephora, Net-a-Porter, Nordstrom, Hourglass website, Harvey Nichols
Do you have your eye on the Hourglass Ambient Lighting Blush Quad?
I'm glad Hourglass has released another blush palette. They do make good quality blushes, and it's always more fun having a palette with different shades in it. Is this in your shopping cart already, and if not, will it? 😀
Paris B