Call me jaded, but not much has interested me in the beauty world in recent times. Everything feels like more of the same, rehashed. Yet, something interested me enough for me to go all the way to Sunway Pyramid (the other side of the globe, for all I care!) to learn about a brand new brand entering our cosmetics market – Natura.
I had been keeping my pulse on Natura for a while, ever since I read that The Body Shop was sold to it. It wasn't a brand or company I'd come across before, and that intrigued me.
This was more so, when I learnt that Natura hails from Brazil. Its exotic origins had me even more intrigued than ever! So here's some bits and bites about Natura.
Natura – Skincare and cosmetics from the Amazon
Say "Brazil" and I'd wager that most people will turn their minds to the Amazon rainforest – the Lungs of the World. It is therefore not surprising that the products and key ingredients in Natura products come from the Amazonian rainforest.
Natura is a Brazilian cosmetics brand that has been around for 50 years, and is now spreading its wings to conquer the world. They are making their first foray into Asia, through Malaysia – it's first Asian outpost.
The company works closely with the communities in the Amazon, to source the biodiversity ingredients for their products in a sustainable manner. The key ingredients they use in their products are Acai, Castanha (Brazil nuts), Andiroba and Ucuuba, all of which are found in their key Ekos range.
There are presently 5 ranges of products brought in under Natura – Ekos (body and hair care), Chronos (skincare), Lumina (hair care), Mamãe e Bebê (mother and baby products) and Natura Homem (men's personal care). The range of products is very wide and very comprehensive, which I found impressive.
100% Vegan and Kind to the planet
Natura prides themselves on being 100% vegan and bear the cruelty-free leaping bunny symbol on their packaging. This means that they are not formulated, nor do they contain any animal by-products, and also do not test on animals.
Their philosophy is also to experience beauty, while caring for the planet. You can therefore buy refills of many of their skincare products once you're done, at a lower price tag.
By way of example, you see above the Natura Chronos Aqua Auto-replenish Gel Hydrator (RM140/50g), which is one of their star products. This is a very lightweight gel moisturiser, with Fevillea extract, hyaluronic acid and prebiotics, to promote instant hydration and stimulate skin to self-hydrate intelligently. What I'm told is that after using it for 30 days, and if you stop thereafter, your skin will retain its moisturized, bouncy texture for up to a week after that. I thought it quite impressive!
Lightweight textures feel comfortable on skin
While Brazil seems like it's on the other side of the globe from us here in Malaysia (it is, by the way – right through the Earth's core if we drill through LOL!) it is interesting that we share a similar climate.
We are both situated near (or on) the Equator, and share similar high levels of humidity and heat. If anyone understands our needs in skincare and body care, it would be the Brazilians! 😀
The textures of the products (that I tested) felt lightweight, for the most part. They were not greasy or heavy on skin, and mostly absorbed easily. Even the Daily Revitalizing Oil was lightweight and absorbed easily into the skin. I was quite intrigued by that oil and might pick it up one day.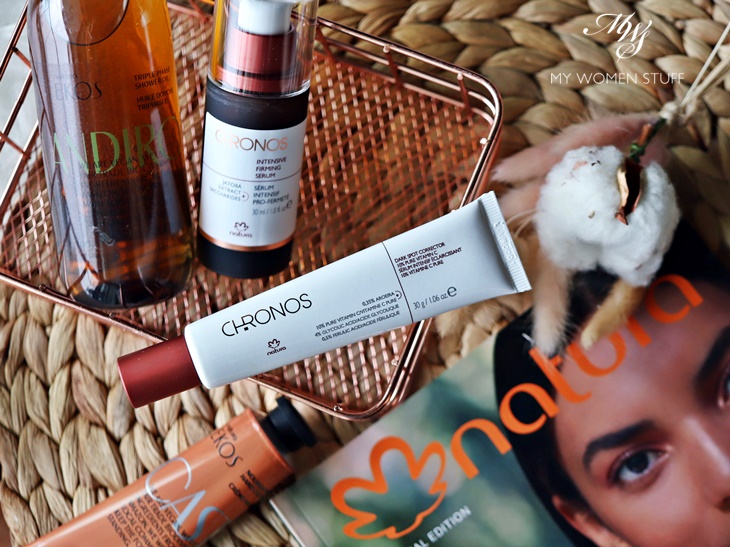 Skincare for all skin types and all ages
Natura has different ranges of products to address different skincare concerns. It is all very comprehensive, spanning a focus on hydration all the way to addressing luminosity and dark spots.
I picked up a tube of their Chronos Dark Spot Corrector (RM249/30g), not because I wanted to kid myself into thinking I could do anything about my pigmentation, but because it contains 10% Vitamin C as its key ingredient. This is a waterless formula, which means the Vitamin C (Ascorbic Acid) is suspended in silicone (much like this and this). I was curious how it would fare.
Another best-selling product is the Natura Castanha Hand Cream (RM49/40g). It is very nourishing, yet isn't sticky or greasy at all once you apply it.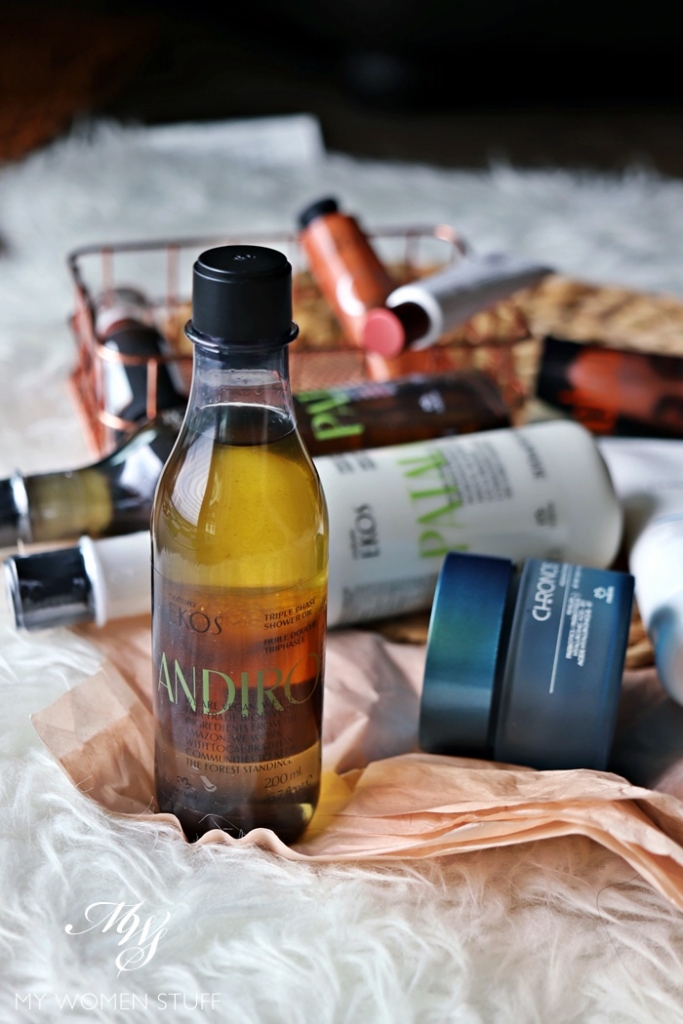 I had to highlight also one of the more interesting products I've come across in body care to date – the Natura Andiroba Triple Phase Shower Oil (RM119/200ml).
This is a triple phase oil, that you must shake up before using. You are recommended to apply it to wet/damp body, and rub it in. While I was introduced to the product, I was told that I could leave it on, for it to absorb into the skin. It doesn't seem to leave any sticky or greasy residue, and my skin on the back of my hand felt lovely and soft.
However, I did note that the directions for use did say to rinse it off, which makes it a more familiar product, rather like my favourite shower oil. Unlike the L'Occitane Almond Shower Oil, it does not seem to lather up. But I will have a go, and see how it feels and how I like it.
Prices appeared to be fairly mid-range. I can safely say that it can appeal to many, because it will be affordable for most. The key thing however, is its efficacy and that is something that will be borne out over time. That said, having survived 50 years in Brazil, where the people do take pride in caring for their skin, I'd say it's a force to be reckoned with! 🙂
I am very intrigued by the Natura brand and their products. While it all is quite familiar, it is also quite different in how they present the brand and approach the concept of beauty. It is that difference that I find most refreshing in the clutter that is the world of beauty today 🙂
Have you heard of or tried any products from Natura?
I will have a go at some of the products I have and will definitely report back on them in time to come!
Paris B
Natura is available at Sunway Pyramid and also online at www.natura.com