I wish I didn't have to rush this "review" out, and I almost never showcase 2 items from the same brand back to back. This time, I am constrained to, as I've gotten so many questions about it, which means there is definitely a demand for the Hourglass Ambient Lighting Edit Unlocked Palette. My fingers couldn't keep up with all the questions flooding me on Instagram LOL!
This is the palette in question. The Hourglass Ambient Lighting Edit palette, that is named "Unlocked". It boasts 6 brand new shades of finishing powder, bronzer, blush and metallic strobe powder, and it is the first 100% vegan palette by Hourglass. This is in line with their commitment to go cruelty-free and vegan by 2020. Kudos to them!
But what surprises me is that we will be seeing another Hourglass Ambient Lighting Edit palette pop up next month. Considering that these palettes are limited edition items, it surprises me that Hourglass will release 2 similar palettes so close to each other (granted colours are different).
But here are some quick thoughts I have about this Hourglass Unlocked Palette, having used it a grand total of 2 times LOL! So, cast your eye a little warily, because this isn't an in-depth review ok? 😀
I bought mine from Cult Beauty (now on waitlist) on a bit of an impulse. I keep buying these palettes on an impulse, it's shocking 😛
My first observation upon opening the palette is this – it is not as deep nor as warm in tone as the online stock photos lead me to believe. The online photos showed it to be almost golden in hue. It isn't. I've made these photos as true to life as I can, and you can see that there is clearly no golden cast to the powders.
For me, that's a good thing. I was afraid it might be too warm for me, yet I took a chance to order it 😛 As it turns out, it is perfect for me.
I have laid the Hourglass Unlocked Palette alongside the earlier 2 versions I own. I own the original Hourglass Ambient Lighting Edit palette and Vol. 3 (2017).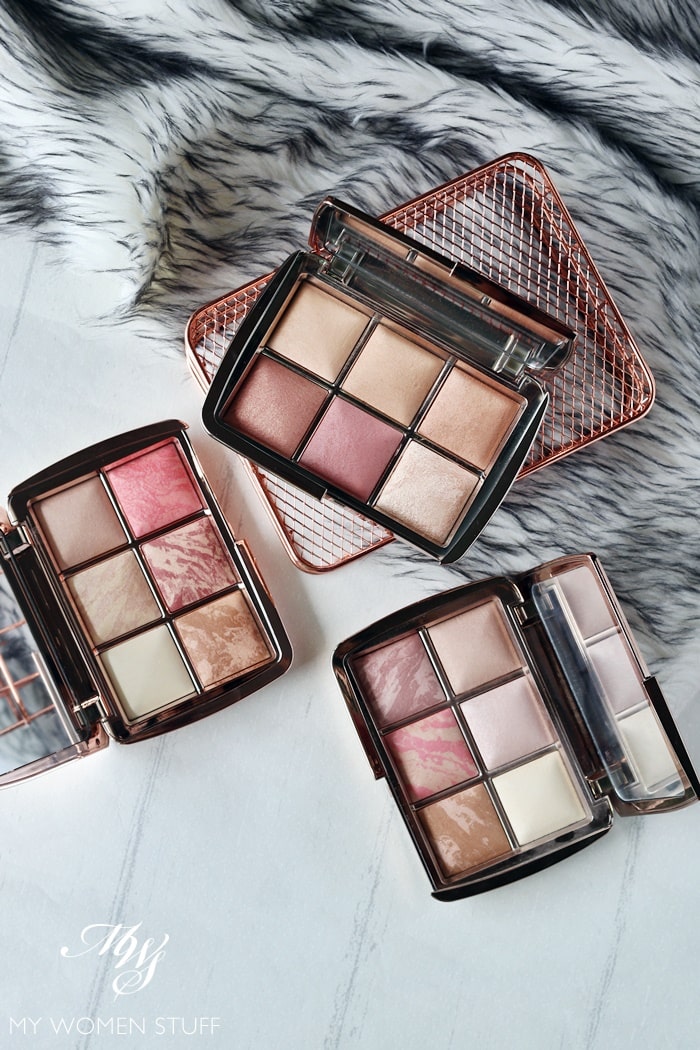 You may notice that aside from a slightly warmer cast to the finishing powders, the tone of the palette is quite similar to the earlier versions. I would even be so bold as to say that I think it is quite similar in tone to the Hourglass Ambient Edit Vol. 3 palette (on left of photo).
For this reason, I will say this – If you own Vol 3, you will probably find Unlocked too similar to justify a purchase, if you haven't already finished it. If you own the original version, or even Surreal (with the white marble case) then you may be able to justify it, as I do think it is a little more different in tone. However, you may also want to wait for the upcoming palette that should be out very soon, that looks a bit brighter.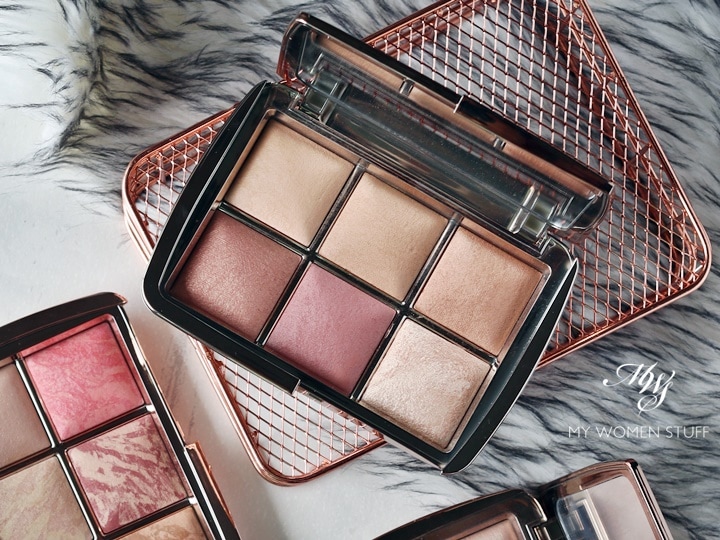 In the Hourglass Ambient Lighting Edit Unlocked palette, you get 6 small pans of powder. What is notable is that the blushes and bronzer do not have striations on them, unlike the regular Ambient Lighting Blush and Bronzer. You therefore get more even colour throughout and very little variety between palettes. That is both a good and bad thing. Consistency of colour is good. But it isn't so pretty 😛
All the shades are brand new shades, and my descriptions of them going left to right, top and bottom of the pan are:
Finishing Powder – Soft Light – This one is a very soft, light shade that practically disappears on my skin as you will see in the swatch below. It gives just a very light sheen on the skin, but is practically invisible on. I wear Diffused Light almost daily, and this can easily take its place.
Finishing Powder – Filtered Light – This one has a noticeable warmer cast if I pile it on in a swatch. But when I use a brush, it is, again, invisible. It reminds me of Dim Light from the permanent range.
Bronzer – Golden Bronze Light – It looks a golden bronze in the swatch, but is in fact, quite light. It reminds me of the Charlotte Tilbury Bronze & Glow bronzer, except with shimmer. I am not so big on that shimmer part.
Blush – Nude Glow – This blush is a warm toned peach shot through with golden shimmer. Very reminiscent of Nars Orgasm, but with a much softer appearance on skin.
Blush – Mood Flush – This is almost matte in appearance, and looks like a neutral rosy flush. Not quite a pop of colour, but more of a gentle blush from within.
Metallic Strobe Powder – Champagne Strobe Light – The highlighter shade, which is a shimmery champagne. Very fine, but noticeably shiny on skin
Do note that I have layered the colours to get them to show up. On skin, using a brush, you will get soft colours that are far more flattering. I do also find the textures of the powders a little sheer, so they are easy to build up, but only buildable to a degree. The blushes in particular, I find a little muted. This, considering that the Hourglass Ambient Lighting Blushes are quite strong pops of colour. Perhaps this is a new line they are testing out, for a softer, more subtle blush of colour. I do like it, but manage your expectations.
I am a big fan of Hourglass powder products, and I enjoy using them a lot. They give skin a very filtered appearance, that is flattering in real life.
The biggest question I get is whether the Hourglass Unlocked Palette will show up on deeper skin tones. I'd say that it will, for up to a medium skin tone. Any deeper, the colours will not show up very much, unless you layer it on. Even then, you must manage your expectations.
I expect that the bronzer and blush will show up if you layer it on a bit. But the powders aren't meant to show up, just to finish off your makeup. So, don't expect the powders to show that way. On fair skin tones, you will have to have a slightly lighter hand with the warmer powders and colours.
That said, the powders are very finely milled, and blend beautifully into the skin, so it isn't easy to over-do. Brushes pick up the product very nicely, although I will suggest the use of a brush with a smaller head. The pans are very small, and larger brushes will cause colours to mix. I don't mind that, for the bronzer and the blushes. But if you want to just pick up one colour, use a smaller brush.
IN A NUTSHELL

PROS: Handy and portable, Soft and easy to blend powders, Easy to use for anyone, Consistent colour pay off

CONS: Pricey, Limited Edition, Hard to get hold of as it sold out quickly, Pans are small

PRICE: £69 | US$80

WHERE TO BUY: Presently sold out on many sites, but go on the waitlist if you really want it! Cult Beauty, SpaceNK, Sephora
Did your heart beat a little faster for the Hourglass Ambient Lighting Edit Unlocked Palette?
Is it worth it?
It's very hard to say, because we have different perceptions of worth. It is very expensive, and it most certainly is NOT a need. But I think it is most definitely a WANT, so balance your budgets accordingly if it is, but be sure you go in with your eyes wide open 🙂
Paris B