The Hourglass Ambient Lighting powders and their accompanying blushes burst on the scene in a shower of sparks and frenzy some time last year and everyone and their aunty was raving about it. Ooh rah rah! So nice! So perfect. Since we didn't have Hourglass Cosmetics available locally (and we still don't, so I'm sorry to burst your bubble, peeps!) I didn't pay it a lot of thought. I mean, I knew I wanted to try it at some point, but I'd do it on my own terms.
Late last year or early this year, I forget which, I decided to take the plunge to see what was the fuss about the Hourglass Ambient Lighting Blush and decided on Radiant Magenta mostly because I loved how it looked on Karen, quite forgetting that she and I have quite different skintones! LOL!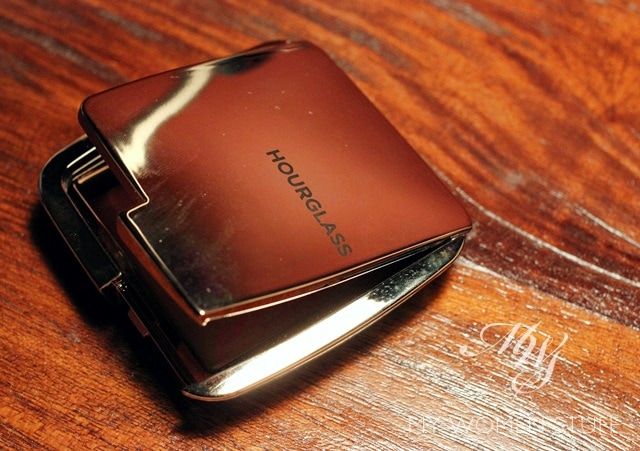 The product comes in a gunmetal metallic case that is actually plastic, so it looks luxe and hefty but is in fact light as a feather. It is quite deceptive and I'm afraid, doesn't quite add to the luxe factor of the product or pricetag. The Ambient Lighting Blush is actually a combination of blush colour and the popular Ambient Lighting Powder so this product promises to give you a glow to the skin and soft focus colour. Imagine therefore a soft flush of colour on your cheeks, lit from within, so you look healthy and happy and in some cases, kawaii.
Well I can tell you up front that for the first few months I was using this, I wasn't sold on it. Nope, I didn't quite see why it got the raves, so I pretty much abandoned it. And then, a few months down the road while making an effort to use and enjoy products I already own, I took this out again and suddenly, it worked.
Radiant Magenta is described as a golden fuchsia colour and the colour is a cool toned bright pink, paired with the golden toned Radiant Ambient Lighting Powder.
A point to note is that if you buy one yourself, you may not get the same striations of colour because Hourglass says that each blush is handmade so expect variations in pattern. It reminds me a lot of marble cake – you never get the same pattern twice and correspondingly, it never tastes the same twice either!
Similarly, if your blush has more colour, you can expect it to impart more colour. If there is more powder mixed in, the effect will be softer and more subdued.
Radiant Magenta has a decidedly cool pink tone on skin, but the golden powder of the Radiant Ambient Lighting Powder does add some warmth to the colour so it ends up looking fairly neutral. I'd use neutral in the loosest term, because it is still fairly cool toned. This is quite strongly pigmented so a light hand is quite essential.
If there's something I realised when working with this blush is that a fluffy, loose blush brush doesn't seem to work very well. I find that brushes like that (e.g. Lunasol blush brush) diffuse the colour too much. It is nice, when all you want is a hint of a flush, but I didn't quite like how it looked on me.
Instead, I prefer using a slightly stiffer blush brush. I use one by Hakuhodo which I THINK is a K020 (the older ones had nothing printed on the handle so I've no idea what I own) and has a denser but soft brush head. Similar shapes would be the Shu Uemura 20 or any blush brush that's dense and soft. The Wayne Goss Brush #2 works well too. These fit the contours of the face better and for some reason, I feel that the Hourglass Ambient Lighting Blush has to be well placed on cheeks for it to look at its best.
Hourglass Ambient Lighting Blush – Radiant Magenta
On left, I've swatched Radiant Magenta heavily with my finger. I ran my finger around the surface of the blush, which feels quite powdery and soft and then swiped it down my arm. You may see what I mean about it being a cool pink tempered with a golden miasma.
On right, I've blended it out somewhat but it's still fairly strongly swatched. You may see how it has this soft, blurry edges which I didn't really do much to smudge out, and that is something I attribute to the powder element. I haven't tried the powder yet, but this product did have me wanting to give it a go. I just have to find the right shade right? Radiant, based on what I can tell would be far too warm for me.
And here's how it looks when I wear Radiant Magenta. It's quite a strong colour, so I do have to use a light hand and blend it out. This colour would work for both light and darker skins, with the latter having an easier time working with it. I'm glad I gave this a second chance, and experimented with different tools, because it's quickly become one of my favourite blushes at this time for days when I want a nicely, naturally flushed look that looks effortless. For this purpose, I think this works very well indeed 🙂
IN A NUTSHELL

The Hourglass Ambient Lighting Blush in Radiant Magenta is a cool toned fuchsia pink blush with very fine milled golden shimmer, that gives the blush a very soft focus, seamless appearance on skin. It is very easy to pick up with a brush and to apply on cheeks and is therefore easy to overdo if you are fair skinned. This one would work very well for the medium-dark skintones because it would give a lovely glowing from within flush to the skin. For fair skinned ladies, use a light hand and buff it out well and glow!

Pros: Soft focus powder on skin, Easy to wear, Pigmented colour

Cons: Different blushes will have different effects depending on how the colour and powder combine in the pan

Who will like this: Anyone who likes bold coloured blushes with some shimmer
Unlike many products that have shimmer, the golden shimmer particles in this one aren't so large as to be so obvious on skin so all it does is softly diffuse against your skin which works well for the strong colour that Radiant Magenta is.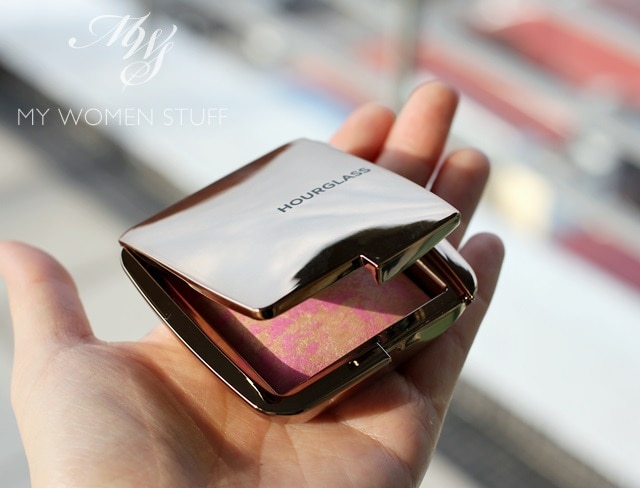 Have you tried the Hourglass Ambient Lighting Blush? Do you like stronger coloured blushes or lighter ones?
Incidentally, when I first got this, I was so underwhelmed that I decided one was sufficient. Now that I've gotten it to work, I've picked up a couple more. Oops! 😛 Will tell you about those in time to come 🙂
Paris B
Hourglass Ambient Lighting Blush comes in 6 shades Price: US$35 | £28 Availability: Both SpaceNK.com or Net-A-Porter.com ship internationally. I've bought from both.