Every year as the Holidays (Christmas) collections are released, there will be brands that stand out. This year, I predict that Cle de Peau Beaute will be that brand, because the Cle de Peau Rêve de Kimono (Kimono Dream) collection is a STUNNER!
Cle de Peau Beaute has always released beautiful pieces in their Holiday collection. Last year, they drew inspiration from Alice in Wonderland, with a whimsical design.
This year, they are going the traditional route, with a beautiful, BEAUTIFUL design and packaging of a small, but compact collection that will make you say "TAKE ALL MY MONEY!" 😀
Cle de Peau Rêve de Kimono (Kimono Dream) Holiday collection 2019
Cle de Peau Beaute hails from Japan, and there is no better way to remind us of this, than to draw on their centuries of cultural heritage. For the Holiday 2019 collection, they celebrate their roots with a Kimono Dream.
While most of us are familiar with kimono, what we may not know is that the design on a kimono can be made specific to a House or family. With this in mind, Cle de Peau Beaute commissioned a kimono, created in collaboration with Tachibana, an embroidery and dyeing studio in Kyoto that plays a role in preserving kimono culture. It was crafted using a valuable dyeing technique called Surigata-Yuzen, which uses dozens of stencils to dye different patterns, layering one color over another.
The result is an intricate pattern unique to the brand, and one that is replicated, in various degrees of intricacy and close-up design, on their packaging. It is so much so that you wouldn't want to throw away the boxes! Yes, it's that beautiful!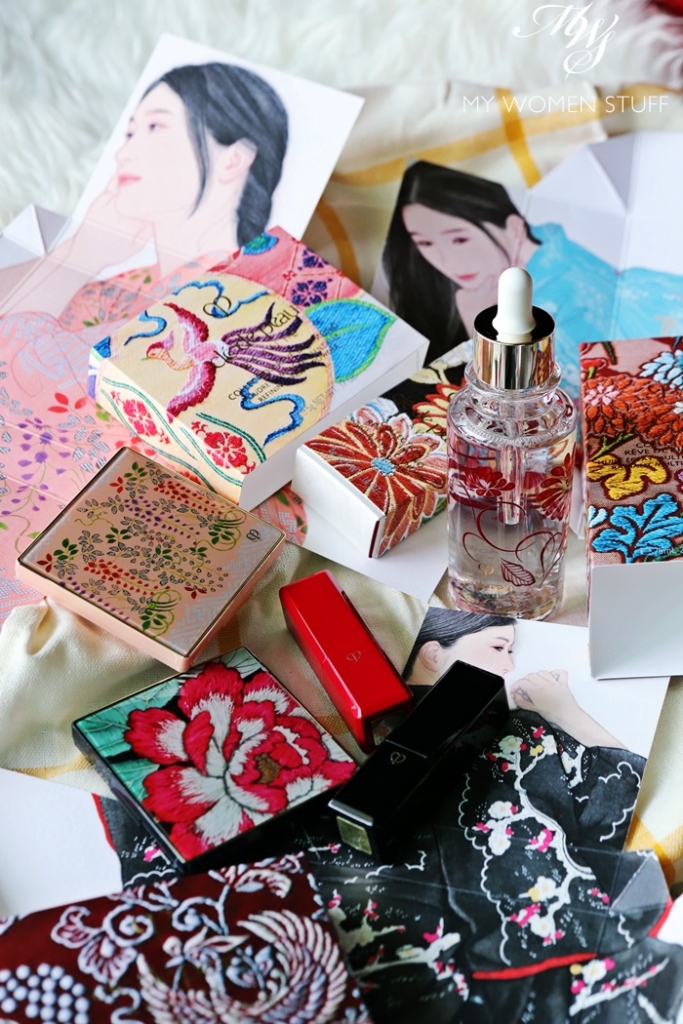 The packaging is very very unique.
Each item in the collection is housed in an origami inspired folded box, held in place by a sleeve imprinted with the kimono design. Slide off the sleeve, and you will find yourself gasping in awe, as you discover the beautiful paintings of a woman in kimono, painted by Japanese painter, Ayana Otake.
Do watch this video of her at work.
Honestly, tell me how to toss out the packaging when I'm done, because it will be heart-wrenching to throw away these works of art!
Clé de Peau Beauté Rêve de Kimono Eyeshadow #320 Draped in Velvet – US$80 | RM250
Once you get past oohing and aahing over the beautiful packaging, the next thing you'd be amazed at is the product within. The eyeshadow quad comes in a beautiful, luxurious palette, with an embroidered peony imprinted on the cover.
This limited edition palette – #320 Draped in Velvet – comes with 3 powder shadows and a deep, black cream eyeliner.
The colours represent strength, with a flash of feminine red. The eye colours are soft – white, peach and a rather strong pink. I'm not good with wearing pink around the eyes, but I know it is a very popular look these days, and Cle de Peau Beaute has captured it perfectly.
Clé de Peau Beauté Rêve de Kimono Refining Pressed Powder #101 Blossoming Cherry – US$105 | RM325
I particularly love how the Blossoming Cherry Refining Pressed Powder looks. It is so refined, elegant and stunning! (yes, there's that word again!)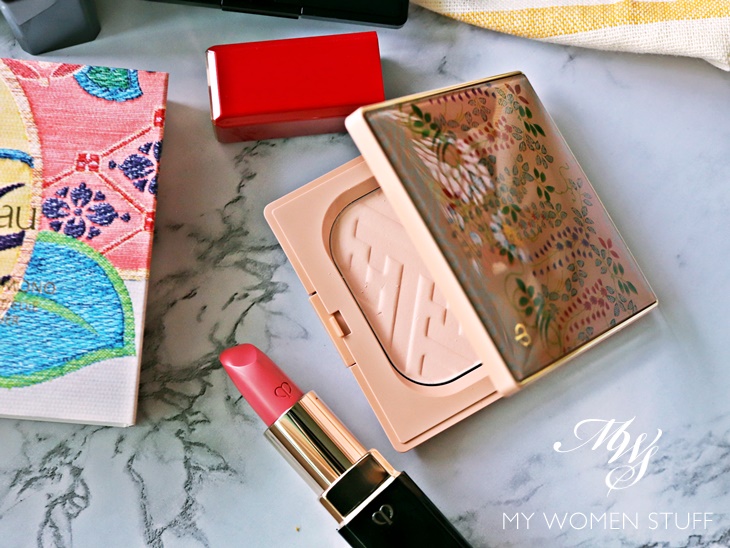 The palette is a soft peach, with a soft, rosy powder housed within. You can see the embossed pattern in some of the other picture. I reckon the colour of the powder is soft and translucent enough to suit most people except for those with very deep skin tones.
There is a thin puff included, that you can use to pat the product on your skin. It serves the function of lightly setting your makeup, taking away shine, and adding a touch of rosiness to the skin. It is very subtle.
Cases are refillable
If you are wondering what you can do with the cases of the eyeshadow and powder once you're done, wonder no more! Cle de Peau Beaute sells their eyeshadow quads and powders separately from the case.
What this means is that once you've finished using the product, you can ease out the pan, and pop in a new one, and continue enjoying the beautiful compact! I love this idea!
I don't know if/when I'll ever finish a powder or eyeshadow, but it is a beautiful idea nonetheless.
Clé de Peau Beauté Rêve de Kimono Lipstick – US$65 | RM235
There are 2 lipsticks in the Clé de Peau Beauté Rêve de Kimono collection – Lipstick Cashmere (RM235) (satin matte) and Lipstick n (RM226) (satin shine).
Lipstick Cashmere #512 Red Passion comes housed in a beautiful, bright red lacquered case. It is, at once, eye catching and impressive.
The colour is a bold, passionate red and the satin matte texture ensures that it stays put on your lips, opaque in one swipe. It is incredible.
Lipstick n #511 Silk Passion is a more everyday soft pink satin shine texture, that comes housed in the signature black lacquered case. The texture is like that of silk on lips – lightweight, soft, with a sheen.
The colour is very friendly, wearable, and perfect for everyday, giving lips a youthful shine and colour. There is a time and place for every lip colour, and this is the one you'd slick on on a weekend, or when you want something quick and not too garish.
Clé de Peau Beauté Rêve de Kimono Radiant Multi-Repair Oil – US$168 | RM551
The final item in the collection is the Radiant Multi-Repair Oil. Yes, a skincare product! Were you surprised? Because I was! 😀
I've never tried this one, and knowing my penchant for facial oils, it is one I'm definitely interested to play around with. I will take a little time (it's skincare after all!) but rest assured that the product itself is part of the permanent skincare range (usually comes in a pink bottle). What's different about this one, is the design on the bottle.
What the Radiant Multi-Repair Oil is, is an oil that can be used anywhere on your body, to counteract dryness. It is quite lightweight, and isn't oily or greasy despite the name. It sinks in nicely into skin, and over time, will plump and hydrate skin. I like how it feels, but it's just a preliminary viewpoint so I'll update when I've used it more 🙂
WHERE TO BUY: Cle de Peau Beaute counters and boutique at Pavilion KL, Net-a-Porter, Nordstrom, Saks Fifth Avenue
Are you in love with the intricacy of the Cle de Peau Rêve de Kimono collection?
Ideas on a postcard if I should toss the packaging or do something with them, because they're so beautiful and intricate! Haha! 😀
Paris B
Disclosure: Featured service was a media trial by the brand for consideration. Our commitment is to honesty and fairness. For review guidelines please read the disclaimer.