This must have been one of the most anticipated palettes for the Christmas season! I remember when pictures first leaked out, it generated such a frenzy amongst the beauty community. Can't deny it's a thing of beauty though.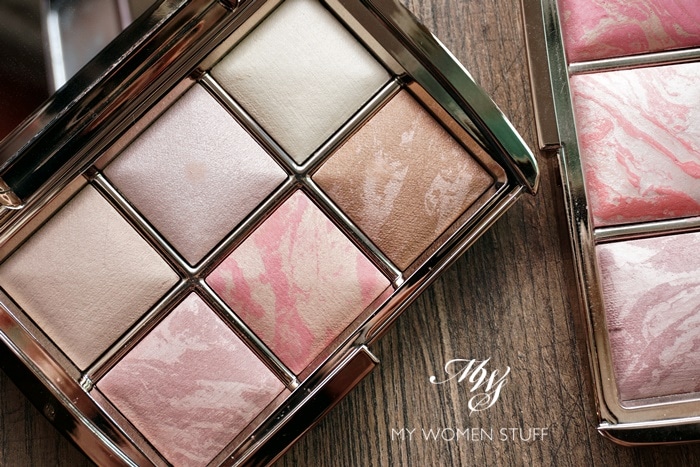 It's the Hourglass Ambient Lighting Edit palette, a handy palette containing 6 useful powders to give your visage a lovely healthy glow.
While I had my earlier doubts about the practicality or usability of the Hourglass Ambient Lighting Powders, I must confess to being a fan once I tried one in Diffused Light. For me, it not only acts as a finishing powder, but also as a setting powder and I'm pretty happy with it for living up to its promise of bathing my skin in a diffused light.
I'm also happy with the Ambient Lighting blushes of which I now own erm… quite a few, although I only shared my thoughts on Radiant Magenta previously 😛 I picked up the blush palette from last Christmas, which you will see in the pictures here, but didn't blog about it, because by the time I had it, it was sold out everywhere.
Nonplussed, I decided I'd have to buck up and share my thoughts on the Edit palette before it too sells out (Limited Edition!) although I think it might be around for a while due to its price. So, here is what I think!
The Hourglass Ambient Lighting Edit palette holds 6 mini pans of powder. I say mini, because once you see how it compares to the full sized products further below, you'll realise just how small they are. I had seen pictures for myself, and even I was a little surprised when I eventually held it in my hand.
Like the regular Hourglass cases, the highly shiny metallic surface is a fingerprint magnet as you can see. A quick buff with a piece of cloth usually takes care of it, if you're fussy. I confess that I'm not 😛
But you can possibly tell that it isn't very large at all, which makes it actually a very compact and handy palette. Let's just say that if you have never tried any of the Hourglass powders or blushes, then this is actually a good one to have because you get a taster of products which allows you to decide if you actually like them enough to buy the full sizes.
That said however, it is pretty pricey, weighing in at about £65 or US$80 retail (there are online shops still stocking this, that ship internationally. Please don't pay above retail on ebay! I've actually seen it go for over US$110 which is madness!) so that's hefty on the wallet. Still, Hourglass cosmetics has never come in cheap, so I think it's par for the course.
In the Ambient Lighting Edit palette, you get:-
Dim light – peach beige powder
Iridescent Strobe Light – pale pink pearly powder
Diffused Light – pale yellow powder
Mood Exposure – soft plum blush
Luminous Flush – light rose-pink blush
Luminous Bronze Light – bronzing powder
I own Diffused Light in the full size, and I also have Mood Exposure and Luminous Flush from the Ambient Blush palette from last year, so technically, this was not quite worth it for me. If you own 2-3 of any of the shades available in this palette, then I will tell you to skip it and save your money for something else. These powders are so pigmented, and you need so little of each, that you won't likely finish any of them to justify having many duplicates.
However, I own this, so who am I to preach otherwise eh? 😛
Here are the swatches of the powders from this palette, as best as I could make them.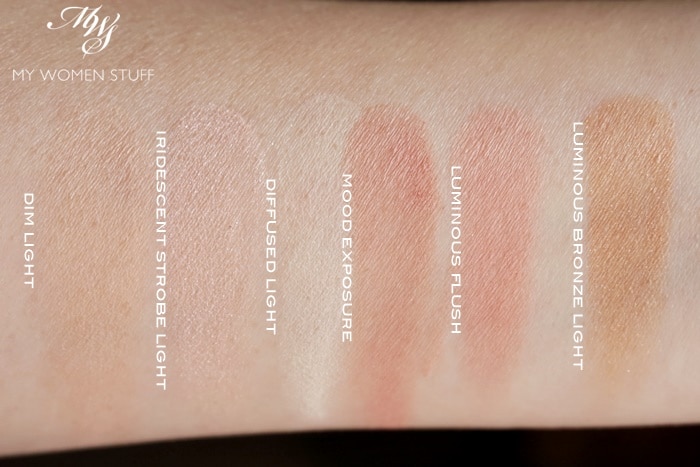 While I know that Diffused Light works well for me as an overall finishing and setting powder (it has a more satin finish) I find that Dim Light shows up a little more on my light skintone. So it isn't one I'd wear all over, perhaps for areas that I want to "contour" or use a low-light. Perhaps only on certain areas of the face. Iridescent Strobe Light is rather shiny so I'd use it for a highlight.
As for the colour powders, Mood Exposure is a wee bit deep on my skin so I rarely wear it on its own, preferring to blend it with a lighter blush. In this case, it would be Luminous Flush although I have to be a little careful with it. It's pretty pigmented. When working with the Hourglass blushes, I like using the Wayne Goss Brush 2 because I get precise placement where I want it, and it blends out well, which is important for pigmented blushes like these. I am not good with using bronzer, but I have to admit that the Luminous Bronze Light bronzer, which is new from Hourglass, wasn't too hard to use. It is transparent, and if you use a light hand, and blend it out, you don't end up with dreaded stripes of brown cocoa powder on your face.
All in all, I must say that it's a useful palette to have and own, if the budget permits 🙂
This is how the size of the Ambient Lighting Edit palette compares to other powders. The largest pan will be the full sized Ambient Lighting Powder, while the full sized Ambient Lighting Blush is a wee bit smaller. The Ambient Lighting Blush palette that you see in the top right, is a limited edition item and one of my favourite blushes ever. I use them almost daily, because I like how longlasting the colour is, and how easy and flattering it is on skin. Yet, despite using it for months on end straight, there's barely any discernible dip in the powders! Ditto the face powder. Barely a dip. Yep, a little goes a long long way 🙂
You may also notice how the Ambient Lighting Edit palette is noticeably smaller in size. If you use large fluffy brushes then it will bother you. But if you don't, it's actually alright. I'm happy with it, with absolutely no complaints. Sure, it was silly of me to buy this when I already own 3 of the products in it, but then, this was only my 2nd Christmas collection purchase this year (my 1st was the Guerlain lipstick!) so I'm allowed some irrationality eh? 😉
IN A NUTSHELL

The Hourglass Ambient Lighting Edit palette is a handy palette containing 3 mini pans of Ambient Lighting powders, 2 Ambient Lighting blushes and 1 bronzer. It's actually useful if you don't already own 2-3 of the colours, and the compact size is very useful for toting around. I think the combination of products is also very useful for most people. However, this is most certainly a luxury product, due to the price and the size. Not a must have, but if your budget permits, it's oh-so-lovely to have! 😀

PROS: Easy to use, Compact sized, Good combination of powders and colours to suit almost any skintone, A little product goes a long way, Flattering to the complexion, Good way to try out the products if you aren't familiar with them

CONS: Pricey, Small size, Hard to get if there's no Hourglass Cosmetics counter nearby

WHO WILL LIKE THIS: Anyone who loves the Hourglass Ambient lighting products, Anyone who wants a taster of the Ambient Lighting products, Anyone who doesn't already own 2-3 of the shades in the palette

PRICE: £65 | US$80

AVAILABILITY: Hourglass Cosmetics is not available in Malaysia at time of writing. I bought mine on SpaceNK and you can also get it at Net-a-Porter (both ship internationally) or in the USA also from Sephora, Nordstrom, Bergdorf Goodman
Were you taken in by this Ambient Lighting Edit palette? Have you tried any of the Ambient Lighting powders or blushes and do you like them?
I confess that when I saw the picture of the palette, I filed it away in my to-buy list. I just knew I was going to get it, because I liked how it looked, and because I already knew I enjoyed using the powders. Plus, I can't always be rational all the time right? Life would be so boring (although I would have a tad more money in my wallet LOL!) 😀 What say you – something you'd like?
Paris B