There are some makeup brands that enter your life like a comet, flying straight for your heart, and making a large impact. There are others that simmer at the back of your consciousness for years, like a slow burn, before one burst of oxygen ignites this interest and causes it to burst into flame.
For me, Bobbi Brown was the latter brand.
I only started experimenting with makeup when I started my first job. Neutral, muted colours that Bobbi Brown was known for, was not part of my makeup vocabulary then. I was all about blue and green eyeshadow, and shimmer and making sure people knew I had makeup on!
But to facilitate the application of all these colours, I needed a canvas.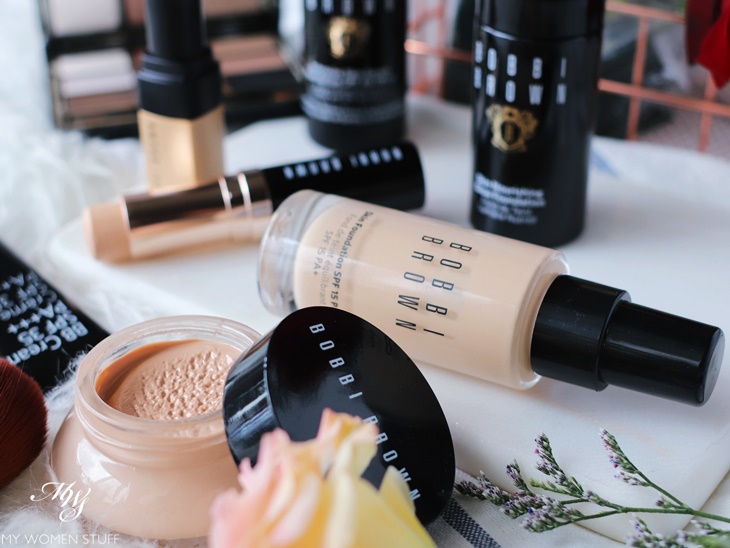 Liquid foundation was new to me then. I had only used powder foundation (then known as 2-way cake – hands up everyone who remembers it called that!) and my one foray into liquid foundation was a disaster of epic proportions. I picked the wrong brand, wrong shade and wrong formula. Understandably, I was not confident to pick the right liquid foundation for myself.
Then, the slow burn that was at the back of my mind whispered to me – what about Bobbi Brown?
And just like that, a puff of oxygen blew across my consciousness and fanned my interest.
Truthfully, my first time in the Bobbi Brown chair was not successful. Bobbi Brown prides themselves on a range of Skin Foundation with a yellow base, to suit most skin tones. While true, for the most part, I found their initial offering too yellow and too dark for me.
That initial puff of oxygen had failed to ignite the flame.
A few years later, I found myself again in the Bobbi Brown chair, this time, with an expanded selection of foundation shades in the lighter and deeper colour spectrum, a knowledgeable and helpful in-store guide and I went home with the Bobbi Brown Skin Foundation in shade 0 – Porcelain.
This was the puff of oxygen that ignited the flame of my interest.
Not only was the shade perfect for me, I found myself enjoying the lightweight texture on my skin. Here was a foundation that made my skin look like skin! It also coincided with my less exuberant makeup style, and a realization that makeup did not need to be seen. I could in fact, use it so I look like myself, just better.
Since then, I've experimented with most Bobbi Brown foundations, and I can safely say that each has impressed me in their own way. Let me break them down for you!
Bobbi Brown Skin Foundation SPF15
This is the original foundation, and the one that first caught me, hook line and sinker! The coverage is light-medium and buildable, with a lightweight and natural finish on skin. The formula is oil-free which makes it suitable for those with slightly more oily skin as well. Yet, I wear it comfortably as an everyday foundation, and I have dry skin! I noticed I never gave it its own review, which is terribly remiss of me!
Suffice to say however, that I love it for daily wear, as it's not too heavy in weight or in coverage, and feels comfortable and natural for me. A good starter foundation to own.
Coverage: Light-Medium

Who will like this: Anyone who wants a lightweight, natural finish, light-medium coverage foundation with a good range of shade selection from very fair to darker skin tones
Bobbi Brown Extra SPF25 Tinted Moisturizing Balm
This isn't widely talked about, but is a product that I have tried and quite enjoy using for my days off. It is a tinted balm and more suited to those with dry skin. The texture, as the name implies, is that of a balm which is a little heavy for most. If you have an oily or combination skin type, this is not the product for you. But if your skin tends to the dry or very dry, and you don't need or want a lot of coverage, just something to lightly even out skintone and redness, this is one to consider.
The other reason I believe it is less popular is because the coverage is very light. I like using it just to even out my skintone and then build on it with concealer where I need more coverage, and then a light dusting of powder. It is very natural so you look like you don't have any makeup on, yet your skin looks just that touch better than usual! It however remains quite a niche product, as it is very skin type specific.
Coverage: Very light

Who will like this: Anyone with drier skin who wants to even out skintone without adding too much coverage
Bobbi Brown Skin Foundation Stick
This is the one I whip out when I travel because it's both portable and easy to use. I can blend with just my fingers, and it stays put longer on my skin. Unlike most stick foundations I do not find this to be particularly drying. The coverage is medium to full, depending on how much you use. I personally find that less is more, for a more natural finish.
Read the Review: Skin Foundation Stick Review

Coverage: Medium

Who will like this: Anyone who wants a portable foundation that is easy to use and blend, looks natural on skin and is longlasting
Bobbi Brown Intensive Skin Serum Foundation SPF40
This was and remains one of my favourites. It is lovely and creamy on skin although I do need to set it with powder as it does not dry down fully. However, I like the medium coverage with its lightweight texture, and I have also found it to be quite moisturizing. It leaves me skin looking glowy, and I've also since prefer to apply it using fingers as opposed to a brush as I used to before. I however have one major grouse and that is with the dropper-style packaging that does not pick up product properly. I am reliably informed that this might change very soon, and for me, this change cannot come fast enough!
Read the Review: Intensive Skin Serum Foundation Review

Coverage: Medium

Who will like this: Anyone who has drier skin and wants a foundation that will feel more moisturizing
Bobbi Brown Skin Nourishing Glow Foundation
This one's one of my favourite foundations of all time. Not only in Bobbi Brown, but of all the foundations I've used so far! This is the one I reach for when I want to put a perfect base forward, when I know I have to look good. This is the one I reach for when I want my skin to look as close to perfect as possible. This takes pride of place next to the Cle de Peau Radiant Finish Foundation. The only snag is that this remains an Asia-exclusive foundation. A pity, because this is one of the best foundations that Bobbi Brown has released thus far. The coverage is medium to full, but I prefer to use just a little for a light base, with an incredible glow to the skin.
Read the Review: Nourishing Glow Foundation Review

Coverage: Medium to full coverage

Who will like this: Anyone with dry skin who wants a high coverage foundation that does not look thick or cakey on skin, Anyone who wants a good foundation that feels light and comfortable on skin while imparting a beautiful natural glow
Bobbi Brown Skin Long-wear Weightless Foundation
As of today, this is the latest foundation offering from Bobbi Brown. While most long-wearing foundation leave my skin looking like parched, cracked mudflats after a few hours, this one from Bobbi Brown still manages to make my skin look like skin. Healthy, naturally radiant skin at that. It is lightweight, with a high coverage, and is very easy to blend using fingers. Because the coverage is quite high, I don't even need to use a concealer! I just top up the areas that I need coverage with a dab more of the foundation and blend it out. I love this one especially when I have to be out and about in the heat and want something that will stay put without drying out my skin.
Read the Review: Skin Long-wear Weightless Foundation Review

Coverage: Medium to full coverage

Who will like this: Anyone who wants a longlasting foundation that does not dry the skin, Anyone who wants a lightweight foundation with medium to full coverage
Bobbi Brown BB Cream
While not a foundation per se, I feel that this one deserves honorary mention, because for me, it performs as a lightweight foundation. I have recently rediscovered this, and have been wearing it very often, because it gives me just a very light base. The coverage is higher than that of the Tinted Moisturizing Balm, and is a little lighter than the Skin Foundation. The tube packaging however, makes it portable and you can blend it easily with fingers. A good BB cream that is worth investigating.
Read the Review: BB Cream review

Coverage: Light coverage

Who will like this: Anyone who wants a portable and lightweight cream type foundation that is lightweight on skin without too much coverage



I thought it would be helpful to see the different textures and formula alongside each other. You can see how the Stick Foundation is creamy but fairly solid. The Tinted Moisturizing Balm is fairly sheer, while the Nourishing Glow Foundation and Intensive Skin Serum Foundation have a thicker texture that hold their shape better.
I will confess however, that the flame of enthusiasm was dampened somewhat by the Bobbi Brown Cushion Foundation which I unfortunately do not love. But I guess on every plain some rain shall fall.
When Bobbi Brown asked me to tell My Bobbi Brown story, it wasn't hard. All I had to do was to start right at the beginning, with a good foundation.
And the rest as they say, is history 🙂
What is your Bobbi Brown story? Do you enjoy using their foundations too?
Mine is the Skin Nourishing Glow Foundation – beautiful formula! I'm interested to know what your favourite Bobbi Brown foundation formula is so do share!
Paris B
This post is brought to you in part by Bobbi Brown Malaysia. All opinions are my own.