Someone asked me quite recently what sort of makeup products I liked. My unhesitating answer was "Base Makeup". By this, I don't mean "base" as in "primer", but "base makeup" as in everything that goes on your skin as a base. This could well include primer (although that isn't something I'm keen on) but my primary focus is on foundation, concealer and perhaps, powder.
Needless to say therefore, that any new foundation or concealer launch has my ears pricking up.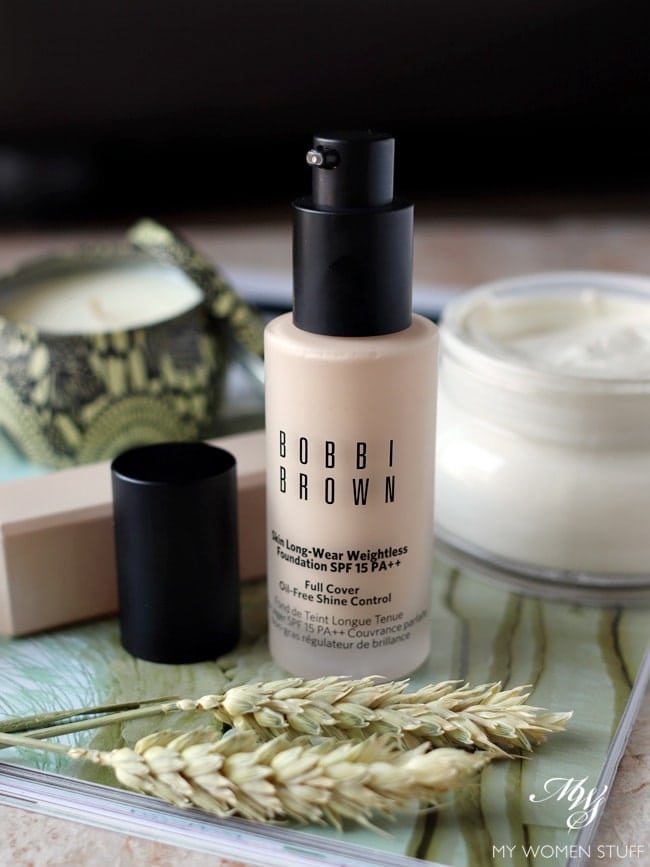 One such newbie is the Bobbi Brown Skin Long-Wear Weightless Foundation SPF15 PA++ (What a mouthful!) This one promises full coverage and oil-free shine control. It says so right on the bottle!
Now, I was a little wary. You see, the product comes in a frosted bottle. It also says "long-wear" and then talks further about "shine control". For someone with drier skin like me, these are all clanging warning bells. It usually makes me think of thick, drying textures, settling into fine lines, and a matte finish on skin. A look I do NOT go for.
Which is why I was left pleasantly surprised! 😀
The Bobbi Brown Skin Long-Wear Weightless Foundation is none of the above. The packaging is faultless, really. It is elegant, and comes with a pump, as all liquid foundations should. What I particularly like about this pump is that it is smooth and easy to control. Why this is important is because you don't need very much product.
Now, it claims to offer full cover. But I beg to disagree. At best, I'd say that this offers medium coverage, but buildable to a heavier coverage, if necessary. It doesn't offer as full a coverage as some other foundations I've tried. But that's not a bad thing, unless you want something with full coverage. My preference lies with a sheer-to-medium coverage product, so this was fine by me. I actually use quite little product.
The texture is smooth and easy to spread. Important, because I use just a little (about half a pump for my whole face) to achieve a lower coverage. If you want something with higher coverage, I'd suggest the Bobbi Brown Skin Nourishing Glow Foundation. I love that one, and the coverage is much higher than this.
I wear the shade Porcelain, which looks a tad light in the swatch above, but which is really a good match for my skin tone. Incidentally, I wear Warm Porcelain in the Skin Nourishing Glow Foundation, which also works. So I'm not sure how that is possible, but it is LOL!
Just comparing the swatches above, I'll tell you that the Bobbi Brown Skin Long-Wear Weightless Foundation has the lightest, and most emollient texture of the foundations I've shown. It feels like a lotion, and isn't thick at all. In fact, it lives up to its name – weightless.
I put this to the test in the most harrowing of circumstances – during the Chinese New Year. This year, the weather was brutal. It was burning hot all day, every day, and we had to be out and about in that scorching weather. Sweat was quite literally dripping down my hairline and my neck, and I was melting in the heat.
But my makeup stayed looking pretty much perfect. My base was this Bobbi Brown Skin Long-Wear Weightless foundation. It stayed put, it did not melt, it did not turn oily (although it did let some shine through) and it was comfortable. It felt like nothing on my skin, which is so important!
The added benefit (which is why this called a "foundation") is because it held up so well as a base, my makeup that went on – blush and some healthy glow powder – held up as well. I was impressed and I remain impressed every single time I use it, albeit in less harrowing circumstances.
Here's the other thing I like – its coverage.
I did say above that this isn't quite as full coverage a foundation as it'd make us believe. But the coverage is sufficient that I can get away without having to use a concealer. I just layer on a little more foundation where I need it, and I'm good to go!
In the before-after shot above (unedited, as they all are) you may see what I mean. It has evened out my skin tone, covered up shadows around my eyes, done a valiant effort with my hyperpigmentation, and yet does not look cakey or heavy. Even up close, it doesn't give off that heavy, flat, matte finish, and offers a natural shine, as you may notice.
I do however find that it applies best using my fingers. While I usually apply my liquid foundations with a brush, I found that in this instance, using my fingers allowed me to get a more natural finish, and use less product. If I want to add some oomph to this, I add a touch of the Bobbi Brown Pink Glow Illuminating Moisture Balm, and it gives a crazy glow to your skin. I walk by a mirror each time I use this combination, and think "Damn! I look bloody good!" Because hey, you gotta love yourself LOL 😀
I have enjoyed using Bobbi Brown foundations, and this one is definitely a keeper.
IN A NUTSHELL

The Bobbi Brown Skin Long-Wear Weightless Foundation doesn't have as full a coverage as the bottle implies. However, it has good coverage, and doubles up as a concealer and colour corrector, so you can even skip using those if you want. I like the texture, which is quite emollient and feels like a lotion so it spreads easily. I do find it to have medium coverage, but buildable on areas where you need it. Layering doesn't make it look heavy or cakey, and it quite literally feels weightless on the skin. The best part is that it is long-wearing, without being drying on your skin as most long-wearing foundations are. This feels very comfortable on skin, and stays put for hours, even if you sweat buckets. You may be a damp, sweat-stained wreck, but at least your makeup will look pretty much perfect 😀

PROS: Wide shade selection, Sensitive pump allows you to dispense the right amount of product you need, Easy to blend on skin, High coverage and doubles up as concealer, Not drying, Feels lightweight on skin, Very long-wearing even in hot and humid weather

CONS: Can be a little pricey (I'm nitpicking – I couldn't find a con 😛 )

WHO WILL LIKE THIS: Anyone who wants a long-wearing foundation that is not drying or heavy on skin, Anyone who wants a medium-to-full coverage foundation that feels lightweight going on

PRICE: RM165 | US$46 | £31 for 30ml

WHERE TO BUY: Bobbi Brown counters and stores or online (US), Sephora, Nordstrom
For those interested, these are the ingredients in the Bobbi Brown Skin Long-Wear Weightless Foundation.
Octinoxate 3.0% , Titanium Dioxide 1.6%Ingredients: Water\Aqua\Eau , Dimethicone , Trimethylsiloxysilicate , Cetyl Peg/Ppg-10/1 Dimethicone , Butylene Glycol , Glycerin , Disteardimonium Hectorite , Polyglyceryl-3 Diisostearate , Sodium Chloride , Laminaria Saccharina Extract , Butyrospermum Parkii (Shea Butter) , Fragrance (Parfum) , Ascorbyl Palmitate , Tocopherol , Dimethicone Crosspolymer , Methicone , Stearic Acid , Tocopheryl Acetate , Glyceryl Oleate , Lecithin , Glyceryl Stearate , Citric Acid , Aluminum Hydroxide , Talc , Disodium Edta , Linalool , Sodium Dehydroacetate , Phenoxyethanol , [+/- Mica , Titanium Dioxide (Ci 77891) , Iron Oxides (Ci 77492) , Iron Oxides (Ci 77491) , Iron Oxides (Ci 77499)]
Do note that it contains dimethicone, for those sensitive to silicone, but it does not have a heavy silicone feel to the texture. It also contains SPF15 which I personally feel is insufficient (always use a separate sunscreen!) but people often disagree with me 😀
Does this new foundation from Bobbi Brown pique your interest?
Do you generally prefer high coverage foundations? I personally prefer lighter textured and lighter coverage bases. I strive to look nice, but I'm realistic and don't strive to look perfect 🙂 This is a good one, if you're in the market for a foundation. Do check it out!
Paris B