I'm not a big user of makeup primers. For the most part, I've found them useful when I want my makeup to stay on longer for something special, but otherwise, I'm quite happy not to use them. I just don't notice any other benefits.
But recently, I've been experimenting with some makeup primers that offer more than just a surface for your makeup to sit on. These primers add that much needed glow to lacklustre skin, and I have to confess that I am a convert! I love these primers!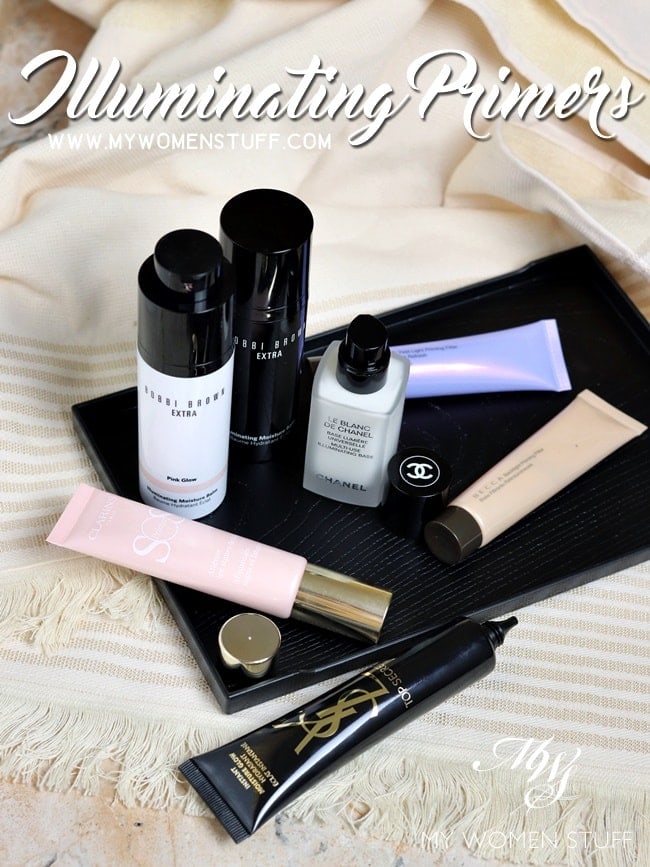 I have quite a few, as you can see above, and I'll share my thoughts with you on each of them. This is of course, a non-exhaustive list. I could well find another one later that I love, but I thought it would be useful to have them all in one place for now 🙂
These are primers I have been playing around with for a while, and didn't realise how many I'd amassed till now 😛 My complexion has been a little off in recent times. I'm not sure if it is due to poor sleeping patterns, skincare, or just festive season food that is too rich. But I haven't been feeling and looking my best, and it shows on my complexion. So, every little help is welcomed!
But out of all of them, I have my favourite. Oh yes I do, and I credit it for picking up my complexion when I am fatigued, making me look chirpy and perky when I really look like I should be crawling under a rock. Take a guess which 😉
Illuminating Primers – What are they?
These primers I have featured do more than just offer a base for your makeup. They are mostly tinted to colour-correct, and I opt for something that adds a glow or radiance. There are primers out there that may add some tint of colour, like a healthy tan (which is often what "healthy glow" implies) but I usually opt for something that offers radiance and lifts a tired complexion. These type of primers usually have a pink or lavender tint. Some may even help colour-correct redness or yellowness. These usually have a green or blue tint.
Aside from helping colour-correct your skin tone, it also helps your makeup stay on longer, and look fresher for longer. So it really serves a dual purpose.
How to use an illuminating primer?
You can use it as you would your regular primer. Squirt some out on the back of your hand, and apply it all over your face as a base, before applying your base makeup (foundation) and colour.
However, I'll share with you a little trick I like to use instead.
Pump some liquid foundation, BB or CC Cream on the back of your hand.
Pump or squirt just a little drop of illuminating primer into your liquid base. Do not pump a whole pump as it will be too much. Just a drop or two.
Mix it together on the back of your hand, and then apply to skin with fingers or a brush.
I like using it this way, especially when I use thicker, heavier, or drier liquid or cream foundations. I find the primer lightens the texture a little, and it also makes the product more comfortable for me to wear. With heavier textured foundations, which can sometimes look too heavy or matte on skin, I find that a bit of illuminating primer mixed in lifts the whole texture. This also makes a foundation I might otherwise not wear, wearable.
What illuminating primers have I tried?
I haven't tried very many, but enough to know what I like. These are some of the primers I have used, and my thoughts on them.
Bobbi Brown Extra Illuminating Moisture Balm – RM275 | US$68 for 30ml
I reviewed this one before, and it was one of the first illuminating primers I'd tried, that sold me onto this sort of product. The texture is more like a balm than a liquid primer, and it not only acts as a primer, grabbing makeup to help it stay on longer, but also offers moisture to skin. This makes it great for those who may have drier or dehydrated skin. The original Bobbi Brown Extra Illuminating Moisture Balm comes in a black pump bottle, and has a slight ivory tint to the product. I do find that it can make my skin look a wee bit shiny if I use a full pump, so I am very careful to use just a little, just to give skin a little lift. You can even use it on its own, just to give skin a bit of radiance, and dust some loose powder over. I love it, and it's one of my favourites.
Bobbi Brown Extra Pink Glow Illuminating Moisture Balm – RM275 | US$68 for 30ml
Then earlier this year, I spotted some new additions to the BB Illuminating Moisture Balm range. There are 3 additional shades – Bare Glow (this looks like the original one, but is a touch more glowy-shiny), Pink Glow (pink tint to offer radiance), Golden Glow (golden-brown tint to offer a bit of bronzing effect). Here are some swatches I took in store to show you the difference.
The difference between Bare Glow and the original (which is still available) is very slight. In person, when blended out Bare Glow has a touch more shine.
My pick was Pink Glow, which has a pink tint for radiance. I knew from experience that this was the best option for me, and I was absolutely spot on!
I find that the Pink Glow Illuminating Moisture Balm is a little less shiny than the original. While the original version can leave my face looking rather sweaty, Pink Glow does not. It goes on skin pretty much transparent, but just gives it that additional boost, so I just look better. My skin looks less tired, my foundation bases look lifted, and I get compliments on how "fresh" and "glowy" I look, every single time. I kid you not! 😀 That alone is a mood-booster!
During the festive holidays, I wore this out in the sun, and despite my sweating, it helped my already long-lasting foundation, stay put and importantly, stay fresh for longer. I also like blending this with BB/CC creams, or just wearing it on its own, with some powder over, a touch of concealer where I need it, and I'm good to go. I love it! Cost me a pretty penny, but hey, that's the price of (almost) perfection! 😀
WHERE TO BUY: Bobbi Brown counters and stores and website (US), Selfridges, Adore Beauty (AU), Sephora
Le Blanc de Chanel Multi-Use Illuminating Base – US$48 for 30ml *
Next to the Bobbi Brown ones, this le Blanc de Chanel Multi-Use Illuminating Base is one I particularly enjoy using. It comes in a very compact square, frosted, glass bottle with a pump and is an oil-free formula. What's interesting about this Chanel one is that its white.
However, fear not, for it applies transparent. That said, it applies transparent on my skin. I'm not too sure if it might show up as ashy on deeper skin tones. This is because it offers a very subtle radiance and illumination to the skin. Very soft, barely there. I love mixing this one into liquid foundations because gives it a much more subtle lift, than the Bobbi Brown ones.
What gives this one a plus point, is that like many primers, it blurs imperfections. No, it will not give you porcelain smooth skin if you have large pores or acne scars as I do, but it sure gives it an excellent attempt! Imperfections look minimized, and really, that's excellent by any standards.
WHERE TO BUY: Chanel counters and beauty boutiques, Harrods, Saks Fifth Avenue
Clarins SOS Primer – 01 Rose – RM130 | US$39 for 30ml *
Clarins has a brand new primer range called the SOS Primer that comes in 6 shades globally, and 3 shades locally in Malaysia. These primers not only prime skin, but also help colour-correct. I had used the Clarins primer back in the day. It is actually quite good stuff. Keeps makeup looking fresh all day and holds it in place without letting oil through. Good stuff.
Naturally therefore, I was curious to know if the new Clarins SOS Primer would do the same. I was sent one in 01 Rose (Pink tube for radiance). Locally, we also get 03 Peach (Peach tube for glow) and 04 Green (green for redness). The product comes in a tube with a pump under the cap. This actually makes it very portable when you travel, so it is a clever design. The cap does not remove easily, so there is no fear of it popping open in transit.
I do find that the texture of the Clarins SOS Primer a little runny. This isn't necessarily a bad thing, but it means that it can be a little difficult to control if you want to use only a little. I have tried using it on its own, and mixing it into my foundation. The lighter, runnier texture makes it feel more like a lotion, and helps skin stay hydrated for longer. This indirectly helps your makeup stay on better.
The pink tint adds some radiance boost, and you can use a little under your eye to waken tired eyes, as I have tried. It is very very imperceptible, so do not expect miracles. I find that it is decent as far as primers go, and as far as a radiance-boosting illuminating primer goes. However, I prefer the Bobbi Brown Pink Glow to this one, based on performance. That said, the BB one is also double the price of this, so go with the one that suits your budget 🙂
WHERE TO BUY: Clarins counters and skin spa boutiques and online, Escentual, Nordstrom, Selfridges, Harrods
Becca Backlight Priming Filter, Becca First Light Priming Filter – RM179 | US$38 for 30ml
These are very popular primers from Becca. The full size version comes in a pump bottle. Mine aren't full sized, as they came in a deluxe trial kit I bought online. It was however, sufficient for me as I use so little of these things, and it was such a bargain! 😀 I think it was just £20 or so for the set that came with an eye primer thingy as well.
Both the Becca Priming Filters have a slightly runny texture. I can see why a pump packaging makes sense. In mine, the Backlight Priming Filter is a little thicker in texture than the First Light Priming Filter, as you will see below. But what's the difference between the two?
The Becca Backlight Priming Filter has a more golden tint, and is supposed to offer radiance. This brings to my mind the shimmering skin perfector that I like, but less shiny. This one isn't a highlighter, but I do find that the Backlight Priming Filter can give my complextion a hint of depth that I'm not too keen on. If you like that golden glow or if you have a medium skintone, I think you'd like this one.
My preference lies with the Becca First Light Priming Filter, which is tinted lavender. Unlike most tinted colour-correcting products I've tried, the lavender tint in this one is quite strong. But fear not, it will blend into your skin, and only leaves your skin looking less dull, and a touch brightened. This one I won't mix into my foundation, because I feel it is best appreciated going straight on skin. You can apply it just where you need it. If you are experiencing or have sallow tired skin, a lavender tint like this perks your skin up and makes you look fresher. Ah, the wonders of makeup! 😀
WHERE TO BUY: Sephora, Cult Beauty, Space NK
YSL Top Secrets Instant Moisture Glow – RM260 | US$40 for 30ml
This one was in my goodie bag for the launch of YSL Beauty in Malaysia a while back. I remember that during the party, I was told that this is one of their bestsellers. I must say however, that of all the products I've featured here, this one is my least favourite, and most like a primer.
The packaging is sleek, and the nozzle does make it easier to squeeze out just the right amount of product you need. It is a slightly translucent gel-lotion texture, and I am reminded of the texture of moisturiser. Apparently, that's what this is – a moisturising primer, or a moisturiser that primes. Erm. Ok.
Of all the primers I've featured here, this has the most silicone-y feel to it. It also doesn't do much in terms of illuminate (it does not claim to) but the reason I included it is because it does blur imperfections without giving your skin that flat look that primers can give. However, my beef is that YSL markets this as a moisturiser, not a primer. As a moisturiser, it doesn't do much. I don't feel it to be particularly moisturising. So, treat this as you will a primer, wearing it just before your makeup goes on, and you'll be fine. Treat it as skincare, and I think you will be sorely disappointed.
WHERE TO BUY: YSL counters and beauty boutiques, Selfridges, Harrods
To help you further (or confuse you) here are the swatches of the primers I have featured here.
You may notice the shimmer sheen from the Bobbi Brown ones as well as the Becca ones. Both these reflect in their performance. The Clarins one is more like a moisturiser, with little sheen to it. The Chanel is pure white, with no sheen, and the YSL one is more like a traditional translucent primer in texture.
My favourite Illuminating Primers
My personal favourite is the Bobbi Brown Extra Illuminating Moisture Balm in Pink Glow, followed by the le Blanc de Chanel Multi-Use Illuminating Base. Then comes the Becca First Light Priming Filter and the BB Original Illuminating Moisture Balm in a tie (different purposes). I'd pick the Clarins SOS Primer in Rose next followed by the Becca Backlight Priming Filter before settling for the YSL Top Secrets Instant Moisture Glow.
Have you tried illuminating primers? Do you have a favourite that I might like too?
I do notice some brands missing, and I can almost predict which you'd suggest, but suggest them anyway 😀 If you don't help me, you'll help someone else reading this, and that is always a GOOD thing 😀
Paris B