The Kiehl's Calendula & Aloe Soothing Hydrating Mask was launched some time last year. I'll tell you that I rather liked it. But I couldn't tell you about it earlier, because my last experience with something I enjoyed from Kiehl's didn't have a happy ending. I told myself then, that I'd give all new releases from Kiehl's 6 months, just in case they change their mind.
Well, more than 6 months have passed and the Calendula & Aloe Soothing Hydrating Mask is still around, so I guess it's safe to talk about it now LOL!
This joins Kiehl's' mask wardrobe, offering a hydration boost to skin. I enjoyed using the other versions of the Kiehl's masks, and I was wondering if I might like this one too.
When Kiehl's launched it, they tried to sell me the idea of multi-masking, by applying different masks on different parts of the face. It isn't a new concept, as people have been doing it for a while. For some reason, it amuses people to have different coloured masks on different parts of the face. However, I never bought into that technique.
I multi-mask. But I do so, one after another. A clay mask, or a peel type mask, followed by a soothing and hydrating mask. I feel that I derive the most benefit this way, rather than only treating one part of my face at any one time. But that's me! Onto this mask 🙂
This feels a lot like any regular gel mask, and it is.
The clear yellow gel is infused with strands of calendula flower petals. Calendula extracts are known to soothe skin. Aloe Vera on the other hand, is well known to hydrate and sooth. On paper therefore, this looks like quite a winning combination.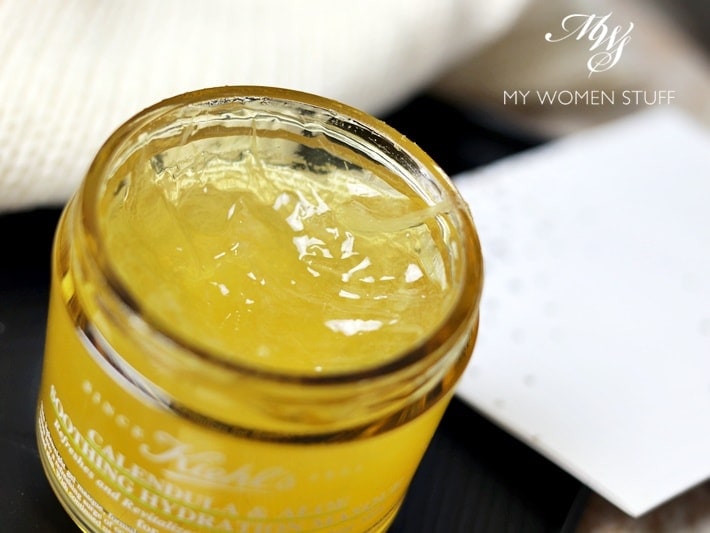 For me, the Kiehl's Calendula & Aloe Soothing Hydrating Mask is pretty much a hydrating mask. If you think of your gel moisturiser and how you can use it as a sleeping mask or as a quick mask, this feels similar. I will have to point out here, that during the media launch, I did ask if I could use this as a sleeping mask. The answerwas that it wasn't recommended. Have I tried it? No, I actually haven't because I now eschew sleeping masks of this texture, preferring something heavier 🙂 If you have tried it, let me know if it works, or if your face will fall off LOL! 😀
I usually use this after a more intensive mask, but I do find that it isn't as soothing as say the Antipodes Aura Manuka Honey Mask. This one feels a lot more like just a hydration mask. I do find that I don't need to use too thick a layer on my skin. It has a nice cooling gel feel on my skin.
It will not dry fully, and will feel tacky. Perhaps that's why it won't make such a good sleeping mask, unless you fancy washing your pillow case the next morning.
I also find that it can be hard to wash off, because it feels like dried jelly on your skin. If you use warm water and rub slowly, it will eventually wash off. But I have no patience. So I always use a sponge to clean it off. It's just quicker.
Once I wash it off, I find that my skin feels noticeably smoother, with a bit of boing to it. Does it last? Well, about as long as the effects of most masks. It's … nice.
Is it something I'd recommend? Well, yes if you are in the market for a hydration mask that is pretty effective. Is it something exceptional? Well, not particularly. I'm sure there are similar gel-type hydration masks out there.
IN A NUTSHELL

The Kiehl's Calendula & Aloe Soothing Hydrating Mask is a gel-type mask that comes in a tub. It's quite a large tub that can last a while. The gel has a slightly goopy texture, and contains bits of calendula petals in it. It feels a bit cool going on the skin, and does not truly dry out. It washes off after a spell, but I use a sponge to remove just so it's quicker. The effect of the mask for me is to boost skin hydration. I use it if my skin is feeling dry, but mostly after I use a clay or peel type mask, to rehydrate and soothe skin. It's a nice mask but not entirely exceptional.

PROS: Easy to use, Boosts skin hydration, Calms skin

CONS: Pricey, Can be hard to remove with just water

WHO WILL LIKE THIS: Anyone who wants a hydration mask

PRICE:RM198 | US$45 for 100ml

WHERE TO BUY: Kiehl's stores, Sephora
If you're interested, here is the list of ingredients for the Kiehl's Calendula & Aloe Soothing Hydrating Mask:
Water, Glycerin, Aloe Barbadensis Leaf Juice, Butylene Glycol, Ppg-26-Buteth-26, Peg-40 Hydrogenated Castor Oil, Glyceryl Acrylate/Acrylic Acid Copolymer, Carbomer, Calendula Officinalis Flower, Phenoxyethanol, Limonene, Calendula Officinalis Flower Extract, Ethylhexylglycerin, Citrus Limon Peel Oil / Lemon Peel Oil, Paeonia Suffruticosa Root Extract, Scutellaria Baicalensis Root Extract, Sodium Hydroxide, Citrus Aurantium Dulcis (Orange) Peel Oil, Tocopheryl Acetate, Cassia Angustifolia Seed Polysaccharide, Pelargonium Graveolens Flower Oil, Anthemis Nobilis Flower Oil, Citral, Citric Acid, Potassium Sorbate, Artemisia Absinthium Extract, Sodium Benzoate, Tocopherol
The primary ingredients are designed to hydrate and sooth skin. The citrus oils in there do add a hint of citrus scent to the gel, and personally I think they could do without it.
Have you tried this Kiehl's Calendula mask? Do you have a similar mask to recommend?
If you have a recommendation for a similar type of mask do share! I have something for masks, and have been using them very often 🙂
Paris B