Sometimes, the universe works in mysterious ways, as was just proven to me very recently. I'd come across news about the new, limited edition Jo Malone English Fields cologne collection online from UK bloggers who'd had first dibs at them. What caught my eye were the bottles. While soft pastel shades aren't very representative of me, nor are they shades I gravitate to, I was still enamoured by the aesthetic. It was so simple, yet eye catching.
I then shared about it in my monthly newsletter. 2 days later, a picnic basket landed on my doorstep.
Nestled within, amongst a selection of delicious baked goods, was the Jo Malone English Fields cologne collection! To say that I was surprised was an understatement. Try shocked, or even gobsmacked, or just plain ol' speechless!
Each year, Jo Malone London puts out a limited edition Brit cologne collection curated around something traditionally English. While they have covered desserts and stately homes, one of my favourites must be the one they did about Rain. Oh yes, rain is so quintessentially English! I didn't manage to get my hands on it, because it sold out quickly (and there was only 1 store back then I disliked going into) but I remembered it, and I hope they bring it back so I can grab them!
This year, the collection is English Fields, yet something very quintessentially English. They picked a combination of flowers and grain that are so entrenched in the English countryside, bringing to mind brightness of colour combined with the earthiness of grains, and making it something quite special.
I'll describe it to you the best I can, but I'm told that this collection is selling out VERY fast, which I believe is more to do with its aesthetics than scent. Let me tell you why 😉
But first, special mention must be made of the bottles. I am a less visual person as compared to many other bloggers, favouring practicality over something pretty. I wasn't very enamoured with the unique packaging of Star Magnolia, for example. But this time, I loved it.
I loved the way the pastel hues were grounded with earthy neutral colours, with grey tones in them. It was eye-catching, yet grounded. The upper portions of the bottle are a shiny glaze, while the bottom half is a grainy matte.
When I held the bottles, I loved how they felt. It feels like ceramic. The smooth, shiny porcelain on top, and the grainy, earthy, rough texture of clay at the bottom. I can't tell if they are indeed ceramic (I don't think they are, but I can't find any information on the bottles, only the fragrances) but they feel and look that way, and I LOVE IT! 😀
But what about the scents? Well, I think it will be a matter of personal taste with this one, speaking diplomatically 😛
Jo Malone Poppy & Barley Cologne
Poppy & Barley was the first one I tested. I knew that the Poppy flower does not have a scent, but it is a very iconic flower of England. This one is decidedly floral. The scent is a blend of violet and rose, to invoke the rich red poppy, and blended with blackberry, for a slightly tart, juicy twist. Once you get past the top burst of floral notes, a slight earthiness comes through. I think this will be a crowd favourite, because it is bright and clean, as a scent, and most familiar. It makes you feel like you've just sprayed on some perfume. I'm not a big fan of this scent, as I do find it a little too floral for my tastes. I'd ground it even further by layering it over a heavier scent like 154 (which I LOVE to ittybitty bits!) and then I'm happier with it.
Jo Malone Green Wheat & Meadowsweet Cologne
By contrast to Poppy & Barley, Green Wheat & Meadowsweet is a scent that sits better on me. It is supposed to be crisp and fresh, and they say has a twist of grapefruit and meadowsweet. Not having smelled meadowsweet before, I'm not sure what that smells like.
But to me however, I like how this opens up with a bit of a bang. There is a fizz, with a spicy kick to the nose, and I enjoy scents like that. I don't quite get the grapefruit, which is fine by me, as citrus scents can often go very wrong on my skin. It does mellow down quite quickly to a sweetish base, that brings to my mind a sweet glazed bun. I swear it does! I can almost smell some nuttiness and some sweetness of a delicious, warm baked good. But it doesn't smell like I just stepped out of a bakery. Just makes me think of it. Yet, there is enough earthiness in it, that makes me comfortable wearing it. It does make me feel very clean, so a very nice shower-ready type scent, that takes me through the day.
Jo Malone Oat & Cornflower Cologne
I read that this evokes the scent of oats and cornflower while being grounded by vetiver, and I got a little excited. I love the scent of vetiver, and fragrances that contain it. Oat & Cornflower though, I find a little too sweet, with perhaps, not enough vetiver for my tastes 😀
There is an interesting musky top note that does bring to mind an oaty smell. If you open up a pack of oats, take a big sniff. That's the musky smell I mean. It's fascinating! I find I smell like a bowl of oatmeal, drizzled with honey (the sweetness of the scent) and the combined scent has a creamy, almost vanilla feel to it on me. It is something you either love or hate haha! 😀 I can't say I love it, but it is certainly unique.
Jo Malone Honey & Crocus Cologne
As the name implies, this is quite a sweet scent. Not sweet, in the way that a fruity or floral scent is sweet. But sweet, the way honey is sweet. I can definitely smell the honey in this, a rich, sticky, sweet-but-earthy scent. It makes you feel like you've just dipped your fingers into the honey pot, and are sitting on your door stoop, licking your fingers, revelling in the joy of the moment.
I don't know what a crocus smells like, but for me, the scent of almond comes through quite strongly. It makes the combination take on an almost creamy effect, almost like condensed milk. One of my favourite childhood memories is spreading condensed milk on a piece of bread, and enjoying that. Honey & Crocus makes me think that it might not be a bad way to add more padding to my hips LOL! 😀 You'll like this if you like creamy, almost gourmand scents. I'm not much of a fan, so this is one I will have to use to layer over something spicier, or something more musky or woody for best enjoyment. Otherwise, all I'll think about is condensed milk on bread 😛
Jo Malone Primrose & Rye Cologne
And that brings me to my favourite scent of the quintet – Primrose & Rye. The moment I sprayed it on, I knew this would be the one I'd enjoy most, which is quite a surprise to me.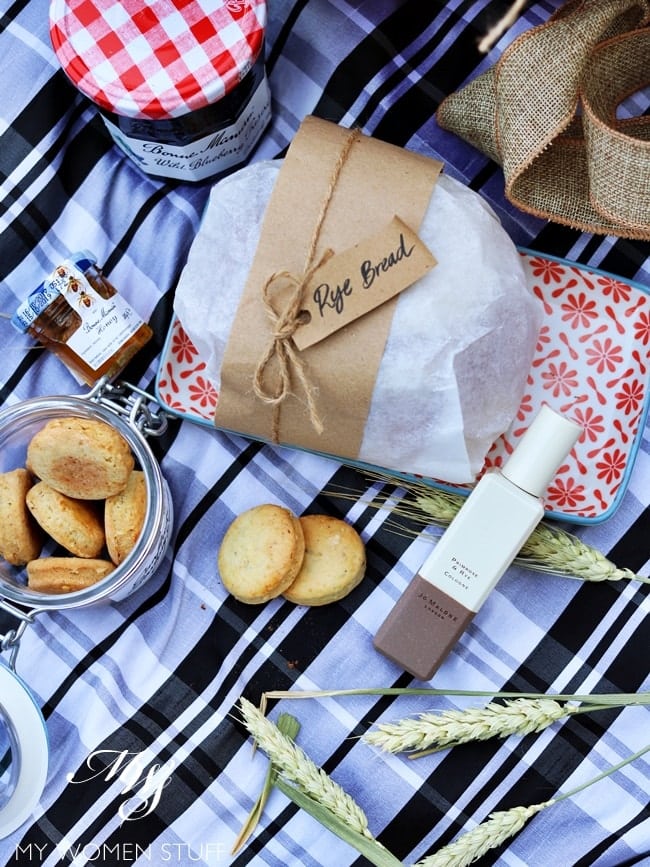 While it isn't spicy or woody, the way I like my fragrances, there is an earthiness and warmth to Primrose & Rye that appeals to me. It starts out a little sharp for me, with a sweet tang. But then, it quickly mellows to a smoky scent. Apparently, this contains vanilla, but not the creamy, sweet vanilla we are used to smelling, but the vanilla extract, which has a spicier twist. There is an earthiness that is reminiscent of rye as well. Rye bread is usually quite heavy and earthy in flavour, and not one that appeals to many, but in this fragrance, I enjoy it.
It makes me feel mellow, and warm, yet I also get a sweetish note that makes me think of freshly baked loaves. Jo Malone describes this scent as being filled with sunshine, and they are right on this count. I love it for our weather, because it seems to suit the warm sunshine, yet doesn't feel overpowering, and feels fresh without being cloying.
I think those of you who are familiar with my scent choices will notice that I stick quite true to my preferences. I gravitate towards the scents in this collection that are more earthy and substantial, more warm and spicy. The sweeter, floral scents don't appeal as much to me, but I think they will appeal to the majority.
That said however, I have one beef with this English Fields collection and that is this – they sadly, don't last on me. I know that is a common lament of Jo Malone fragrances, that they don't last. But the scents I usually go for – Amber & Lavender, 154, English Oak & Hazelnut, English Oak & Redcurrant, just to name a few – do last on me. But, if you have smelled them, you'd also know that they start out stronger, and are generally heavier, spicier, woody scents that stick around.
By contrast, the Jo Malone English Fields collection is far lighter. So, for me, I find them dissipating far too quickly. So, I tend to be a little more liberal when I spray it on, and even then, after just about an hour, I don't smell them anymore. Perhaps, there is a lingering scent (it is known that we can't smell our own smells after a while) but it will be quite faint. I do wish therefore that there was better longevity, because this is a rather unique, and pretty collection.
Have you picked up any fragrances from the Jo Malone English Fields collection yet? Which scent do you think appeals to you best?
Maybe the aesthetics just grab you, as they did with me LOL! I swear, this is the prettiest collection I've seen yet! That said, I do believe that this collection is a less unique than the Bloomsbury Set one, and it is supposed to evoke images of a part of Britain that may be more Enid Blyton than its reality. It's like the red phone box, the Beefeaters, domed policemen helmets, and the Queen – images of Britain past, not necessarily of it today. Still, that's what makes it whimsical, I guess 🙂
Paris B
Jo Malone English Fields cologne collection is limited edition and is available while stocks last from March 2018

PRICE: RM280 | US$70 | £47 for 30ml (1 size only)

WHERE TO BUY: Jo Malone stores, Online, Nordstrom, Neiman Marcus, Saks Fifth Avenue