You know what you can sell this Anglophile? Anything to do with Robin Hood. I'm not sure why I'm such a sucker for the myth (or legend) of what really is, a marauding band of robbers, but I am and I spent some very happy years in the city at the very heart of this story, because well, Robin Hood! LOL!
So when, at the launch of the Jo Malone English Oak fragrance, we were told that the fragrance is inspired by the mossy woods of England and the very strong, very old English Oak tree, like the one in Sherwood Forest, where Robin Hood and his merry men used to camp around in, I was sold. Sold, hook line and sinker!
Unusually for Jo Malone, in releasing this new fragrance, they released 2 iterations at one go, both of which are quite different. So you get the Jo Malone English Oak & Hazelnut cologne, and the Jo Malone English & Redcurrant cologne.
The inspiration at the heart of these fragrances is the English Oak, a strong hardwood tree that has been a part of England's history since time immemorial. This is the tree from which King Arthur hewed his round table at which he seated his knights. This is the tree in the heart of Sherwood Forest where Robin Hood and his merry men hid (it's still there. Allegedly. A sprawling oak is, anyway LOL! :D) This is the tree from which druid staffs were made, and this is the tree used to make the ships which sailed around the world. The English Oak is steeped in history and mysticism and Jo Malone has drawn on that in creating their new scents.
Jo Malone English Oak & Redcurrant
Redcurrants are red berries that have a very tart flavour, and quite commonly used by the English in their puddings and desserts. I quite like them, but I do favour tart flavours to balance out the sweetness in most desserts.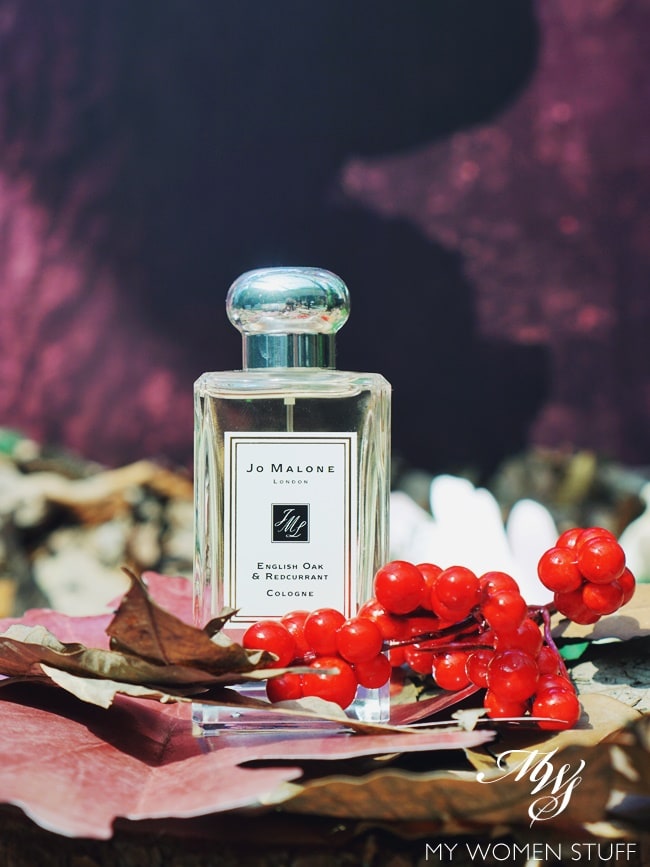 As a scent, the English Oak & Redcurrant is, I find, a little sweet. However, of the 2 scents on offer, this is the one that will be more universally appealing to most. During a quick poll I took during the press launch from around the table, I'd say 4 out of 5 people picked English Oak & Redcurrant as their preferred scent. Guess who was the odd one out? LOL 😀
Yes, me! (Are you surprised?) I found the scent a touch too floral, with a strong hint of rose and berry and not enough tartness from the berries or woodiness of the oak to balance it off. Most women will prefer this, because it is a scent that is easy on the nose, and which wears quite prettily on the skin.
Incidentally, English Oak & Redcurrant also comes in the form of a candle (RM310/200g) , which is better for me, as I like this scent as a room scent better than on my skin. I smelled it during the press launch, and it was mystical! I think I'll have to pick one up for my very own 😀 It also comes as a body wash (RM205/250ml) and body cream (RM370/175ml), if this scent sits well with you and you'd like to layer it on for intensity.
For me, I have to allow it to settle for a while, before I begin to enjoy it. A slight woodiness starts to develop, and the floral notes settle. English Oak & Redcurrant brings to my mind a brighter time, of walking in floral fields, as opposed to a wood. It is a very warm, decidedly feminine scent that envelops you and makes you feel, rather like Maid Marian, I suppose, headed for a rendezvous with her dashing robber paramour 😀 I feel pretty wearing it, and I guess that's what every woman wants. It's not a scent I'd pick for myself. But I just know 4 out of 5 of you will! 😀
Jo Malone English Oak & Hazelnut
Following on therefore, 1 out of 5 of the people around me picked English Oak & Hazelnut as their preferred scent. And that odd one out was me 😀
Hang around me long enough and you'd understand why English Oak & Hazelnut won me over almost immediately. Now this one brought to my mind crisp Autumn mornings, as I walked along a sun dappled, tree covered lane, through colourful, fallen foliage on my way to classes. The fresh, crisp air that invigorates. The woody, musky scent of fallen leaves that I kick up along the way. The fresh green hint of vetiver that makes me feel like I've just showered.
English Oak & Hazelnut is decidedly warmly woody and spicy, but with a crispness around the edge, of a fresh autumn morning. As I wear it, it settles and exudes a warmth that I find very comforting. This is a scent I want to envelop myself in, as I curl up under a fluffy blanket with a book, sipping on hot chocolate, while I watch the drizzle outside. This is the scent I want to wear everyday (and I have) when it rains. The current dull, rainy and chilly weather is a perfect foil for English Oak & Hazelnut, and I love it.
While Jo Malone makes no gender distinction in their scent, English Oak & Hazelnut will likely be something more favoured by men. Yet, it is light enough that any woman can easily carry it off, without smelling like you've mistakenly used a men's fragrance. I love it so much!
But perhaps, it just makes me yearn a little for the countrysides of England that I haven't set foot in for quite a while. Perhaps it might be time to revisit the old Alma Mater, wear English Oak & Hazelnut and go kick up some autumn leaves 😀
Like all Jo Malone colognes, both these English Oak scents can be layered with others in their line. Personally, I feel they are robust enough and have enough depth to stand on their own, and that's how I'd wear them. On me, they both last well enough so I had no problems with that. Let me tell you however, they both actually layer on top of each other quite well.
English Oak & Hazelnut brings a depth to and tempers the sweetness of English Oak & Redcurrant, adding some spice and woodsy scent. Vice Versa, English Oak & Redcurrant brings some sweetness to English Oak & Hazelnut. However, you are free to experiment with others in your collection, or like me, just wear them on their own 😀
Have you checked out either of the Jo Malone English Oak fragrances?
They've just become available, which is really quite perfect where the weather is cooling down. I think it'll be perfect for Autumn. Here, where we do not get autumn, I'm saving it, quite literally, for a rainy day! 😀
Paris B
Jo Malone English Oak & Hazelnut and English Oak & Redcurrant

PRICE: RM485 | £88 | US$135 for 100ml and RM245 | £44 | US$65 for 30ml

WHERE TO BUY: Jo Malone stores and online (USA), Nordstom, Sephora, Neiman Marcus, Saks Fifth Avenue