The first time I laid eyes on the brand new and limited edition Jo Malone Star Magnolia cologne, I knew it would be a winner. How many perfume bottles do you see that come with a beautiful paper flower ruff, and better yet, in a very visually appealing, instagram-friendly WHITE GRADIENT bottle?
The bottle has a white gradient (vs clear), topped with a white cap (instead of silver as per usual) and with a white label (vs black). The thick, paper flower ruff around the neck of the bottle adds to its visual appeal, and I'm told that it will settle eventually, like a gently blooming flower.
Apt description, for the Jo Malone Star Magnolia fragrance is decidedly floral.
My experience with magnolia scents has been that of heavy, heady, white flowers. There is a sticky sweetness to the fragrance that I stay away from.
In Star Magnolia, Jo Malone has lightened the scent, so it is gentler on the nose, but with a zing to it. I found it fizzy, like ginger ale. I would have said champagne, but it didn't give me the headiness of champagne bubbles, more of how the bubbles hit your nose when you stick it into a cup of fizzy ginger ale, with that hint of spicy ginger in the end 😀 Again, apt, for there is ginger blended into this scent.
On me, I find the scent decidedly sweetly floral, and that's a scent that doesn't sit well with me. I'm not the sweet, floral sort of girl LOL! But fortunately, Jo Malone scents can be layered for complexity, and to make it your own. For me, I found that the best match came in Jo Malone 154 cologne – a spicy, woody, musky scent that I've been eyeing for a while.
The spicy, woody musk of 154 added depth, and grounded the more flightly Star Magnolia scent, making it smell more palatable to me. Star Magnolia added a sweetness and fizzy lightness to the heavier 154, which made for a nice pairing. I now need to get me a bottle of 154 or at least a sample LOL 😀
I tried layering it with another scent I like, Amber & Lavender, which helped me wear Star Magnolia better. It adds a sweet floral scent to the more masculine Amber & Lavender, but doesn't work as well as with 154 for me. And really, that is part of the fun of Jo Malone fragrances – mixing and matching to make it work for you. It does work out expensive because it means you need more than one, but that's what the cologne collection sets are for and why I highly recommend them for beginners 🙂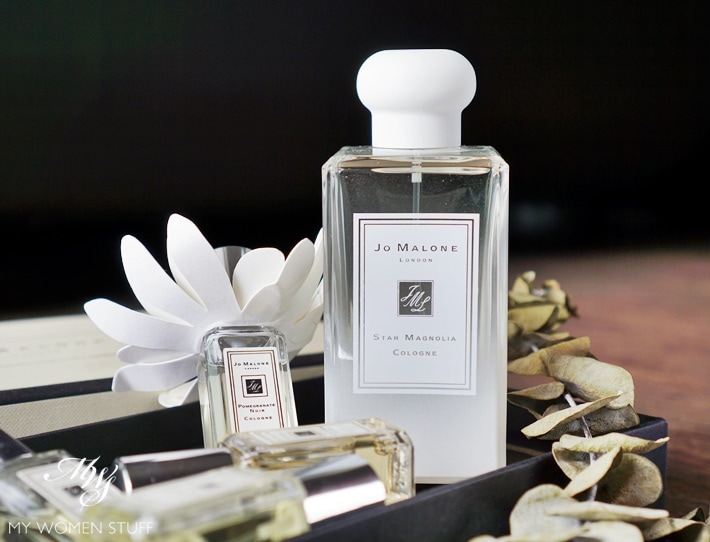 As pretty as that paper ruff is however, I found it a bother and it gets in the way when you want to spritz the cologne on. So, happily, it's detachable! I was very pleased to find this out, and the first thing I did was to remove mine 😛 It doesn't make it any less pretty, and in fact, I think that it looks better without the ruff – as I'm sure Elizabeth I did, without her massive ruff too! LOL 😀
In a nutshell therefore, the Jo Malone Star Magnolia scent isn't one I'd personally go for, as I find it too sweetly floral for my tastes. If your tastes run to the light florals, then you are in for a treat! But better hurry because they only just went and made it limited edition 😛
If however, you aren't sure about wearing the scent of Star Magnolia on your skin, consider instead wearing it in your hair. For the first time, Jo Malone has come up with a hair mist in the form of the Star Magnolia Hair Mist.
It comes in a tall, slim bottle that looks pretty much like the cologne, complete with a mini ruff that is detachable, so the bottle is more portable. Use this hair mist to refresh your hair and scent midway through the day, or when you feel it need refreshing. That's useful in our weather, when you head out for lunch and come back to the office smelling of food (or worse, the mamak!) A spritz of Star Magnolia refreshes your hair so you smell of flowers as opposed to char kuay teow LOL! 😀
I don't have it, but I tested it during the launch, and it was nice. I'd wear Star Magnolia in my hair. It just doesn't sit as well on my skin. In fact, I might just wear the cologne in my hair 😀
Have you checked out the Jo Malone Star Magnolia fragrance yet?
It's limited edition and only just became available in May 2017 so go and take a sniff the next time you pass by a Jo Malone store. I never recommend buying perfumes without first testing them by wearing on your skin. I've made too many mistakes, and I'm not making any more! Test it for yourself! 🙂
Paris B
Jo Malone Star Magnolia Cologne and Hair Mist

Price: Cologne – RM260 | £46 for 30ml, RM510 | £92 for 100ml; Hair Mist – RM200 | US$50 | £38 for 50ml

Where to Buy: Jo Malone boutiques and counters and online (US), Selfridges,