In late 2014 when I heard about a slew of new foundations being released by the various beauty brands, I predicted quite accurately, that 2015 would be the "Year of Foundation" and in a way, I've been right. 2015 has seen quite a few brands launch or relaunch their foundations and interestingly, something called a "serum foundation". What this is, is touted as a light-textured foundation with skincare benefits.
One of the first of these serum foundations that I experienced was the Bobbi Brown Intensive Skin Serum Foundation, which I previewed back in January 2015 (Newsletter peeps had a first look at it back then too!) It's been available since April and erm… yes, it's taken me a while to get round to it. What can I say? I'm tardy!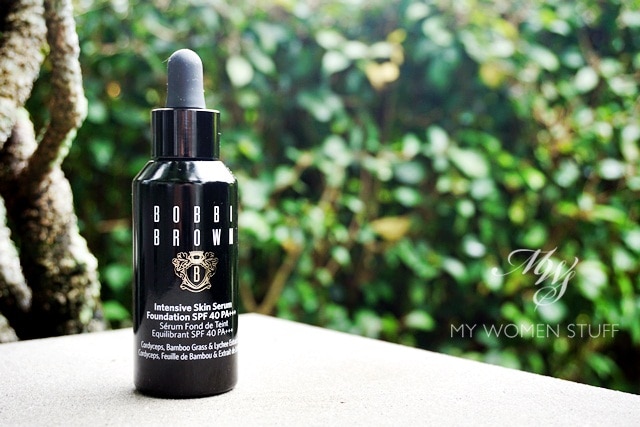 But since then I'm sure you've already read all about this product or may even have used it yourself, so I'd love for you to chip in with your thoughts on it. That's 'cos I kind of like this product. I've been using it quite often since I received it, and I like how it feels on my skin, and importantly, how it offers fairly good coverage, with a nice glow to the skin.
I am however, not crazy about how it smells, so I'm curious if you feel the same way.
It doesn't smell bad, in case you're wondering.
This Intensive Skin Serum Foundation with a generous SPF40 PA+++ formula is supposed to be infused with some ingredients that many Chinese will be familiar with – Cordyceps, Bamboo Grass and Lychee Extract. Cordyceps is a herb used in traditional Chinese medicine and is used for a myriad of uses, including stimulation and strengthening of the immune system. It's also incredibly expensive.
In this foundation, aside from offering coverage, it's supposed to help lift and smooth the skin, restore radiance, boost moisture and re-energise the skin. While it'd be wonderful if it does do all that, I personally feel that any skincare benefits are secondary. It's great if it does do all those wonderful things to our skin, but I rely on my skincare for that, not a foundation 😛
But if you're wondering if this foundation then smells like a pot of bak kut teh or a pot of simmering Chinese herbs, the answer is no (thankfully!) It smells quite strongly of lavender.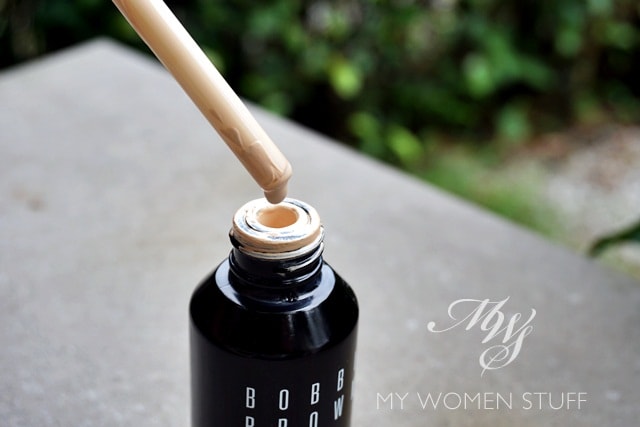 I generally like the scent, but I do find that it hits quite harsh when I first open the bottle, and when I use the product. It dissipates, but I just find the scent a bit too strong. It would be nice if it had been toned down, or done away with altogether.
But because scent is a very personal thing, it's not a big concern. As a foundation, I think this is a very nice product, if you like a lightweight liquid foundation with medium-high coverage. Unlike the other serum foundations in the market, the Bobbi Brown one is much thicker in texture. The product comes in a dropper bottle as you can see in the picture above, but the glass dropper has a large opening, because the product is fairly creamy. I think they could quite easily have put it in a regular pump bottle with no problems.
I would recommend shaking it up before hand so the product mixes up properly. Then, with the cap screwed on, depress the rubber pump once, before opening up the bottle and dropping the foundation on the back of your hand. Unlike its competitors (Dior Nude Air and Giorgio Armani Maestro foundations) this will not flow everywhere because it is quite creamy so you can apply this as normal, with your applicator of choice.
I find that the dropper has a bit of problem picking up product, in the sense that it doesn't pick up a lot. You don't need a lot – I find 2 drops sufficient for medium coverage – but sometimes, all I get is air which is frustrating.
The texture is fairly creamy, so for someone with normal-dry skin like mine, it feels comfortable. If you have combination or oily skin then I don't think this would be the best choice for you. It doesn't quite dry down to a powdery feel, and I do feel that you have to set it with a powder after that, to help it stay on better. On oily skin, it might move around but I won't know, because I don't have oily skin. I'd love to hear your views, if you do have oily skin and have tried this foundation.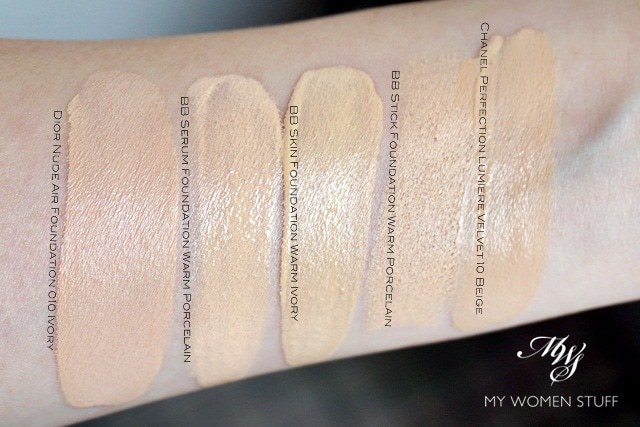 My shade is 0.5 Warm Porcelain which is a fairly good match for my skin as it has a slight pink tone. I used to run far away from Bobbi Brown because her foundations leaned very yellow, but in recent years, they seem to cater for a wider spectrum of skintones.
Next to the Dior Nude Air, I think you can see that the texture of the BB Skin Serum Fouundation is more creamy on skin. It is a little lighter in texture than the regular BB Skin Foundation and shade wise, is a good match to 0.5 Warm Porcelain in the BB Stick Foundation.
0.5 Warm Porcelain is a good match for my skin and as you maybe able to tell from the before-after photos, this foundation offers a medium coverage. It evens out my skintone, gives it a nice glow but doesn't cover up pigmentation 100% (nothing does except a mask 😛 ) If I apply a light setting powder, it naturally offers a little more coverage.
In my case, my applicator of choice is a brush. I'm a creature of habit so I use my 5 line method and a flat top foundation brush to blend in the product. I have no problems with that if you're wondering. Some people find it easier to use a damp sponge like a Beauty blender or its ilk and others find it applies better with their fingers. Use whatever you find easiest or most convenient for you.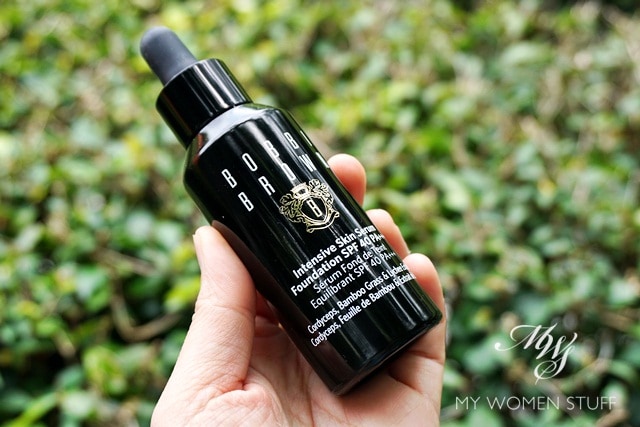 Longevity is fairly good for me without breaking down too much through the day, and it feels comfortable to wear. But again, I'd like to remind you that I have normal-dry skin and I suspect that's why it works better for me. I prefer wearing this foundation when I know I'm spending time indoors. I've worn this while being out and about and in our heat, it can break down quite easily when I sweat and the oil comes through. When I'm indoors for most of the day, it stays on looking quite perfect, and actually looks better as the day wears on.
IN A NUTSHELL

The Bobbi Brown Intensive Skin Serum Foundation SPF40 PA+++ is a lightweight creamy foundation that is infused with skincare ingredients. It comes in a dropper style bottle which I feel doesn't pick up product very well, which might be due to the slightly creamier texture of the product. There is a strong scent of lavender, but as a foundation, I like the creamy texture that offers a medium coverage, evens out skintone and offers a nice, gentle glow to the skin. It's comfortable to wear on normal-dry skin although if you're going to be outside in the heat then it will break down more easily and can look oily. Layering on the product offers more coverage, as does a light layer of powder. I do like it however. It's a nice, comfortable foundation and I like how it looks on me, and that's what really matters.

PROS: Comfortable to wear, Offers medium-high coverage, Not drying or oily, Gives skin a nice glow that looks better through the day, Easy to blend

CONS: Pricey, Dropper doesn't pick up product very well, May not sit well on oily skin or in heat, Strong scent of lavender

WHO WILL LIKE THIS: Anyone who has normal-dry skin and wants a lightweight foundation that offers medium-high coverage
Here's the ingredient list for this Intensive Skin Serum Foundation for those interested.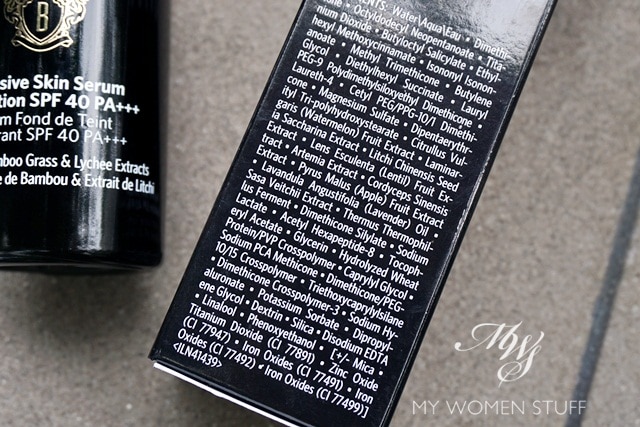 Despite the rather strong presence of silicone, I don't feel this foundation to be more silicone based in texture as compared to some other products I've used. It is fairly creamy in texture, and it applies easily on skin.
I do also like the packaging which I think is sleek albeit a little unfriendly to see how much product is left, and for those who are afraid of glass, then it's a concern. But it looks really good and sometimes, aesthetics matter 😛
Have you tried this serum foundation and do you like it?
I liked how it has a creamy texture. Perhaps it's due to the nature of my skin type that has me preferring this foundation to its competitors, but I like how it gives a nice glow to the skin without turning me oily nor drying out my skin. I just have to stay out of the heat LOL 😀
Paris B
Bobbi Brown Intensive Skin Serum Foundation SPF40 PA+++ comes in the following shades in Malaysia: Porcelain, Warm Porcelain, Warm Ivory, Sand, Cool Sand, Warm Sand, Beige, Warm Beige, Natural, Warm Natural & Honey Price: RM195 | US$62 for 30ml Availability: Bobbi Brown counters and stores
[show_shopthepost_widget id="798548″]