I reckon I've teased you for long enough about the Bobbi Brown BB Cream. I've been using this one off and on for a couple of months since I picked it up from KLIA before my Seoul trip. It would seem a little odd picking up a BB Cream before heading to the land of BB Creams but then I'm perverse like that 😛
Let's just start by saying that I do not subscribe to the BB Cream all-in-one theory. I use BB Creams as foundation never in place of sunscreen and moisturizer. Hence, I treat this as makeup not as a skincare-makeup hybrid. Its important to get that out of the way because I know a lot of people treat BB Creams as an all-in-one product which they are marketed as, but I just want to make it clear that I don't so I use all my regular skincare and sunscreen before applying BB Cream.
Here's one thing I like about the Bobbi Brown BB Cream even before I tried it – it comes in 3 shades – Extra Light, Light and Medium. I think that is very wise, because there is no such thing as one shade fits all. However, darker skinned ladies might still have a problem finding a colour match because even Medium is quite fair as colours go. I take it in Extra Light which is about right for my skintone. Its not really super light, as the swatches below will tell you.
I know I've oft said that BB Creams aren't my thing. But if they were, I'll place the Bobbi Brown BB Cream on the list of "BB Creams I like" for a couple of reasons :-
it is sheer
its not heavy
its a decent enough colour match and
it does not make my skin oily
The last reason alone is enough to like this one. Many BB Creams turn my skin oily after a while. Considering that I don't have oily skin to start with, I think it quite a feat. This one however doesn't. I've worn it alone for hours, driving around in the sun, going in and out of buildings and sitting and eating excellent food in hot cramped sweaty surroundings, and for me, its held up very well every time. This said, it also isn't terribly moisturizing so I'm not too sure how it'll hold up on very dry skin.
Bobbi Brown BB Cream Extra Light swatch Left: From tube Right: blended
Like most BB Creams, you don't have to use much. A pea sized amount spread over your skin is sufficient. I like to take a small dab after that to layer over areas that might need more coverage, in place of using concealer. That said, the Bobbi Brown BB Cream is sheer and coverage is minimal. The tint is great to cover up redness on the skin but not blemishes or pigmentation as the photos below show.
Photo contrast deliberately enhanced Left: Bare skin Right: Only Bobbi Brown BB Cream applied
You can probably tell from the photos that pigmentation on my cheeks are barely covered. They are slightly toned down but its not erased. A spot of concealer usually does the trick. However, you will also notice that redness around the nose area, cheeks, and the 2 spots I have on my chin and upper lip are evened out so the skin takes on a more even toned look. I don't mind my freckles/pigmentation showing. It adds character 😛 (and unless absolutely necessary I'm usually too lazy to do a lot of concealing)
For some reason, the camera lens tends to intensify most blemishes, which can be very discouraging if you take a lot of photos. But in person, the whole look is a lot softer and more even than it looks in photos. I can usually get away with not layering any powder over the BB Cream although it can help with coverage if you prefer something more full coverage. On a work day I would usually have a layer of Guerlain Meteorites dusted over but on a weekend, I leave it as you see and it serves me well enough.
I have found that if I layer on too much product, it does tend to look a little dry and cakey. So my advise is to go with just a pea sized amount to start with, spread it out between your hands and spread it on your face, then touch up the areas that might need some retouching.
Here are some swatch comparisons for colour purposes between the Bobbi Brown BB Cream (Extra Light) and some other BB Creams I have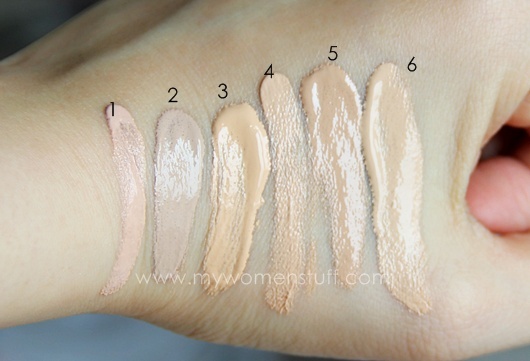 1. MAC Prep + Prime BB Beauty Balm 2. Diorsnow BB Creme 3. Hada Labo BB Moist Cream 4. Bobbi Brown BB Cream Extra Light 5. SkinFood Platinum Grape Cell Essential BB Cream 6. Holika Holika Peach Girl BB Cream
Looking at the swatches, I'm starting to think that its no wonder the MAC BB Cream and Diorsnow BB Cream, although alright for me, did not quite make my skin look as even toned as the ones on the right in the picture above do. The pink tones in MAC does nothing to hide redness (which was a complaint I had) while the Diorsnow BB Creme is a tad dark for my skintone upon first application although it does adjust itself. Since I've picked up the others, I have been using the MAC and Dior ones less simply because the others need less work with my skintone! (Some might be wondering where the Vichy Aera BB Cream is for comparison since I liked that one too – its been given away to my sister hence no comparisons)
And here are some comparisons between the Bobbi Brown BB Cream (Extra Light) and some liquid foundations I have for colour matching.
1. Clarins Everlasting Foundation Almond 2. Lancome Maqui Blanc Miracle BO-o1 3. Bobbi Brown BB Cream Extra Light 4. Bourjois Healthy Mix Liquid Foundation #51 Light Vanilla 5. Guerlain Lingerie de Peau 01 Beige Pale
I find it a million times easier working with liquid foundation than with BB Creams simply because of the colour selection. The 2 batches of swatches above show you just how wrong colour tones in BB creams can be as opposed to liquid foundations. Of the shades shown, the Clarins and Bourjois foundations are my best colour matches. You can see that even though the Bobbi Brown BB Cream is called Extra Light, it is anything but, put next to the other shades. Its just a tad lighter than the Guerlain Lingerie de Peau which does color-adjust to suit my skin quite well. The Lancome one is in there to show you how not yellow it is 😛
In terms of texture, the Bobbi Brown BB Cream is light, but not as light as the Lancome Maqui Miracle foundation. It is creamy but not as creamy or as opaque as the Clarins Everlasting foundation. The Bourjois Healthy Mix foundation comes very close in terms of texture. It is also close in texture to the MAC BB Beauty Balm but thicker than the Hada Labo BB Moist cream but not as thick as the Diorsnow BB Creme. If you have any idea what I'm talking about, excellent! 😉
Pros: Light texture, Does not turn my skin oily, Sheer coverage, Good colour match for me and evens out redness in skin very well, Lasts hours on my skin, Decent sunscreen protection
Cons: Pricey, Limited shades available, Not very moisturizing
I have no comment on the sunscreen factor because I always have sunscreen on. If you don't like wearing sunscreen then this might be a good one to have because even with the SPF35 PA+++ rating, it isn't oily nor thick as most sunscreens are. To be honest, I think this Bobbi Brown BB Cream little more than a light liquid foundation with SPF. But hey, that's me and it works for me!
Here's the ingredient list:-
For my part, I'm pleased that the Western brands have started making BB Creams, if only for the Asian market. (I'm not sure if the Bobbi Brown BB Cream is available outside of Asia or how it compares to the Tinted Moisturizer that is sold in the Western countries) My dabbling into BB Creams have thus far caused me to conclude that my skin tolerates the Western formulations better than most of the Korean ones which were the first ones I'd tried and disliked and resulted in me not trying more BB Creams. From Japanese brands I've only tried the Hada Labo one so I have no conclusions drawn for Japanese brand BB Creams. This might not be the case for you, but it is for me 🙂
If you have tried the Bobbi Brown BB Cream, even if just a sample, I'd love to hear what you think of it. I don't know if they offer samples at the Bobbi Brown counters, but if you bring a little sample pot and ask for some, I think they might oblige – the worst thing they could say is no 😉
Paris B
Bobbi Brown BB Cream SPF35 PA+++ comes in 3 shades and retails at RM126 (KLIA Duty free)/RM150 for 40ml (inland counters) at all Bobbi Brown counters and stores. Availability outside of Asia unknown.