I am an unreformed foundation junkie, always on the lookout for something new and interesting in the foundation world. And in recent times, I've been quite spoilt for choice! The newest one to grab my attention is the YSL Touche Éclat All-in-one Glow Foundation.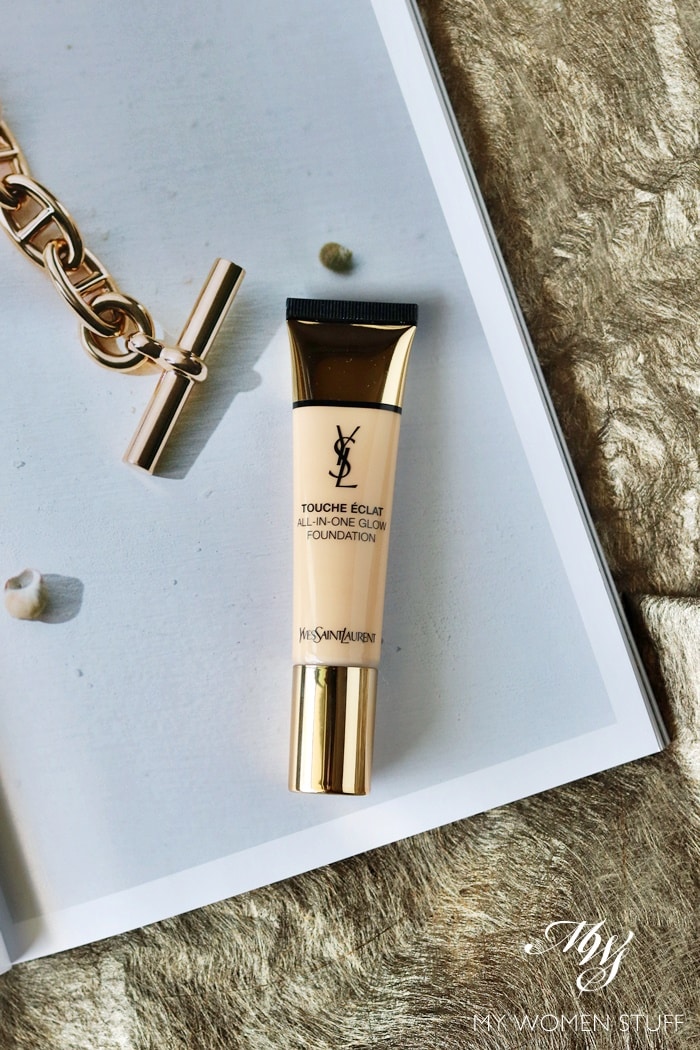 The YSL Touche Éclat All-in-one Glow Foundation is the newest YSL foundation to hit the stores, and one I'd had my eye on for a little while, ever since I stumbled on it online. I'd been messing around recently with fuller coverage foundations from NARS and Bobbi Brown, and I felt it was time to dial it back a little.
The YSL Touche Éclat All-in-one Glow Foundation promises a light-medium natural coverage, with a glowy finish and all day hydration. It sounded right up my alley! 😀
You might like to know right off, that I like this! 😀
I've been wearing this for all of last week since I got hold of it, and I've loved it every single time. It does say quite a lot, because sometimes, I have to work a little more at a foundation before deciding if it's something I might like, or if it is something I can just live with.
The YSL Touche Éclat All-in-one Glow Foundation comes in a tube style packaging with a pump. This makes it very portable, which I like. It is certainly one I can see myself travelling with.
In some ways, this reminds me of the IT Cosmetics CC Cream but in a lighter, more natural version. I find that about half a pump from the tube is quite sufficient to use all over, depending on whether you want a lighter or heavier coverage.
I find that it pumps out a slightly creamy texture, but on contact with the warmth of your skin, it seems to "break down" to a slightly watery texture approximating a moisturiser. This isn't a bad thing, because I do find that it then seems to work better on skin, for a much more natural appearance.
I have applied it using a brush and using my fingers, and both work well. In fact, because the texture is so light, and slightly runny, using fingers can even be quicker, and offer a better finish. I also do find that using fingers gives me sightly more coverage than when I use a brush (depending on the type of brush I use). You can therefore play around with it. You will never get more than a medium coverage.
I wear the shade B10 which looks quite yellow in the tube, and when squeezed out. But when you look at the swatch comparison below, you will notice that it is slightly more pink-hued than I expect. For me, this is fine. I have a fairly neutral skin-tone, with a little more pink in it so the shade is a perfect match for my skin tone. But I'm not sure how the other shades fare – there are 12 shades available.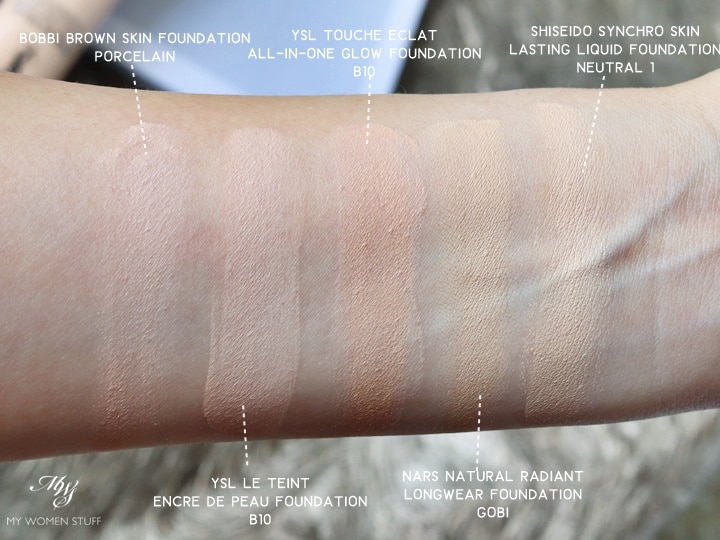 You may notice how the shade B10 in this YSL Touche Éclat All-in-one Glow Foundation is a little more pink than its similar shade counterpart in the YSL Le Teint Encre de Peau foundation. The Nars Natural Radiant Longwear Foundation and Shiseido Synchro Skin foundation are both noticeably more yellow, while the Bobbi Brown Skin Foundation is more similar in tone. On me however, all these shades work. It's that magic of makeup LOL! 😀
In terms of the glow, I like that it isn't flat on the skin. It isn't however, terribly glowy in a sweaty-oily way either on me. It just makes your skin look healthy, with a little glow to it. I have dry skin and I like how this adds a little life to it. I am not a big fan of flat, matte foundations, so a little shine on my skin suits me fine. I have however seen others wearing this, and it can look a bit greasy on them. So I think it is to do with how much you use, and your skin type.
The YSL Touche Éclat All-in-one Glow Foundation is also supposed to be hydrating, with an addition of hyaluronic acid in its ingredients. We know by now that hyaluronic acid has the capability to grab and retain moisture in skin. I have seen this marketed as a tinted moisturiser as well. I am not so sure about that as the coverage is higher than that of a tinted moisturiser. I suppose it depends on your expectations of what a foundation should be. I was however, naturally interested to see how it'd fare on my dry skin.
Well, it fares very well for me!
While I will not say that this is hydrating, the way a moisturiser is hydrating, it does not dry out my skin, nor feel dry as the day wears on. In fact, for me, it feels very comfortable. When it settles into my skin and sinks in, it almost looks like a second skin on me. I can barely tell I'm wearing foundation! That said, I don't use very much each time.
At the end of the day, I do notice a little shine on my nose and cheeks, but because I have drier skin, that is fine by me. It adds dimension. I cannot say however, how this will fare on oily or combination skin types. However, it is an oil-free formula so my guess is that it should fare quite well. You may have to blot as the day wears on, but then you probably have to with any other foundation anyway!
The coverage for me, is light to medium. It evens out my skin tone very nicely and covers redness, as you can see above, but it does not totally cover spots or blemishes, although it will draw a veil over them. What I do is use a concealer where I need it. A thin layer of powder usually takes care of any more coverage I need.
This is an example of how it'd look once I have the rest of my makeup on. This was from the Marc Jacobs Air Blush post and I think you can tell what a little bit of colour makes a big difference! I applied a little concealer where I needed it, and no powder, just the blush colours I told you about.
However, what I do like about this YSL Touche Éclat All-in-one Glow Foundation as well, is that I can get away without setting it with powder. I have used it just on its own, with a little concealer where I need it, and some skin warming powder (or bronzer) and it lasts on me. I will feel a little tacky to the touch, but it looks nice and natural on me. Not greasy, just "dewy". I have worn it for a whole day without it oxidising or oiling up on me, and without a primer. It works well within my expectations for me and I like it!
I have read complaints that this foundation pills or is shiny and greasy and to be honest, I experienced none of this. As I said however, I have noticed that it can look greasy on others. Remember, less is always more.
I always wear foundation over a full morning skincare routine after generous layers of serums, lotions, creams and sunscreen. I never get anything but a lovely, flattering glow every single time! No problems layering over my skincare at all. But I don't use very much – about half a pump or so, warmed up and then worked into my skin in thin layers, like a facial moisturiser. Sometimes, I think people use too much, then wonder why a foundation doesn't work for them.
I have enjoyed my week with this, and I can quite comfortably say that this is absolutely worth a look in, if you are a foundation junkie as I am, with a penchant for lighter formula. I even forgive the fact it is fragranced, and coming from me, that's saying a lot! LOL! 😀
IN A NUTSHELL

The YSL Touche Éclat All-in-one Glow Foundation is a light textured, lightweight foundation with a light to medium coverage. The coverage is very natural and comfortable on skin. On my dry skin, I don't experience dryness, nor does it turn oily on me. I can wear this comfortably without a primer, and it lasts, looking natural on my skin all day. I like the gentle glow it gives my skin, and the light coverage that just evens out skin tone and redness. I like how it feels weightless and comfortable all day, without turning me into an oily mess by the end of the day. I like this one a lot and really, that's saying something!

PROS: Lightweight formula, Not drying even on dry skin, Leaves skin with a gentle glow, Light to medium coverage, Portable packaging, Easy to apply even with fingers for an even finish

CONS: Pricey, Fragranced

WHO WILL LIKE THIS: Anyone who enjoys using light coverage bases

PRICE: RM215 | US$48 | £33.50 | S$79 for 30ml

WHERE TO BUY: YSL boutiques and counters, YSL website, Sephora
If you're interested, here is the ingredient list for the YSL Touche Éclat All-in-one Glow Foundation.
Does this YSL Touche Éclat All-in-one Glow Foundation intrigue you? What is on your foundation radar recently?
I have so many foundations I'm interested in right now LOL! I think it's because we're seeing the return of lighter textured, lower coverage, more glowy formula and that appeals to me far more than heavy, fuller coverage matte textures. So I live in exciting foundation times and you can expect to read more to come! 😀
Paris B