I'd been teasing you with pictures of the IT Cosmetics CC Cream for quite a while now, and when I identified it as one of my 'ang pow saver' picks, someone actually said "A CC Cream? That's a surprise coming from you!" And you know what? She was absolutely right!
Anyone who's read my blog long enough would feel the same way as this reader did. I used to be quite outspoken against BB and CC creams, the alphabet creams, I called them. To be fair, the ones I started out using sucked for me. I never liked them (they were Korean hence my prejudice against Korean base makeup despite their improvements since) and they were just so bloody gimmicky, claiming to be moisturiser, sunscreen, primer, foundation and everything else you could think of. Bleh.
While I've since made my peace with BB Creams, I never understood CC Creams. I suppose I tried too hard to understand them, when I should have just treated them all as makeup! It'd be much easier getting my head around them then 😛
So, enter IT Cosmetics CC Cream, the one that promises to be your skin but better. I'd come across so many raves online from the time it was launched, but it's actually hard to get IT Cosmetics online (before it was available). It wasn't until a friend visited the USA that I managed to get my hands on it from Ulta. Not long after that, it was brought in by Sephora. <insert rolling eyes emoji> Such is Murphy's law 😛
But you know what? In this instance, I'm in full agreement with the hype over this product. Yes, ladies and gents, the hype is real! 🙂
The IT Cosmetics CC Cream promises to do a lot of things – colour correct, give full coverage, have anti-aging and hydrating skincare properties, contain SPF50+ UVA/UVB broad spectrum physical sunscreen, chemical-filter free and paraben free. That's just what they say on the tube!
But I bought this, and treat this, as I would any base makeup product. While I appreciate that it has high sun protection and physical UV blockers, and that it may have skincare properties, it's still just makeup for me so I really pay those benefits no mind. If all that matters to you, then that's great. I personally depend on my skincare to deliver all those benefits and a good sunscreen to offer my protection. Anything else is a bonus but is secondary.
The product comes in a tube with a pump that is quite easy to control. I use about 1 pump of product, which I find to be less than 1 pump from a normal bottle. However, if you prefer to use less, the pump is quite easy to control.
There are 5 shades available, and I picked Fair without seeing what they were. However, Fair is the perfect shade for me. I went into Sephora to take a look at the shades available, and did notice that the next shade up, Light, is a rather significant jump in tone. However, Light has a warmer base, while Fair has a more neutral base with a hint of pink. The biggest problem I feel, would be to find the proper shade to suit your skin tone.
The texture of the IT Cosmetics CC Cream is quite creamy and moisturising and it actually feels very comfortable on my skin. I do however, have slightly drier skin, so I'm not sure how this fares on oilier skin types. If you have oilier skin and use this, do chip in with your thoughts!
Coverage is touted as full coverage, which I'd tend to agree, if you use a little more of it. With 1 pump, I find that it offers me medium coverage at best. If I like, I can layer it on where I want more of it. But I usually leave that job to concealer.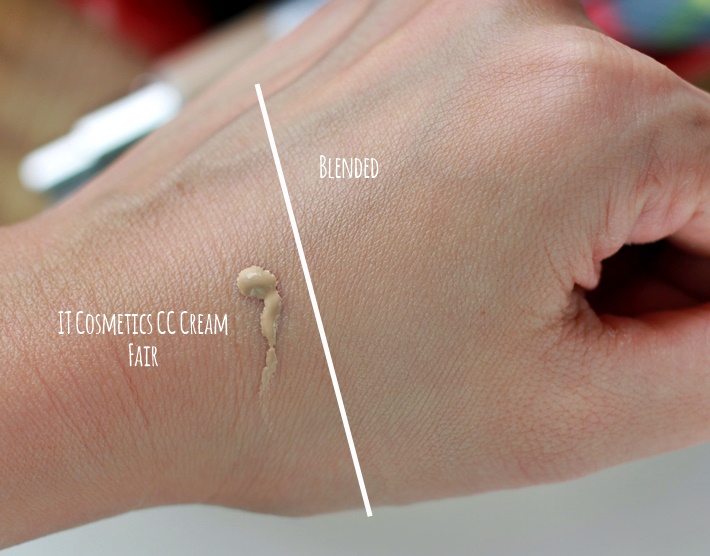 In this swatch, you may see what I mean about the coverage. Once blended out, it pretty much adjusts itself to my skintone, although you may see a slightly lighter band of colour where the word "blended" is. In that sense, I'd not peg this as full coverage, although it can be layered quite easily and comfortably.
Here's how it looks when I wear it.
There isn't very much difference in the before and after photos is there? Coverage isn't high enough to cover up dark spots, but it is enough to even out the complexion and to make it look a touch better and brighter. As it says on the tube, it is my skin, but better.
For me therefore, I find this natural, but only because I don't aim for full coverage. What I usually do is use this CC Cream to even out my complexion, then use concealer where I need it, before dusting some powder all over to set. I do find I have to set, to take away some of the shine. This light layering technique gives me a very natural and more flawless visage, as opposed to piling on the base makeup.
I quite often use this CC Cream as my base makeup, because I find that it performs just as well as many of my liquid foundations, and feels comfortable. I don't particularly notice any additional benefits, primarily because I rotate my foundations often and because, as I said, I don't depend on this product for my skincare nor sunscreen protection. I wouldn't recommend you do as well, but apparently, some people don't like me saying that CC Cream shouldn't be used as sunscreen – hey, do what you want! It's your skin 😀
So, I like this IT Cosmetics CC Cream and I especially like travelling with it because the tube packaging makes it very portable and convenient. The coverage is good, and you can easily build it up, and it's comfortable. It is also quite expensive, everything considered, but I read they may have smaller tubes that are more affordable. If so, get one of those.
IN A NUTSHELL

The IT Cosmetics CC Cream is a makeup base product that offers anti-aging and hydration skincare benefits as well as SPF50+ sunscreen protection. While it touts high coverage for makeup, I find that it is actually medium to full coverage, depending on how much product you use. I prefer to use less, and it evens out my skin and makes it look better but still very natural. If you want coverage, you'd have to layer it on. I'd also treat this as makeup, and use it after skincare and sunscreen. It isn't drying, it feels comfortable, and it looks natural while making my skin look brighter. It just makes it look like my skin, just better and it seems to look better as the day wears on. I like this one, even if I'm still not sold on the idea of alphabet creams 😛

PROS: Feels lightweight on skin although it's creamy, High SPF, Medium to full coverage, Can be layered without feeling heavy and uncomfortable, Not drying, Makes skin look better yet natural, Packaging is portable and convenient

CONS: Quite pricey, Shade selection is rather limited and differences in shades are quite significant

WHO WILL LIKE THIS: Anyone who wants a natural looking base makeup product that offers good coverage without looking heavy or cakey, Anyone who wants a base product that has some skincare benefits

PRICE: RM170 | US$38 for 32ml
I took a picture of the ingredients list, but it's spread out all over the box so here's the text version instead.
ACTIVE INGREDIENTS: TITANIUM DIOXIDE 9.0% ZINC OXIDE 6.3% INACTIVE INGREDIENTS: WATER, SNAIL SECRETION FILTRATE, PHENYL TRIMETHICONE, DIMETHICONE, BUTYLENE GLYCOL, BUTYLENE GLYCOL DICAPRYLATE/DICAPRATE, ORBIGNYA OLEIFERA SEED OIL, BUTYLOCTYL SALICYLATE, CETYL PEG/PPG-10/1 DIMETHICONE, CYCLOPENTASILOXANE, CYCLOHEXASILOXANE, MAGNESIUM SULFATE, POLYGLYCERYL-4 ISOSTEARATE, DIMETHICONE/VINYL DIMETHICONE CROSSPOLYMER, ALUMINUM HYDROXIDE, HEXYL LAURATE, STEARIC ACID, CALCIUM STEARATE, CAPRYLYL GLYCOL, TRIETHOXYCAPRYLYLSILANE, ETHYLHEXYLGLYCERIN, CITRUS MEDICA LIMONUM (LEMON) PEEL OIL, TOCOPHERYL ACETATE, SORBITAN ISOSTEARATE, PHENOXYETHANOL, CITRUS AURANTIUM BERGAMIA (BERGAMOT) FRUIT OIL, 1,2-HEXANEDIOL, DISODIUM EDTA, CITRUS AURANTIUM DULCIS (ORANGE) PEEL OIL, CITRUS AURANTIFOLIA (LIME) OIL, VITIS VINIFERA (GRAPE) SEED OIL, PUNICA GRANATUM SEED OIL, PINUS SYLVESTRIS LEAF OIL, PERSEA GRATISSIMA (AVOCADO) OIL, NIACINAMIDE, CITRUS GRANDIS (GRAPEFRUIT) PEEL OIL, CHOLESTEROL, ANTHEMIS NOBILIS FLOWER WATER, LACTOBACILLUS/HONEYSUCKLE FLOWER/LICORICE ROOT/MORUS ALBA ROOT/PUERARIA LOBATA ROOT/SCHIZANDRA CHINENSIS FRUIT/SCUTELLARIA BAICALENSIS ROOT/SOPHORA JAPONICA FLOWER EXTRACT FERMENT FILTRATE, PERFLUOROHEXANE, OLEA EUROPAEA (OLIVE) LEAF EXTRACT, GLYCERIN, EUCALYPTUS GLOBULUS LEAF OIL, CAMELLIA SINENSIS LEAF EXTRACT, CHRYSANTHEMUM INDICUM FLOWER EXTRACT, PUERARIA LOBATA ROOT EXTRACT, PERFLUORODECALIN, MORUS ALBA FRUIT EXTRACT, MAGNOLIA KOBUS BARK EXTRACT, GLYCINE SOJA (SOYBEAN) SPROUT EXTRACT, DIOSPYROS KAKI LEAF EXTRACT, CINNAMOMUM CASSIA BARK EXTRACT, ARTEMISIA PRINCEPS LEAF EXTRACT, PENTAFLUOROPROPANE, CURCUMA LONGA (TURMERIC) ROOT EXTRACT, STEARETH-20, HYDROLYZED HYALURONIC ACID, COLLOIDAL OATMEAL, HYDROLYZED SILK, CITRIC ACID, SODIUM BENZOATE, POTASSIUM SORBATE, ALOE BARBADENSIS LEAF EXTRACT, N-HYDROXYSUCCINIMIDE, HYDROLYZED COLLAGEN, CAPRYLHYDROXAMIC ACID, TOCOPHEROL, THIAMINE HCL, RIBOFLAVIN, RETINYL PALMITATE, PANTOTHENIC ACID, PALMITOYL OLIGOPEPTIDE, NIACIN, FOLIC ACID, CHRYSIN, CARNITINE HCL, BIOTIN, ASCORBIC ACID, PALMITOYL TETRAPEPTIDE-7, CHLORHEXIDINE DIGLUCONATE. MAY CONTAIN: IRON OXIDES (CI 77492, CI 77491, CI 77499).
A point to note is that the physical sunscreen blockers used are Titanium Dioxide and Zinc Oxide, and both of these reflect light. So, this won't be the best base to use if you intend to take a lot of photographs with flash, as it can cause light to bounce back. It's also interesting to note that this product is made in Korea. So, that puts paid to my theory about Korean makeup not meeting my bar LOL 😛
Have you tried the IT Cosmetics CC Cream? Do you use any other CC creams?
The only other CC Cream that's impressed me is the one from Bourjois. So, if you are on a budget, consider that one instead. This one, albeit a good product, is pretty pricey.
Paris B