The Chinese Lunar New Year festivities are upon us once again, with the Rooster cock-a-doodle-dooing its way in this year. It's quite early this time around, coming hot on the heels of a brand new year and the year end festivities that ensued. I'm not even sure most of us (and our wallets) have recovered yet!
It is during the Chinese New Year that, as kids, we stood to make a little money LOL It's tradition to give out lucky red packets (or what we call 'ang pow' or in Mandarin 'hong bao') with cash it in, for good luck. Chinese, luck, prosperity and money always go hand in hand LOL!
While most of us will be on the giving end, as opposed to the receiving end by now, I nevertheless thought I'd share with you 8 things you could spend your ang pow money on. Not all on once, naturally, but if you're looking for a little treat to kick off the year, or to welcome in the Year of the Fire Rooster (or what I'd call Roast Chicken Year LOL! 😀 ) here are some personal favourites.
Some are new and coming soon, I got them as a preview, and some I've had a while, but are now available here. So, just quickly (because I don't want to take you away from family time – or perhaps you relish this little time away eh? 😉 ) here are the 8 items I picked. Chinese like the number 8 ok – it's lucky LOL! 😀
Chanel Plissé Lumière de Chanel Illuminating Powder – March 2017 (Price To be advised)
This is that highlighter powder you see in the top and it's part of Chanel's Le Blanc Makeup collection dropping in late February or early March 2017. I will publish more information on the collection closer to launch date, because it doesn't make a lot of sense right now eh? Despite being from the Le Blanc (whitening) collection, the powder is a champagne gold that swatches quite strongly, but without a powdery feel.
If you're into highlighters, this is one to pad your piggy bank up for, because it's (a) pretty – I like the simple geometric design and (b) it's likely to be pricey. I don't have the price just yet, but expect it to retail at about RM230 or thereabouts, as it usually does. There will also be other tweed blushes (Pretty but I find them a bit too shimmery to merit mention here) and eyeshadow palettes that are beautiful neutrals. Watch out for this one – I think it'll be a winner!
IT Cosmetics Your Skin But Better CC+ Cream – RM170 | US$38
I purchased this one through a friend who was visiting the USA before it was available here in Malaysia. You can now purchase it at Sephora. I will have a proper review on this to come, but this CC Cream is one of my favourite face bases. It offers sufficient coverage (not full coverage) with a very natural look, and I like to use a thinner layer, and then a bit of Hourglass Ambient Lighting Powder over it. It gives me a nice, natural, no-makeup base. Skintone is evened out, there is medium coverage that you can layer and it feels very comfortable on skin. The problem might be shade selection. I wear this in Fair, the lightest shade available and I fear that might be a touch deep for those who are very pale.
Shiseido Ibuki Smart Filtering Smoother – RM140 | US$23 for 20ml
This one's actually kind of a weird product. I attended their launch and it's one of those things that aren't necessary, but that helps you look that extra bit better. I was truly sceptical (am I anything else?!) This is one of those products that straddle the makeup-skincare divide, as it claims to blur imperfections but contains some skincare benefits.
What you do is to dab it on AFTER you have applied all your makeup only on the areas where there is shine or visible pores. It gives that "filtered effect" so sought after in selfies 😛 While I'll tell you it did nothing about pores for me, it does control shine and that's what made me pause. I'd tested some on my nose and cheek area on my face during the event in the morning. That evening, when I was removing my makeup, I noticed how "refined" the skin looked on my nose and cheek area. It works, but it's purely cosmetic LOL! For that vain little girl in you who doesn't want her face to shine like an oily pan in the sun 😀
Estee Lauder Advanced Night Repair Year of the Rooster Red Limited Edition bottle – RM400 | US$95 for 50ml
In 2016, Estee Lauder celebrated the Year of the Monkey with a limited edition golden bottle of their bestselling Advanced Night Repair serum. For 2017, in the Year of the Rooster, they've released the famed ANR in a metallic red bottle. They're beautiful, really and if you're a user of the serum, it's a collector piece.
But that price has floored me. Seriously, I am floored! If you're wondering, I do still use this serum. I usually buy at duty free if I travel, where they sell 100ml bottles or twin-packs. It hurts the wallet but I get better value for money 😉
Clarins Energy Booster Serum – RM190 | US$39 for 15ml
I've been using this Clarins Booster Serum off and on since I returned from Paris last July, and I've enjoyed it very much. It's only been made available here in Malaysia in January 2017 and there are 3 Booster Serums – Energy (Orange), Detox (Green) and Repair (Purple). I have the Detox one as well but I'm not sold on that one because I don't seem to see any results.
But when I use the Energy Booster Serum, I do notice that my skin seems brighter and less tired. You drop just 3 drops into your moisturiser or mask and apply to skin as normal. Clarins doesn't advise using it on its own. Yes, a proper review will come (I'm backlogged la so this is my way of getting things out for those who want the TL;DR version 😛 ) but I'm very happy with the Energy Booster Serum. I want to try the Repair Booster Serum (Old skin needs repair! LOL!) so I'd likely pick up a bottle myself. I like this one, and because you just add it to your moisturiser, you don't even need an extra step – for you lazy ones 😉
Bowerhaus Necklaces – prices vary
I don't accessorize much, but I'm making an effort to jazz my outfits up a bit more these days because I wear a lot of plain colours or black. Pearls are something I go for, and I've been padding my jewellery collection with items from Bowerhaus. The brand is actually Malaysian and based in Malaysia (Kuching, Sarawak), but their designs are fun, lively and I'd have to say, tasteful. They suit my tastes and while some items can be pricey, you can also find some more affordable items. But if you're anything like me, you'd shop them when they go on sale 😉
If you enjoy fun, tasteful jewellery made around freshwater pearls, they are a good place to start (ships internationally) and absolutely worth spending your ang pow money on. They do have a store in Publika and a kiosk at The Gardens, MidValley Megamall for those who'd rather see and touch products before buying, but I can vouch for their online customer service. A purchase of mine recently arrived damaged and when I wrote in with a picture, they immediately sent out a new item, with a little token for the trouble, and a discount code for my next order! Damn, that means I have to go place another order, don't I?! 😛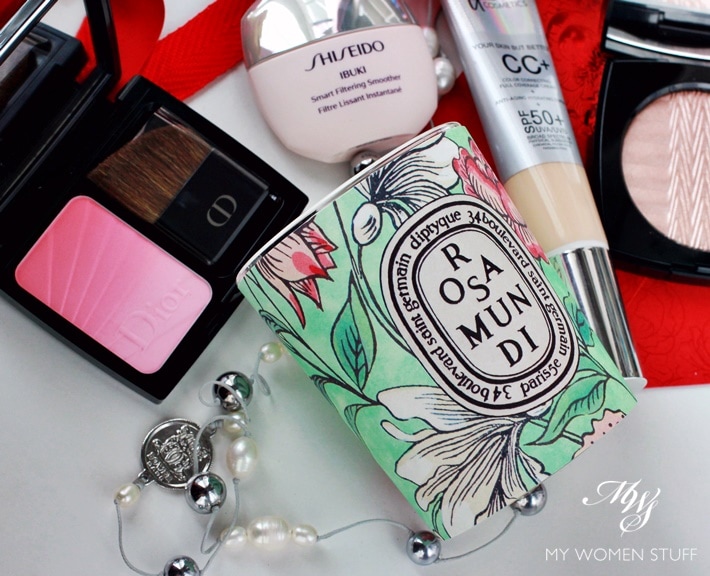 Diptyque Rosa Mundi x A Paris chez Antoinette Poisson scented candle – RM295 | US$68 for 190g
For Valentine's Day (yes, we're going there 😛 ) Diptyque collaborated with Antoinette Poisson, a creator of domino paper. The candle jar is wrapped with floral printed paper exclusively designed and limited edition. The scent is that of roses – Damascena (Damask Rose) and Centifolia (May Rose) and is a beautifully fresh yet heady scent. As a room scent, it's beautiful and romantic and feminine.
Rosa Mundi is a scent that embodies everything pink and rosy and love-filled about Valentine's Day. Even if you don't burn the candle, the scent wafts through the room, so you catch nuances of it as you walk past. In a small room, it even acts as a room scent – yes it's quite strong!
Diorblush Colour Gradation 001 Pink Shift – RM210 (To be confirmed) | US$45.50
I may have been a little harsh on Dior in recent times, but this Diorblush Colour Gradation blush has stabilized them a little in my eyes 🙂 The problem is that this particular blush is a limited edition piece, and part of the Dior Makeup Spring 2017 collection.
If you love pink blushes, or want to own a pink blush, or can't seem to find a pink blush that's right, I urge you to take a look at Pink Shift. The reason I say so is because the blush has a light-medium-deep pink gradation, as the name implies, that allows you to brush on colour just how you like it. I do want to show it to you better, which I will, complete with swatches etc, but I only just got this and wanted to get it out here so you don't miss out. It's very pretty, both to look at, and to use. I'm a blush fiend, I know these things LOL! 😉
Are you eyeing anything from this list? Did I just help you spend your ang pow money? LOL
More detailed reviews will come soon, with swatches and ingredient lists etc. But it'll be interesting to know if these sort of posts are useful? Perhaps for you to get an idea of what's out there? I only picked the interesting/pretty/good stuff – those I didn't mention, well, they are either not interesting/not pretty/not good or already bblogged about before this LOL 😀 To everyone celebrating, I wish you a wonderful celebration with lots of good food, fun and laughter and to everyone else, enjoy the festive holidays. I'll be back in a week! 🙂
Paris B