Some time last year, I came across a bit of a buzz about a new foundation from Shiseido – Synchro Skin Lasting Liquid Foundation. I'm usually wary when there's a big buzz – it usually means that it's more than a little hyped. So, when I got my hands on it, I took my time putting it through its paces.
I later found out that the Shiseido Synchro Skin Lasting Liquid Foundation replaces the Perfect Refining Foundation, which devastated me. That was one of my favourite foundations! Synchro Skin suddenly had a lot more to live up to!
You might be happy to know however, that the Shiseido Synchro Skin Lasting Liquid Foundation is a pretty good foundation, and really reminds me why I hold Japanese-brand base makeup in high regard.
The texture of the Synchro Skin foundation is light, liquid and easy to blend. Coverage however, is medium to full, despite the lightweight texture. It also dries down a little matte, which I expected from its name. Anything that says "lasting" or "long-lasting" usually offers a matte or semi-matte texture. As I prefer a slightly sheerer textured foundation, I apply less and blend it out more. I recommend everyone does this, or risk it looking too thick.
Yet, despite the matte texture, I do not find it drying. That's important for me, because I have slightly dry skin and I really don't want to have to contend with putting something on that will just dry me out further, or accentuate lines and flaky skin. Synchro Skin does none of those, instead offering you a lovely, smooth canvas. I will note however, that I didn't have flaky skin while wearing this – I can imagine however, that it will potentially cling to flaky skin or dry patches.
The shade selection is where you might run into issues. While the shade selection is fairly large, catering for slightly deeper skintones, I do find that the jump between shades is significant. I wear Neutral 1, which is just a tad light. Yet, the next up, Neutral 2 would be too dark. For reference I wear I00 in Shiseido bases.
This is a swatch of the Synchro Skin in Neutral 1 alongside other foundations I wear. You may notice how Synchro Skin has dried down to a matte texture. While the shades all differ slightly, they all wear well on my skin and I adjust the tonal differences accordingly with powder.
In this before-after picture, you may observe the coverage and what I mean by the shade issue I face. Coverage is high, effectively covering imperfections and redness without the need for concealer.
However, the shade is just a tad light in photos. I usually use less product, so it isn't so obvious. But what I also do is adjust the shade with the help of a little powder, or by using my Guerlain Meteorites in the shade Medium, just to add a little warmth to my skin. A touch of bronzer along the sides also helps warm up the complexion, and by the time I have my blush and colour on, it is just nice.
I have also noticed that different makeup brushes will deliver different results. If I use the Shiseido Perfect Foundation brush, I get a very high coverage, even when using less product. This is useful when I'm too lazy to put on concealer. If I use a less dense brush, like the Bobbi Brown Expert Face Brush, then I get a little less coverage. More often than not, I use the Bobbi Brown brush because I like the effect better.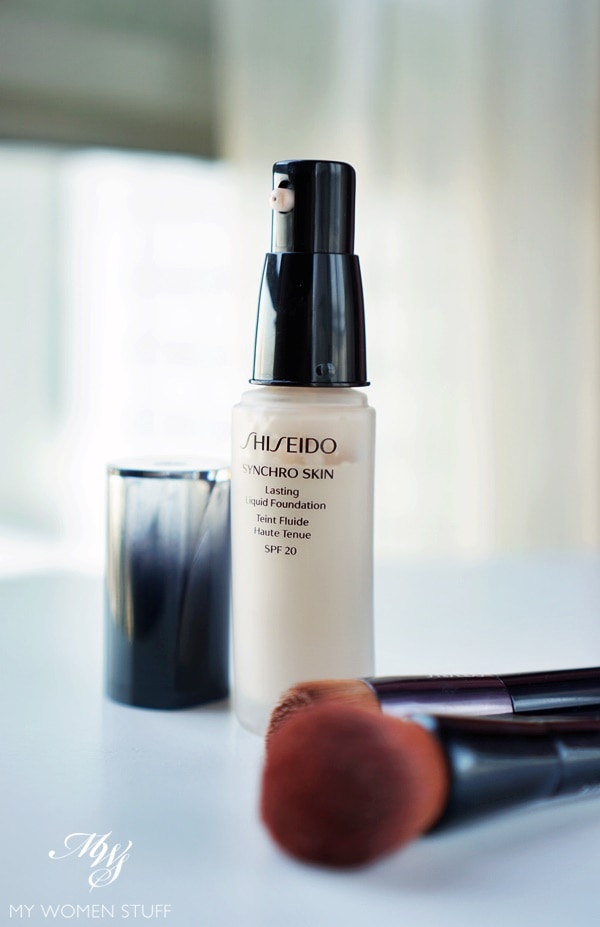 The other thing I'd note is the longevity. The Synchro Skin foundation does live up to its name, as it lasts pretty much all day long on me, and if possible actually looks a wee bit better, when a touch of oil comes through. For this reason, I'd say this foundation will sit better on those with oilier skin, or who live in a humid climate. This is the foundation I reach for, when I know I'll have a long day out, or if I just want something that's fool-proof. While I'm upset that my favourite Shiseido foundation has been discontinued, I'm glad its successor is a worthy one. I can't recommend it enough! 🙂
IN A NUTSHELL

The Shiseido Synchro Skin Lasting Liquid Foundation is a lightweight, long lasting foundation with medium to full coverage. I suggest starting with a light layer before building up where you need it as the coverage is quite high. Getting the right shade is also a little tricky, so it'll be best to test it out where you can. Coverage is very impressive despite its light texture, and it lasts all day long for me, looking better as the day wears on. While the shade in Neutral 1 is just a touch light for me, I can make it work by adjusting with powders and colour makeup as I go along. This is an impressive foundation and quite worthy of the raves I've encountered.

PROS: Lightweight texture, Dries to a matte finish on skin, Not necessary to set with powder if you don't want to, Looks better as the day wears on, Medium to full coverage, Not drying, Long lasting

CONS: Shade selection while large can be a bit tricky, Due to its matte texture it will potentially cling to dry patches or flaky skin, Bottle cover is hard to align in a hurry due to the curved shape

WHO WILL LIKE THIS: Anyone who likes medium to full coverage foundation, Anyone who wants a lightweight non-drying, long lasting foundation

WILL I REPURCHASE: Yes

PRICE: RM155 | US$45 for 30ml

WHERE TO BUY: Shiseido counters, Sephora, Strawberrynet
If you're interested in its ingredients, here's the list.
A note about the bottle. It's glass and made to be slightly curved. As a result, the cover has to be properly aligned for it to stay put properly. If it isn't, it'll be very loose. It's aesthetics, but I think it matters. Also, clean off the nozzle after each use, or it'll transfer onto the inner portion of the cap and that doesn't look too pretty.
Have you tried the Shiseido Synchro Skin foundation? Do you like wearing matte or long lasting foundation?
Despite its rather obvious draw backs, I do like wearing this foundation. It looks good on skin, although I do have to work a little at it, but I know it'll last all day when I need it to! 🙂
Paris B