I'm surprised that the Marc Jacobs Air Blush doesn't get more air-time. Aside from the quick flash in the pan when they were launched about 2 years back, they are surprisingly absent from most people's Instagram shots. I thought they were Instagram-worthy, don't you?
I was very fortunate to have been sent the blushes in a PR package, although to this day, I don't know who sent them, and who I should thank. It niggles at me! I've shared them now and again online, but really, they deserve a feature on the blog, because these are one of my favourite blushes.
When you realise that I own a LARGE DRAWER filled with blushes, you'll know that's saying something! LOL! 😀
These Marc Jacobs Air Blush blushes are two toned blushes which serve a dual function of colour and light. The lighter shades tend to have a little shimmer to the formula, to add a touch of glow. You can see that the stripes are of varying sizes, which allow you to customize the colour and glow-factor to your preference.
If you prefer a lighter touch of colour, and more glow, use the left side of the blush. If you prefer more colour then use the right side of the blush. It is very versatile. Don't even bother trying to pick up individual colours, because the stripes are really too narrow for that.
The reason I like these blushes is not so much because they are aesthetically pleasing, but because they quite literally kiss your skin with colour. A blush of colour as light as air. The powders are easy to pick up with a brush, and transfer and blend easily into the skin, leaving it looking almost air-brushed.
They are pretty much fool proof!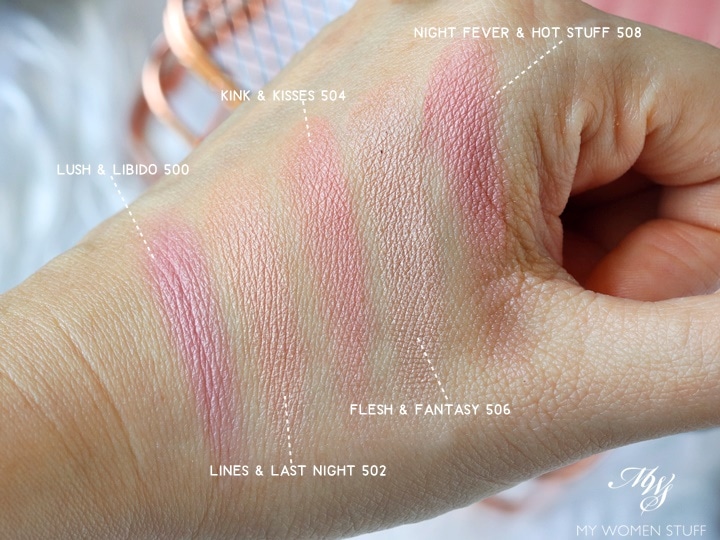 There are 5 shades, which I think are very wearable. These are the swatches and I'll run them down for you here. The names are cute, but I think it's easier to remember the numbers:
500 Lush & Libido – This is the light pink and purple striped blush, and swatches an interesting very cool purple pink shade. It is an interesting shade for a blush, and does more suit cool toned skins. Unusual but interesting
502 Lights & Last Night – This is the bright cream and orange striped blush, which swatches a light peach. On deeper skin tones, this will wear best as a highlight with a hint of warm orange tones. Not my favourite, but it works
504 Kink & Kisses – This is the light peach-pink and medium pink striped one and is my favourite! This transfers on skin as a lovely kiss of peach pink that is so effortless to wear. This is by far, the most versatile colour that will suit most skin tones.
506 Flesh & Fantasy – This is the one with the light cream and bronze stripes. Incidentally, also one of my favourites for a very light wash of face warming colour. I have finally learnt that bronzers can be flattering, without having to indulge in the strong contouring techniques that are associated with it. This was one of those that got me hooked. It is a light bronzer, with a nice flesh-toned cream side that adds lovely glow where you need it.
508 Night Fever & Hot Stuff – This one has pink and plum stripes and is the deepest shade in the collection. When blended, it is a berry tone that can be flattering if you like shades like that. I sometimes use it, but only with a light hand on my lighter skin tone.
Despite how they look in the pan, when swatched, it isn't terribly strong, and therefore, quite fool-proof. But what I like most about these is the way the powders blend, so you do end up with a very lovely glowy colour that blends so easily into skin. The colours aren't too experimental, and will suit most skin tones.
I also like the slim, compact packaging. The oval case is solid with good heft, and feels almost like a smooth, round pebble in your hand. It is a joy to hold.
I owned the original Marc Jacobs blush and never quite liked it. Something about the texture was off. This Marc Jacobs Air Blush however, is beautiful in texture and performance. The biggest downside to it is the price, which to be honest, is quite staggering. For this price, I could easily pick up a Dior or Chanel blush – blushes which are beautiful to look at and use, and with a luxury brand name and shopping experience to boot. So that for me is the biggest drawback.
IN A NUTSHELL

The Marc Jacobs Air Blush comes in a lovely flat, compact case that is very smooth and a good size. The product itself is a two toned blush that you can tailor to suit the look you're going for. The texture is satin with a luminous glow finish. I love how easy it is to pick up colour, and to blend into skin. It is not so pigmented that it leaves splotches of colour on skin, but not so light as to be hard to work with. This is a high performance blush that I feel deserves more love. But the high price is quite off putting.

PROS: Compact packaging, Portable, Blends easily into skin, Colours are flattering for most skin tones

CONS: Pricey, Small colour selection

WHO WILL LIKE THIS: Anyone who wants an easy to use blush that blends easily into skin seamlessly

PRICE: RM205 | US$42

WHERE TO BUY: Sephora, Marc Jacobs website, Net-a-Porter, Neiman Marcus

For completeness, here's how the Marc Jacobs Air Blush looks when I wear it. I am actually wearing #506 (the bronzey one) as a skin warming colour along the sides of the face and under the cheek bones. On top, as blush is #504, a peach-pink tone that looks quite refreshing. That luminosity you see on the cheekbones is from the blush, a soft glow of colour. I love these 🙂
Have you tried these Marc Jacobs Air Blush?
I do like them a lot and importantly because #504 in particular, is such an easy to wear colour. I literally swipe and go, and it just blends itself nicely into my skin! Next time Sephora goes on sale, try one. I don't think you'll regret it 😉
Paris B