It's taken me a little while to understand the new Shiseido Sports BB Broad Spectrum SPF50+ Wetforce product. But when I did, I wondered why I was so bloody obtuse in the first place!
You'd think that it doesn't take a genius to understand a tinted sunscreen. Hello. It exists and has existed for a while. What was so confusing about this one from Shiseido?
Well, for me, it was because this came to me, together with the new Shiseido Hydrofresh sunscreen. As they were both sunscreens, I treated this just as I would any other sunscreen. To be used liberally, and I did. But it bugged me. Used liberally, as I would a regular sunscreen, it was thick, and the tint was so fake and obvious. It was as if I'd caked on foundation. The formula was lovely, but it looked like I had too much makeup on.
In a way I had. But when I took a closer look at the product, suddenly, everything fell into place. Oh hello! The Shiseido BB For Sports SPF50+ PA++ Wetforce IS NOT A SUNSCREEN! DOH! 😛
The Shiseido Sports BB is in actual fact, a BB Cream type product! That means it's MAKEUP not skincare! When I got my head around that fact, everything fell into place nicely. I'm sure you too are now nodding your head in understanding.
The Shiseido Sports BB is a tinted sunscreen, but acts more like a BB Cream than it does a sunscreen with a tint. I'd used tinted sunscreen before, but never quite liked it because as I have said, I am liberal with my use of sunscreen. When you are heavy handed with a tinted sunscreen, it shows up all sorts of awful.
The texture of the product is lightweight, but creamy. It is quite close in texture to the regular Shiseido Perfect UV Sunscreen (which still remains the only one I'd use and recommend). The only difference is that this has a tint, and comes in 3 shades – Light, Medium and Dark. Locally, I think they only carry Light and Medium (but do correct me if I'm wrong).
What makes the Shiseido BB Sports confusing is the fact that this looks like the sunscreen (in a grey and orange packaging instead of blue and orange) and is sold together with the sunscreens in the brand. You would be forgiven for thinking that this is just your usual sunscreen, and I'd actually warn you as well, that the upshot is that you may not use enough product to protect your skin.
You see, it bugs me when I hear people say in videos, or read them saying this "This sunscreen is so light and spreads so easily, you only need a little bit to cover your face." WRONG!
When it comes to sun protection, less is NOT more. But because of the tint in this product, you do not want to use a lot of it. I urge you then to think of this as makeup. The Shiseido Sports BB is essentially a lightweight, creamy liquid foundation with broad spectrum, and very high sun protection. And when you get that, you will love it for its coverage and texture and formula, because I do. Oh boy, I love this!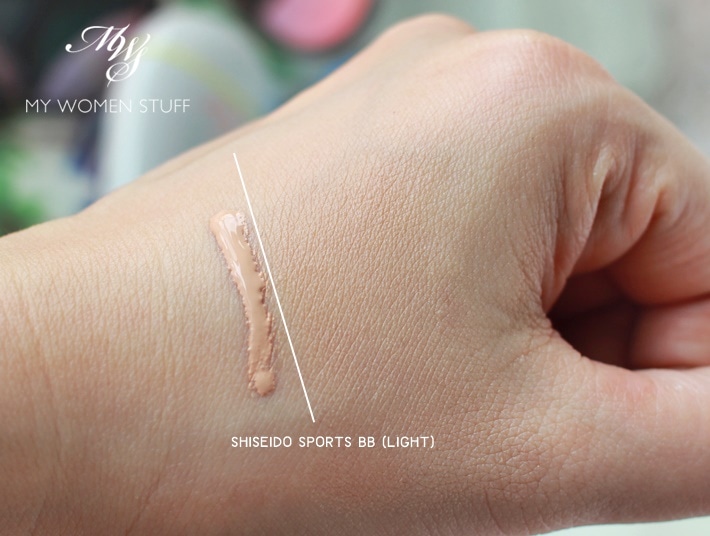 This is a swatch of the Shiseido Sports BB on my hand, in the shade Light. I normally wear Ivory or I00 in Shiseido foundations, or basically, the lightest shade in their foundation ranges. The tint in Light is a touch warm, but I can still wear it quite easily.
On left is the swatch straight from the tube. On right, is a little bit blended out. You may notice that it is noticeable on the skin, and noticeable as a foundation. Now, imagine me piling it on as I originally did! Horrors! I actually went to Penang, walked about in the sun, with this caked on. It protected my skin well, but goodness me, the appearance was just so fake, especially because I had no other makeup on!
Instead, what I do now is treat this as a regular BB Cream or liquid foundation. I do my skincare, and my sunscreen first. Then, I wear a light layer of this Shiseido Sports BB as a base. And I love it. It reminds me a lot of the Shiseido Synchroskin foundation, which I love, and also their other foundations. Shiseido makes really beautiful base makeup (as do most Japanese brands).
The difference is that this product contains their Wetforce technology, which Shiseido says, allows the product to continue protecting your skin even when it's wet i.e. when you sweat. For this reason, Shiseido sunscreens really stick to your skin, and require removal with a cleansing oil or balm, not just any face cleanser. So, this Shiseido Sports BB is a beautiful product for when you are out and about.
If you have a problem with your foundation fading or streaking when you sweat, then you'd want to use this Shiseido Sports BB instead. It seriously stays put, even when you sweat (I should know, I was walking around in the hot sun with this on!) and the tint makes your skin look a touch better, as would most foundation. I find the coverage quite high, which is why just a little is enough. But a little is not enough in terms of sun protection. So, if you are the sort who'd wear makeup in place of a good sunscreen, then I suppose this is for you – not a practice I'd recommend, but some good protection is better than none at all. I guess. It's your skin, do what you want with it 😛
Here's a face shot to show you just how lovely the coverage is. I don't use very much, just 1 dollop for my whole face as opposed to 5 when I use sunscreen.
On left is bare skin with just skincare and sunscreen. On right, is my skin evened out with the Shiseido Sports BB in Light. I love the coverage, and how it evens out my skin tone. It looks natural enough that I don't need other makeup, but if I just put on a little blush or bronzer, it looks nice as well. This is the perfect "no-makeup makeup" base.
I love this. I love this as much as I love their foundation and about as much as I love the sunscreen that it resembles. The texture is lovely, the coverage is good, and it feels so comfortable on my skin. I love this most for when I travel, because I don't usually wear makeup when I'm out and about due to fading and streaking, and now I don't have a problem with that! I don't even need a powder to set, nor do I need concealer! I still do not treat this as a sunscreen. But as a foundation with high SPF, this is game, set and match to Shiseido.
IN A NUTSHELL

The Shiseido Sports BB SPF50+ PA++ Broad Spectrum Wetforce is NOT a sunscreen. This is a tinted sunscreen or BB Cream. I do not find it drying on my normal-dry skin. It feels a lot like the Shiseido Perfect UV sunscreen that I favour. However, the coverage is quite high so you do not need a lot of product on your skin. Treat this as you would a foundation, and you are good. I love this because it does not streak nor fade even when you sweat. It is good for those who want a little makeup on while you're out and about in the sun, especially when traipsing around cities, or by the beach. As long as you treat this as makeup, you will be fine. I don't recommend using this alone as sunscreen because you will not use enough due to the coverage. But if you do, I guess it's better than not wearing any sunscreen at all 😛

PROS: Lightweight, Comfortable on skin, Does not fade nor slip off even when you sweat, Good coverage, Handy size is portable, Easy to apply with fingers for even coverage, Not drying, High sun protection

CONS: Limited shade selection, Pricey

WHO WILL LIKE THIS: Anyone who wants a longwearing BB cream that is lightweight and feels comfortable without wearing off even when you sweat

PRICE: RM180 | US$38 | £32 for 30ml

WHERE TO BUY: Shiseido counters, Sephora stores and online, Ulta, Nordstrom
For those interested, this is the ingredients list for the Shiseido Sports BB:
ACTIVE INGREDIENTS: Purpose OCTINOXATE 4.9% , Sunscreen TITANIUM DIOXIDE 15.0% , Sunscreen Water, Dimethicone, Trimethylsiloxysilicate, Isododecane, Methyl Methacrylate Crosspolymer, Sd Alcohol 40-B, Xylitol, Isopropyl Myristate, Aluminum Hydroxide, Peg-9 Polydimethylsiloxyethyl Dimethicone, Aluminum Distearate, Isostearic Acid, Dextrin Palmitate, Bis-Butyldimethicone Polyglyceryl-3, Serine, Glycine, Sodium Pca, Aspartic Acid, Peg/Ppg-14/7 Dimethyl Ether, Saxifraga Sarmentosa Extract, Sophora Angustifolia Root Extract, Disteardimonium Hectorite, Trisodium Edta, Silica, Alanine, Polymethylsilsesquioxane, Talc, Alumina, Alcohol, Sodium Citrate, Polysilicone-2, Triethoxycaprylylsilane, Hydrogen Dimethicone, Butylene Glycol, Citric Acid, Tocopherol, Stearic Acid, Bht, Syzygium Jambos Leaf Extract, Methylparaben, Ethylparaben, Fragrance, Titanium Dioxide, Iron Oxides, Mica
Have you tried this Shiseido Sports BB? Did you use it liberally as a sunscreen as well?
When the lightbulb went on for me, I felt so silly for having wasted so much product in the initial trial stages! I'd actually put it aside for a while, because I didn't know if I loved it or hated it. But now, I can safely say I love it. But as a BB cream. It is quite honestly, one of the best BB creams I have ever used. And you know, that's saying quite a lot! 😉
Paris B