When you're informed that a holy grail product that you run through like water and replenish obsessively despite the cost, is being replaced, there are only two things you can do. Grit your teeth and hope for the best, while ensuring you have at least 1 bottle left as back up; or run around screaming "The sky is falling! The world is ending!" and buy up all the products you can find to stockpile into the next century.
Unfortunately, with sunscreen, there's a shelf life that you'd be well advised to observe (2 years, after which they degrade I'm told) so when it's a favourite sunscreen that is being replaced, I sob a little into my pillow, grit my teeth and hope for the best.
And with a lot of melodrama, that was how I felt when I was told that this Shiseido Perfect UV Protector SPF50+ PA++++ Wet Force would be replacing my daily staple, the Shiseido Perfect UV Protector SPF50+ PA++++ .
What's the difference? Well, other than the fact that one bottle is white and the other blue, you mean? 😛
You see, it's kind of funny the U-turn that Shiseido did when it came to their packaging. Shiseido's suncare range was always this bright blue with orange trim before this. Always. I didn't try it back then, because I was into other brands. But when they revamped their formula and launched the Shiseido Perfect UV Protector SPF50+ PA++++ it came in a a white bottle with blue trim (they also have one with grey trim that I've not used). I'm not sure if you can get this outside of Asia so if you know, please holler!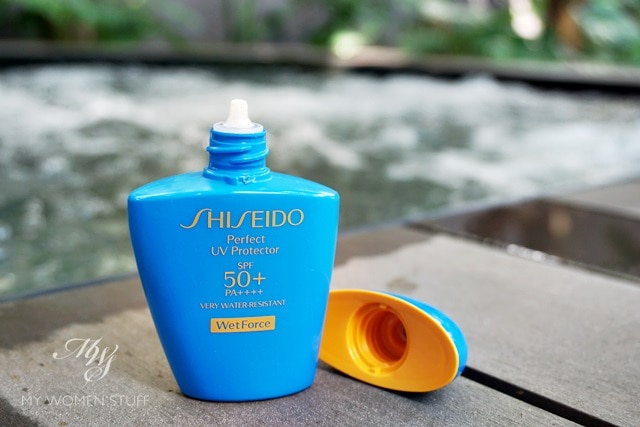 3 years later, Shiseido has come full circle by going back to their blue and orange packaging with their improvements to the Shiseido Perfect UV Protector SPF50+ PA++++ by adding what they call "Wet Force technology".
What they claim, is that their already very efficient and very good sunscreen is now boosted by contact with water! So, instead of fretting that your sunscreen is deteriorating when you sweat or go for a swim, we are assured that moisture (whether through perspiration or water) boosts the sun protection efficacy of the product, as the negative ions in the product bond with positive ions in perspiration and water, to create an even more water repellent layer to boost protection to 124%. Numbers, they are impressive no?
Truth be told, it sounds pretty amazing, especially because when its time to whip out the sunscreen, the odds will be that you will be going somewhere hot, or humid or you are planning to get sweaty or wet. Erm… yeah 😛 For us who live where it's hot and humid all the time, and where stepping out for 5 seconds leaves us melting into a puddle of perspiration, this sounds pretty much like a God-send.
But the fact is, we can't really tell if it's working.
I mean, it's great if it does, but I wouldn't put too much hope in it you know? So, be diligent and reapply your sunscreen every 2 hours or so if you're out in the sun, or perhaps less often if you're not. Because it's inconvenient, I actually don't reapply my sunscreen during the day if I'm indoors, but then I don't go out into the sun either. For me therefore, if this "wet force" technology works, then all well and good.
What was more important to me, as a fervent and loyal user of the Shiseido Perfect UV Protector SPF50+ PA++++ (sans wet force) was, whether it would still remain my HG sunscreen. Would it slide off my face? Will it dry me out the way many Japanese brand sunscreens do? Will this new formula break me out?
Happily, the answer is no it doesn't. It feels the same on my skin as its previous incarnation in the white bottle. The texture is pretty much the same as before, even down to the slight pink iridescence in the product you squeeze out after diligently shaking up the bottle. It still serves as an excellent makeup base for me so I still eschew using a primer; and it seems to protect my skin as well as its predecessor. I judge this by the fact that my pigmentation does not get worse nor do I burn nor turn red after sun exposure.
So I suppose my melodrama was for nought. I am still a huge fan of this Shiseido sunscreen which I've convinced numerous people to use, all of whom love it, despite the price tag. If there's one thing I'm loathe to stinge on, it's my sunblock. So, I'm sure there are budget options out there (and I do want to find one ever since I found out that my other budget favourite by Hada Labo has been discontinued) but I'm picky so it's a slow process.
I guess for the time being, I'm still holding on to this. Yes, it's still pricey and yes, I know I'll be tightening my belt to repurchase this, as I have been every couple of months as I run out. I've been through uncountable bottles of this and my wallet would like me better if I found a cheaper substitute! 😛
IN A NUTSHELL

The Shiseido Perfect UV Protector SPF50 PA++++ Wet Force is said to be an improvement on the previous incarnation that came in a white bottle. As the white bottle is my daily sunscreen and has been for the past few years, I find no discernible difference in texture or performance of this new Wet Force version so I'm happy to continue using it. It acts as a good makeup base (primer), does not turn oily nor dry out my skin and protects my skin well. HG material levelled up!

PROS: Compact packaging is portable, Does not dry out my skin, Does not turn oily or greasy, Absorbs well and makes a very good makeup base, Protects my skin well from the sun and uv rays

CONS: Pricey

WHO WILL LIKE THIS: Anyone who doesn't like sunscreen that feels thick or oily on skin
Here's the ingredient list for anyone interested.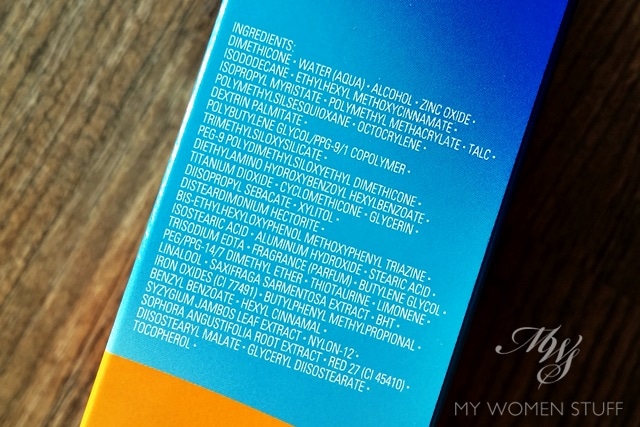 I've included the ingredient list for the previous version, which to my untrained eye looks fairly similar, except that the order of the ingredients are a little different. It might explain why it feels the same to me 🙂
Have you been using the Shiseido Perfect UV sunscreen before this?
Ever since I was introduced to the Shiseido Perfect UV Protector I've looked at no other. I mean, why look further when you've already found your Holy Grail right? 😀 I'm happy the reformulation hasn't changed that for me. Finding a new sunscreen can be quite a pain! 😛
Paris B
Shiseido Perfect UV Protector SPF50 PA++++ Wet Force Price: RM148.40 / 50ml Availability: All Shiseido counters