When I first found out that Shiseido had a new sunscreen, a shiver went through me. Partly in anticipation, partly in fear. If they do the unthinkable, and discontinue or mess up the formulation for the Perfect UV Protector sunscreen, I swear, I will throw a fit!
As many of you know by now, it's the only sunscreen I will wear and repurchase, even if my wallet cries in protest.
Happily therefore, when the new Shiseido Perfect UV Protector Hydrofresh SPF50+ PA++++ sunscreen landed on my desk, I found I could heave a sigh of relief. This does not replace the one I love (with the orange trim) but is an extension of the Perfect UV Protector range.
What some people have reported to me, when they tried my holy grail sunscreen, was that they found it a bit drying. Now, I personally don't, but I can understand why some people may find it to be so. This then, is Shiseido's answer – the Shiseido Perfect UV Protector Hydrofresh.
The Shiseido Perfect UV Protector Hydrofresh shares many similar characteristics with its older sibling in the same range. It boasts a very high, broad-spectrum UV protection, with SPF50+ and PA++++ protection against UVB and UVA rays, respectively.
Now, I know there are people who scoff at SPF50 sunscreens, and I say hey, you're entitled to your opinion 🙂 Me, I go for a minimum sun protection factor of 50. No SPF50, I won't touch it. But that's me. If you feel comfortable with SPF15 or SPF30, that's your call.
Like its older sibling, the Shiseido Perfect UV Protector Hydrofresh too boasts "Wetforce" technology, which was introduced in 2015. You can read more about it in my older post, but essentially, what it does is boost the efficacy of the sun protection, when wet. The formula is also highly water resistant, so I recommend using a balm cleanser or cleansing oil at the end of the day – but you already do don't you? 😉
The difference therefore, lies in the formula and texture. The Shiseido Perfect UV Protector Hydrofresh has a rather creamier texture when squeezed out of the bottle. Because I use the same amount of sunscreen, whatever brand I use, this means that it goes on my skin a little thicker. But I persevere, because for me, that's the best amount to use for each section of my face. It also goes on skin with a bit of a cooling feel that I find a little strange. I've gotten used to it by now, but the first time, it was weird.
For your reference, this is how much sunscreen I use for each part of the face. It's a lot.
For me therefore, I find that the Shiseido Perfect UV Protector Hydrofresh does not feel as comfortable on my skin. Also, I find it a little more moisturising, but it does not boost any moisture levels in my skin. What it does is not make my skin feel dry.
For this reason, I view the Shiseido Perfect UV Protector Hydrofresh to be better suited for someone with drier skin, not necessarily dehydrated skin (there's a difference), or perhaps when cooler weather hits in the temperate countries. It helps add a layer of more moisture, for those who have trouble wearing certain foundations, for example. But for me, I don't find it particularly comfortable, and I prefer the existing formula (bottle with the orange trim).
The other reason I prefer the existing formula is because it makes a far better primer than this Hydrofresh version does. Like I said, if you have drier skin, the Hydrofresh will feel more comfortable, and makes a better base for makeup, or for drier or heavier foundation. But if you want a sunscreen and primer in one, you'd best go for the existing formula, as it has a light pink tint, that brightens the complexion a little as well.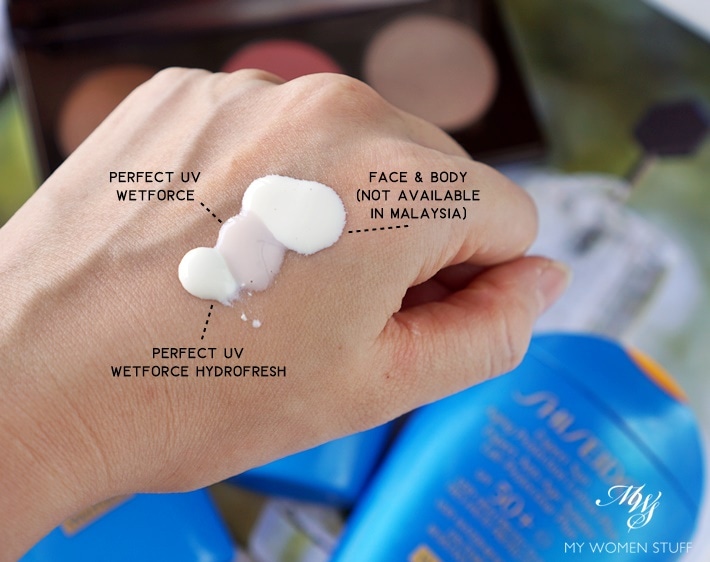 Here are some swatches to give you an idea of texture and colour:-
Perfect UV Protector Hydrofresh – You may notice that it has a more creamy formula that holds its shape when squeezed out of the bottle, as compared to the others. It is also white. I can't tell if it will leave a white cast on someone with dark skin, as I can't test that, so I will suggest testing it out at the counter first.
Perfect UV Protector Wetforce – This is the existing formula, which is lighter and more runny as you can see. There is also a pink tint that brightens the complexion, and it makes a lovely primer. I do not find it to be particularly drying, but I have heard of people saying it is so.
Expert Sun Aging Protection Lotion plus SPF50+ – This one is Made in France, and is not sold in Malaysia (or Asia, I believe) and is available in Europe. I personally like this texture best of the three. It has a slightly thicker texture compared to the Perfect UV Protector, but not as thick as the new Hydrofresh one.
I wanted to show you the Shiseido Expert Sun Aging Protection Lotion Plus SPF50+ sunscreen, which I found online and tried. It is a beautifully large 100ml bottle, as it is meant to be used for both face and body. As I only use it for the face, it lasts a while. It too boasts Wetforce technology, and is water resistant and offers high protection against the sun's aging rays. The difference is that this is Made in France, while the others are Made in Japan.
I have to tell you that I really like the Expert Sun Aging Protection Lotion Plus. It has a lotion texture that feels very comfortable, comes in a value for money sized bottle, and my skin feels just as protected as it does with the Perfect UV Protector. Because I'm so generous with my use of sunscreen, this is really my favourite. I do try to buy it online whenever I can find it, and if I were in Europe, this would be the one I'd go for.
But as I live in Asia, I will still stick by the Shiseido Perfect UV Protector SPF50+ PA++++. Hydrofresh will come in second.
IN A NUTSHELL

The new Shiseido Perfect UV Protector Hydrofresh sunscreen is an addition to the Shiseido Perfect UV Protector range of sunscreen. As the name implies, it is supposed to offer more hydration to the skin, and it has a thicker, creamier texture, that's white, without the pink tint of the original version. I don't mind it, but I prefer the original version because it feels better on my skin, and I find that it makes a better makeup primer as well. Also, the original version is a little bit cheaper, coming in at RM160 as opposed to the RM170 for the new version (as at July 2017).

PROS: Protects skin well from the sun, Feels comfortable on skin, Very lightweight, Compact bottle is very portable, Does not leave a white cast (on fair-medium skin), Cooling feeling on skin when applied

CONS: Does not feel particularly moisturising on my skin, Pricey, Cooling feeling on skin when applied

WHO WILL LIKE THIS: Anyone who finds the original Perfect UV Protector (with the orange trim) too drying on their skin, Anyone who wants a creamy textured high protection sunscreen

PRICE: RM170 for 50ml

WHERE TO BUY: Shiseido counters in major department stores or Sephora stores
For those interested, this is the ingredient list for the Shiseido Perfect UV Protector Hydrofresh.
Water, zinc oxide, ethanol, isododecane, ethylhexyl methoxycinnamate (octinoxate), caprylyl methicone, butylene glycol, bis-ethylhexyloxyphenol methoxyphenyl triazine (Tinosorb S), sucrose stearate, PEG-60 hydrogenated castor oil, dimethicone, silica, ethylhexyl triazone (Uvinul T 150), dextrin palmitate, xylitol, diethylhexyl succinate, menthol, menthyl lactate, nylon-12, PEG/PPG-14/7 dimethyl ether, thiotaurine, Saxifraga stolonifera extract, royal jelly extract (1), Sophora angustifolia root extract, PPG-17, isostearic acid, triethoxy capryllysilanedistearyl dimonium chloride, (dimethylacrylamide/sodium acryloyldimethyltaurate) crosspolymer , sorbitan sesquiisostearate, succinoglycan, cellulose gum, citric acid, butylated hydroxytoluene, tocopherol, trisodium EDTA, stearic acid, sodium pyrosulfite, sodium citrate, Syzygium jambos leaf extract, fragrance.
Have you tried this new Hydrofresh version of my favourite sunscreen?
I'm kind of bummed at the price. It does make it quite hard to keep using it, but unfortunately, it's the only one I like right now, so I suck it up. At least, I console myself it isn't half as expensive as this one LOL! 😀
Paris B