I am unabashedly a fan of scented candles, despite detractors, and I have amassed quite a collection over the years from different brands. This year, I told myself I'd be good. I'd burn through the candles I currently own, before buying more. Barring the odd local discovery, I had been good.
And then Diptyque unveiled their Christmas candles, and all resolve went out the window!
This year, Diptyque has collaborated with French artist, Philippe Baudeloque, for their Christmas collection, and I was smitten! Drawing on 3 mythical creatures and set amongst the glittering stars of the cosmos, they had fused 3 of my interests – candles, mythical animals and the stars. I once harboured ambitions of becoming an astronaut. But I was so bad at physics, I gave up on it 😛
The other thing that caught my eye, was the use of coloured wax. Diptyque has, in its permanent collection, candles with coloured wax but I believe this is the first time they were using this coloured wax in their Christmas collection.
Naturally therefore, I had to set aside funds to indulge, for this was not just a candle, it was a beautiful display piece. The question however, was which of the 3 I'd pick up? 😀
The 3 mythical animals chosen were the Dragon (Red), Phoenix (Blue) and Unicorn (Green). The scents in each candle correspond.
Frosted Forest Candle (Unicorn/Green) – This has the classic pine scent so associated with this time of year. It is the woody scent of pine, tempered with fresh mint to keep the scent fresh. It quite easily scents the room as it is quite strong, I find. I love the scent of pine, but it makes me nauseous after a spell, so this was the one that I chose not to get. No, I have nothing against unicorns! LOL! 😀
Fiery Orange Candle (Dragon/Red) – This candle, as the colour suggests, gives off a warm vibe. There is the scent of oranges simmered with the spice of cloves, for a spicy, fruity smell of fruit cake in the air LOL! I fortunately like fruit cake!
Incense Tears Candle (Phoenix/Blue) – This one stumped me a little, because what does blue smell like? Well, in this case, it smells of incense. Blending frankincense and myrrh, the scent is at once spicy and warm. This one's definitely a cold weather scent, so does feel incongruous when burnt in warm weather. Best suited for air-conditioned rooms.
And I picked out the Incense Tears Candle, with the beautiful golden phoenix in flight; as well as the Firey Orange Candle, with the twisting golden dragon among the stars.
Well, my choice of mythical creatures had a part to play as well, for I have always been fascinated with the Phoenix and Dragon, and it struck me that the representation of the Phoenix and Dragon on these Diptyque candles were reminiscent of the Oriental style drawings. More fluid, more elaborate, more majestic. Also, in Asian mythology, the Dragon and Phoenix comes as a pair in yin-yang harmony, so I felt it was fitting to own both.
I love them!
I love that they had matched the inside of the jar to the colour of the wax, so it all blends seamlessly as you burn the candle down. Also, after you are done, it is quite easy to remove the remaining wax and use the jar as a decorative piece. And what a decorative piece this is! 😀 Even the boxes are works of art!
What I do not love as much, is the fact that the gold is not etched on the jar, but feels like it is pasted on. Quite sturdy nonetheless.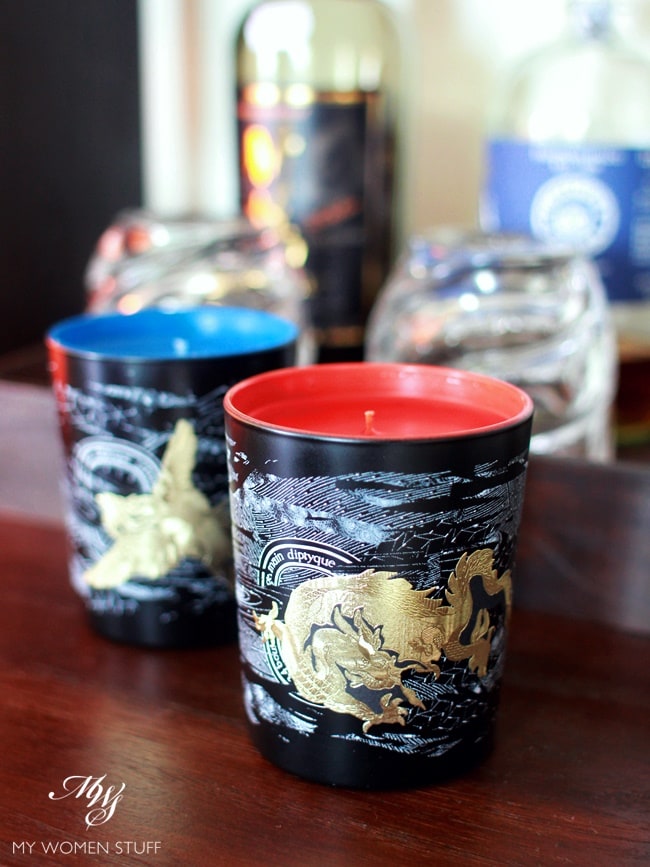 I opted for the large candles this year, because I wanted these in their full glory, and also because I find the scent throw in Diptyqye's larger candles better. The small 70g jars tend to frustrate me somewhat, unless you intend to use them in just your bedroom. While I do not have a very large living area, it is quite open, and a large candle usually scents the room better (and leaves me feeling less frustrated).
Compared to previous years (see 2016 and 2013) I find this year's Christmas candles the most beautiful. They are suitably intricate, eye-catching and impressive, as opposed to just sticking on a colourful label on a colourful glass, as they did in the past. I'm not sure how they'll top themselves next year! LOL 😀
Do these Diptyque Constellations Christmas candles attract you? Which mythical creature most appeals to you?
I think these candles are beautiful, make beautiful gifts, and I'm sure that if you are a fan, you'd have picked up one already. Now the question is, which? 😀
Paris B
Diptyque Christmas Candles 2017 comes in 3 scents – Firey Orange (Dragon/Red), Frosted Forest (Unicorn/Green) and Incense Tears (Phoenix/Blue)

PRICE: RM319 | US$70 | £48 for 190g – Also comes in 70g sizes

WHERE TO BUY: Diptyque store at Pavilion KL, Kens Apothecary stores and online, SpaceNK, Diptyque online, Selfridges, Nordstrom, Neiman Marcus