I know what you're thinking right now as you read the headline above. 5 seconds?! Who are you kidding?! Is this going to be one of those posts that over-promise and under-deliver?
But what if I told you that it was indeed possible. You can apply and blend the perfect eyeshadow in 5 seconds or even less, and anyone can do it! Yes, even you, who are bemoaning the fact that you can never get eyeshadow to blend properly.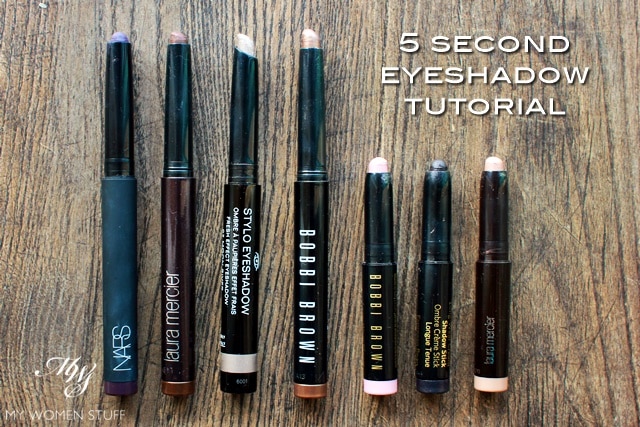 I stumbled on this method of applying eyeshadow one morning when I was a little pressed for time, and had a lightbulb moment. Why didn't I think of this earlier?! I don't know if it's a known tip, but I hit on it quite by accident and after trying it out for a few days with great success, I knew I just had to share it with you! 😀
What you do need however, are cream eyeshadow sticks. Or maybe even cream eyeshadow. They're easier to blend and you'll understand why when you see my quick tutorial below. I don't do tutorials often, so you can tell I'm really excited about this one. Enough to actually take step by step photos! LOL 😀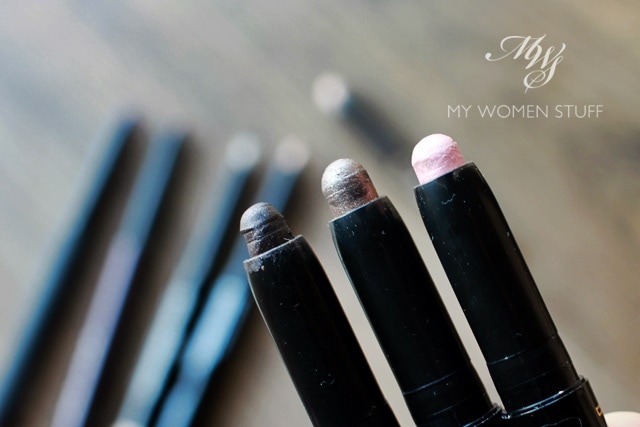 What you need:-
cream eyeshadow sticks – in 2 or 3 contrasting shades
fingers
5 seconds
For our purposes today, I used fairly contrasting shades so you can see the effect more clearly. I have this trio of mini Bobbi Brown Long Wearing Cream Eyeshadow sticks from last Christmas in the shades Espresso Bean (black), Smokey Topaz (brown) and Pink Sparkle (pink), so I used these. I picked a deep shade for definition, a lid shade for colour and a light shade for highlight. You can work with just 2 shades if you like – a dark shade and a lid shade.
Here are the step-by-step photos for this quick eyeshadow tutorial, which are pretty self-explanatory, and I'll elaborate a little below.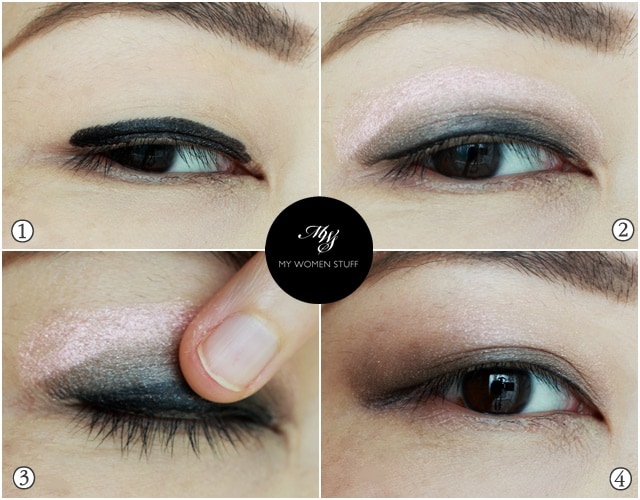 Use the darkest shade and draw a thick line close to your lash line. Don't worry if it isn't straight or precise.
Draw 2 more lines using the lid/blending shade and highlight shade. Draw them one above the other. Again, don't worry if it isn't precise or if it looks odd or unblended.
Use your finger and gently blend the shades together. I usually use the ring finger to blend the dark and lid shade, and then my little finger to blend the lighter shades so it doesn't get too muddy. Yes I realise my finger looks a little awkward, but I'm sure you know what I mean.
Voila! 5 seconds and you're done 🙂 You can line and mascara after that of course. The rest is up to you.
This technique naturally assumes that you already have cream stick eyeshadows. If you have cream eyeshadow in a pot, I reckon it could work as well, but it won't take you 5 seconds. Maybe 10 😉
Here's how it looks (sort of) in a full face. The eyes aren't over done and you can quite easily wear this to work. In fact, I think this eyeshadow technique is perfect for working ladies, because you literally get your eyes done in no time at all, yet look polished, as if you spent 10 minutes per eye, instead of 5 seconds 😉
I have used this technique with all the cream eyeshadow sticks I own, mixing different colours from different brands, and it's a winner every time, because it's just so quick and fool proof! The trick is to work one eye at a time, because these products tend to set on skin quite quickly. Once it sets, it'll be hard to blend.
I've worked with different shades – deep purple base (Nars Nunavut), light purple lid shade (LM Amethyst); deep blue base (Nars Glenan), bronze lid shade (BB Golden Bronze) and gold (LM Sandglow) (this one's pretty) and a gradational brown-gold eye (LM Cocoa, BB Golden Bronze, LM Sandglow). Work with your imagination 🙂
This technique also assumes that what you want is quick eye makeup that doesn't look too elaborate. I'm not very good at doing elaborate eyeshadow anyway, so this sort of look suits me fine. You have the gradational effect without spending too much time labouring over your eyeshadow application, and you get eye makeup that lasts all day!
The cream eyeshadow sticks I favour are the Laura Mercier Caviar Sticks and Bobbi Brown Long Wearing Cream Eyeshadow Sticks (quick comparison here). You can wait till Christmas, when both these brands may come out with holiday sets, so you can pick up a few shades at a go at a value price 🙂 I'm always picking up random colours from both brands, just because I use them fairly often. This will work with any brand of cream eyeshadow sticks, so work with what you have. I don't own, nor have I tried many brands, only what you see here, but I'm always keeping my eyes open for more!
As much as I've enjoyed some powder shadows in recent times, I've sort of abandoned most of them after hitting upon this technique simply because I can't get over how quick and easy it is! Haha… So, I'd love for you to try it and then let me know how you like it, or if it works for you. I actually had this brainwave because of the 5 line foundation trick I use daily. I figured, if it works for the face, why not for the eyes… and it does! 😀
If you plan to try this, or already have, please do share with me below how you liked it. I'd love to know if it works for you too!
I promise you, if you can draw 3 lines (squiggly or otherwise), and have 5 seconds to spare, you'd have a pretty eye makeup look that'll have people thinking you spend more time on your makeup than you did; and you wishing that you could wear eyeshadow more often! 😀
p/s I cheated a little, I admit. It'll take you 5 seconds per eye so technically you need 10 seconds to do both eyes 😉
Paris B