When I blogged about the Bobbi Brown cream shadow sticks a couple of weeks back, I promised you I'd do a quick comparison based on the shadow sticks I've tried so far, and here it is! I do try to keep my promises.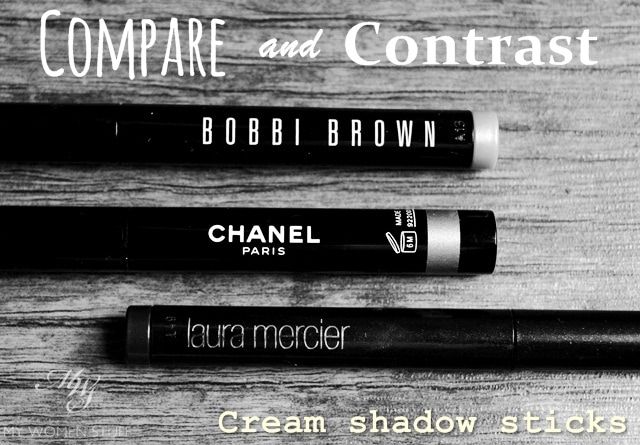 I chose to compare just the 3 that you see, because these are the only ones I've tried. Makes sense right? I can't possibly compare something I've never tried 😛 So whilst there are others out there (and I'd love to hear from you if you've tried some other good ones) here are some comparisons from Chanel, Laura Mercier and Bobbi Brown, and my personal favourite.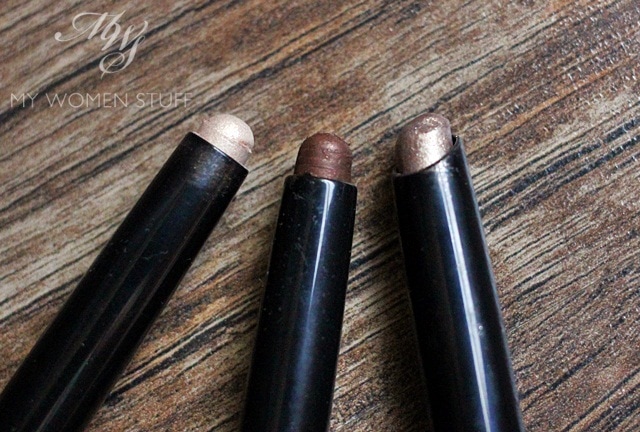 The first cream shadow stick I tried was from Chanel from the summer collection. It was a surprise purchase for me and also one I liked. You may notice how the packaging all looks quite similar.
Long plastic pen-style packaging with a twist up mechanism. I won't dwell on the Chanel one because it was limited edition and therefore unavailable, but although I liked it, I'd tell you to skip it.
The primary reason is because of the glitter and shimmer and general lack of pigment. It serves well as a highlighter or a lazy day eye,but isn't one I'd recommend for general use.
The true contenders are therefore the Laura Mercier Caviar Shadow Stick and the Bobbi Brown Longlasting Cream Shadow sticks. I've reviewed them separately if you'd like to click through to the individual posts.
At a glance, the LM and BB sticks are practically twins separated at Birth. They both even have the same country of origin and I won't be surprised if they came from the same factory. For all intents and purposes, both products are identical. However, on swatching and using them, I did notice some differences
(1) Laura Mercier Caviar Stick -Khaki (2) Laura Mercier Caviar Stick – Cocoa (3) Bobbi Brown Longlasting Cream Shadow stick – Golden Bronze (4) Bobbi Brown Longlasting Cream Shadow Sunlight Gold (5)Chanel Stylo cream shadow stick – Moon River (6) Laura Mercier Caviar Stick – Sandglow
You may notice in the side by side swatches that the Laura Mercier Caviar Stick is the most pigmented and also the ones with the smoothest texture. These were all just swatched once and the intensity of colour and pigment does stand out.
I find that Laura Mercier's creamy texture makes it much easier to blend and smoke out. The effect is softer and the colour doesn't move around too much. Chanel's as you can see, is quite insubstantial compare to the other 2 which is why I don't recommend it much. It's nice on its own, but pales in comparison to the other 2.
Bobbi Brown's cream shadow sticks have a drier texture when compared to the Laura Mercier. They set a little more quickly and are a bit harder to blend out for this reason. However, I have also noticed that they have incredible lasting power.
So, if you have very oily lids, then the Bobbi Brown may agree with you more. I personally prefer the shades available in Laura Mercier which I feel are more wearable and just better overall in terms of texture and ease of use. However, I have no problem wearing any of the shades here and the longevity for all of them blow me away. I haven't been wearing many other products lately. I don't have to. These are all awesome!
Incidentally, there is one more cream shadow stick I've tried that I didn't include here. The Clinique Chubby Sticks for eyes. The reason I didn't include it is because I didn't think it similar to the ones here. Granted, the shape is wrong, but then, so is the texture.
When I compared them, and as much as I do like Lavish Lilac which is the shade I have, I found that in terms of quality, I much prefer that of Bobbi Brown or Laura Mercier for prices which aren't too far from each other. The Clinique one is drier and much sheerer in colour. It's nice, but not stellar.
Bobbi Brown and Laura Mercer are both stellar! I'm already planning to pick up more Laura Mercier 😀
Have you tried any of these cream shadow sticks? Are there others that you think are stellar too?
I actually like using these because they are quick and easy. Just swipe it on, blend out with fingers and I'm good to go. The pen shape allows me to use it as a liner if I want, and I like using light shimmer shades on my lower lash line this way. Takes all the guess work out of doing my makeup 😀
Paris B