Moon River, wider than a mile,
I'm crossing you in style some day
~ Moon River, Breakfast at Tiffany's
I can't help it. Every single time I see or hear the words "Moon River" the classic song runs through my head. It reminds me of Saturday afternoons watching black and white classics on the TV…. alongside reruns of Gilligan's Island 😀 I was an old school kinda kid 🙂
So was it any surprise that when I was confronted with the range of Chanel's Stylo Eyeshadow pencils, I went straight for Moon River? 😀 I went to check out the L'Ete Papillon de Chanel Summer collection at the counter a few weeks back and wasn't planning to pick up anything. Despite the raves for the nail polishes (not my thing) and the colourful mascara (also not my thing) I wasn't keen on anything. I was about to walk away when on a whim, I decided to try the Stylo Eyeshadow. There are 6 shades available in bright colourful shades as befits the iridescent colours of a butterfly's wing but I was quite drawn to the most "normal" – a light brown (also described as 'taupe' which I disagree but what the hey, 'taupe' is one of the most misdescribed colours in the world) so I picked it up. Purely on a whim.
And what a whim it was! Moon River has quickly become a favourite without even trying 😀
The Chanel Stylo Eyeshadow, described as Fresh Effect Eyeshadow comes in a twist up pen mechanism and the product is essentially a cream eyeshadow in a pen form. Part of the reason I may be so enamoured with this is because I'm seriously in an eyeshadow rut right now and the only things that do it for me are single, one-swipe cream shadows. Its one of the strangest ruts I've ever been in!
It isn't a very thick pencil and it does remind me of the very popular Laura Mercier Caviar Stick Eye Colours. I'll tell you about those another day. Picked up one a while ago and forgot to blog about it hehe… As with everything Chanel, the packaging is solid and feels solid to the touch.
What I think I like most about this is the ease of use. Just twist it up, swipe on eyes, blend with fingers and go. Ok, you do need eyeliner and mascara to enhance the effect but its just ONE COLOUR! How easy is that? 😀
The cream shadow is very smooth and applies on skin without tugging. It just glides on very effortlessly, and has a cooling effect when the product touches the skin. Perhaps that's the "fresh effect" they mean in the name? It is also highly shimmery so if you dislike shimmer then you won't like this one.
However, I do find that it is very sophisticated shimmer, if such a thing exists 😛 It doesn't make you look like you're going out for a party, but it does add some sort of dimension to the eye for that 3D effect without having to faff about with crease shades and highlighter. Here is what I mean.
I just swipe the colour once or twice over my lid then use my finger to blend it out. That's all. The colour of Moon River is a light neutral brown and you can see the shimmer in there but you don't have to worry about fall out because it doesn't happen because this stuff really sticks on.
I was surprised at how long it lasts. Practically all day on me. I do not have oily lids, which is something I mention all the time, so I shouldn't be too surprised. But still, there's no fading, no fall out of shimmer and I have 'fresh effect' eyes all day long.
Chanel Moon River Swatch Left: 2 layers Right: blended out
The colour is quite light so I had to swatch it twice to show the colour better. It is a neutral sort of light brown which doesn't look too exciting but which is great for an everyday eye look. I think you can see the shimmer in the swatch. On the bright side, its even shimmer all the way through. But if you don't like shimmer you won't like this.
Here's an idea of how it looks when worn in a full face shot.
Wearing: Kanebo Lunasol Skin Modelling Liquid Foundation OC-01, Nars Radiant Creamy Concealer Light 2 Vanilla, Chanel Stylo Eyeshadow in Moon River 07 lined with Guerlain Kohl pencil and Australis Voluptulash mascara, Bobbi Brown Pink Glow blush, Revlon Just Bitten Kissable Balm Stain in Honey
A very simple work friendly look that allows you to play up your cheeks and lips if you prefer, or keep everything nice and neutral. I'm very happy I picked this one and I'm very happy I caved. I'm not happy with the pricetag and I can imagine that's what will make many people unhappy too.
In a nutshell

Chanel Stylo Eyeshadow in Moon River 07 is one of the limited edition cream stick eyeshadows released by Chanel for Summer 2013. The colour is a light brown with shimmer with a cooling effect when it touches the skin. It is very creamy and very easy to use and blend. Perhaps due to the colour, I find it extremely easy to blend out without seeing any harsh lines and its perfect for busy people or lazy mornings. I love it and I've been using it for a couple of weeks straight now. That's a tick of approval in my book… and also tells you how far I've slacked off 😛

Pros: Easy colour for anyone to use, Easy to blend and use, Very long lasting, Colour and effect makes eyes look fresh

Cons: Pricey, Limited Edition

Who will like this: Anyone who doesn't mind shimmer in their eyeshadow and who likes cream eyeshadow products
Here is an idea of size. It isn't very thick and there's only 1.4g of product in there which is crazy expensive. I do think it might even be more expensive than gold 😛 I'd repurchase this in a heartbeat because I can see myself using this up 🙂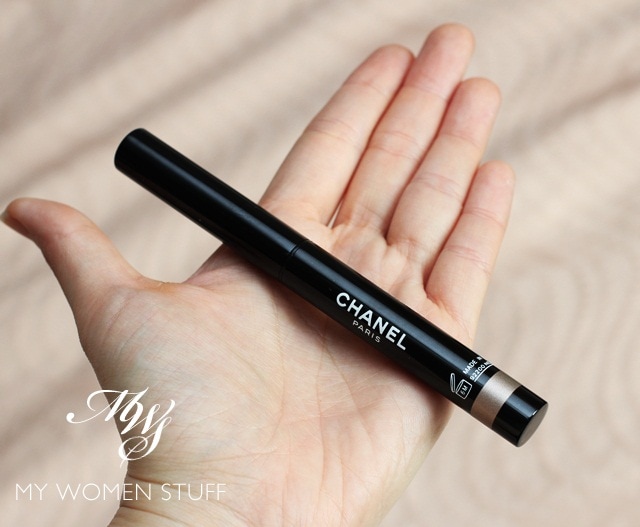 Did you check out the Chanel Summer 2013 collection? Did you pick anything up from there?
This was the only item I picked up, alongside a lipstick which isn't part of the collection. I can't keep up with all the different collections and capsule collections so I'm going to give up right here and just buy and talk about them as and when I wish. Even if they aren't available any more at counters there are ways and means to get them online 😉
Now excuse me, I have Moon River stuck in my head again…
Moon River, wider than a mile,
I'm crossing you in style some day.
Oh, dream maker, you heart breaker,
wherever you're going I'm going your way.
Two drifters off to see the world.
There's such a lot of world to see.
We're after the same rainbow's end–
waiting 'round the bend,
my huckleberry friend,
Moon River and me.
Paris B
Chanel Stylo Fresh Effect Eyeshadow comes in 6 shades Price: RM105 Availability: Chanel counters Limited Edition: Yes, L'Ete Papillon de Chanel, Summer 2013