Hi everyone!
Ah, it's been over a week since my last post, which is quite something when you're used to blogging daily, but I must say I really enjoyed the week off. I took a little time off on my birthday which nicely coincided with the weekend so I actually got a few days off work. Then when the new week started, I launched headlong into the madness, working on backlogs, desperately trying to catch up (so the blog break was quite a blessing!) and in between it all, I received some wonderful news which I'll share with you later in the week.
During this time away from blogging, I also took a little time off from wearing makeup and reached a lot for easy to use products and one of them has been this – the Bobbi Brown Long-Wear Cream Shadow Stick.
I know what you're thinking – now, where have I seen this before…. 😀
Yes, these did remind me of 2 other cream shadow sticks that I've featured before this and before you ask, yes, I will be doing a comparison of them in a forthcoming post so watch out for that one.
I will say though that I am suitably impressed with these cream shadow sticks and even if you are deathly afraid of going to the Bobbi Brown counter (as some of you have mentioned before) these are absolutely worth checking out and they certainly live up to their name.
The handy slim pens will be familiar to anyone who has used either the Chanel or Laura Mercier counterpart or any similar product. They are a twist up mechanism and the pen cover clicks shut so the cream doesn't dry out.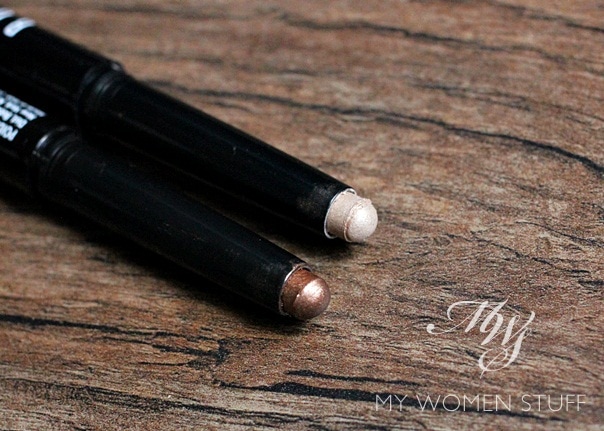 On left is Golden Bronze and on right is Sunlight Gold – 2 very wearable colours that you can easily dress up or down. I like using the light shade to line my lower lash line. It brightens up the eye, makes me look less tired and best of all, lasts. This trick actually works with any light shimmery eyeshadow, not just this, but this just makes it easier 🙂
I did find that compared to the Laura Mercier Caviar Sticks, the texture of these Bobbi Brown cream shadow pencils are a bit harder and drier. What this means for us is that you have to work a little more quickly to blend out the product before it sets or it might get patchy. Once it sets, it doesn't budge. At. All. I love it!
Bobbi Brown Long-Wear Cream Shadow Stick Swatch 1 pass only Left: Golden Bronze Right: Sunlight Gold
In terms of pigmentation, it's great. The colours show up strongly on skin and there is some shimmer that isn't garish at all, just enough to keep things interesting. I let these set for a couple of minutes and there's no way you can budge these, except with a makeup remover.
That said however, I don't have oily lids so I cannot tell you how this will fare on oily lids. What I can say is that on me, it stays put from morning to evening without fading or creasing, which suits me fine on days when I have to look presentable for most of the day (as opposed to days when my makeup can fade and I can look like a drowned rat by noon :P) If I have to bring makeup for travel, I'd take one of these because of the longevity.
I'd also use these as a base for powder eyeshadow, if I wanted to enhance the colour or let it stay on better. Very versatile products. Here's an example of how I'd wear it on my eyes.
I apply Golden Bronze on my top lid close to the lash line in a thick line and then blend it out upwards. I use Sunlight Gold on the lower lid to brighten eyes. You can also use some of it in the inner corner. Makes you look perkier. This is actually pretty much how I use any of these cream shadow stick things. Just draw it on and blend it out with my fingers.
And here's how it would look when you pull out of the close up.
I wore these shadows in the looks I did with the Estee Lauder Lip Lacquers. I think they give enough attention when worn with a light lip as they do when worn with a bold one 😀
I really like these, and I believe they are part of the new colours added to the original 8 colours available. There should be 14 shades in all. The other shades didn't quite appeal to me the way Laura Mercier's did. So if you're thinking of trying these, I say go for Golden Bronze and Sunlight Gold. They go well together, work well separately and will take you far.
In a nutshell

The Bobbi Brown Long-Wear Cream Shadow Sticks are cream eyeshadow in an easy to use, portable stick form. Just draw them on your lid and blend it out with your fingers and you're good to go! They also work well as an eyeshadow base. Apply your powder eyeshadow over, and it'll last. With the 2 that I have, I found the pigmentation good, the shimmer subtle enough on skin and the longevity was stellar. However, I also found the texture a little hard and dry in comparison to its competitors and this might result in patchy application. Also, I did check out the other shades available but wasn't as keen on them for some reason.

Pros: Long lasting on my lids, Does not fade or crease for the whole day, Easy to use, Portable and handy packaging

Cons: Sets quickly so if you're slow to blend it might be patchy, Pricey

Who will like this: Anyone who wants an easy to use long lasting eyeshadow, Excellent for busy lifestyles
There are about 14 shades available in the market currently and I expect there'll be more to come. These are worth checking out and definitely one of the better products from Bobbi Brown that I've tried. Or maybe it's because I'm just really into these cream shadow/longlasting products at this time 😀
Have you tried these cream shadow sticks? Do you usually have a problem with cream shadow not lasting on your lids?
I am actually quite lucky not to have much of a problem with eye colours fading or creasing. When they do, it's a big deal for me. These have been impressive though. It's going to be hard to pick my fave when I show you the comparisons 🙂
Paris B
Bobbi Brown Long-Wearing Cream Shadow Stick comes in 14 shades Price: RM90 each Availability: Bobbi Brown counters and stores