After coming across a lot of raves for the Laura Mercier Caviar Stick Eyeshadow, I picked one up in Khaki last year. At the time, the shades available were only deep shades. I wore it a few times, but considered myself unimpressed. Then, I lost it and promptly forgot about it.
I later acquired one more in Cocoa and was also a little on the fence about it. But early this year, Laura Mercier came out with light colours for the popular Caviar Stick Eyeshadows and suddenly, everything fell into place. I fortuitously found my Khaki one, and it is now one of my favourite eyeshadows.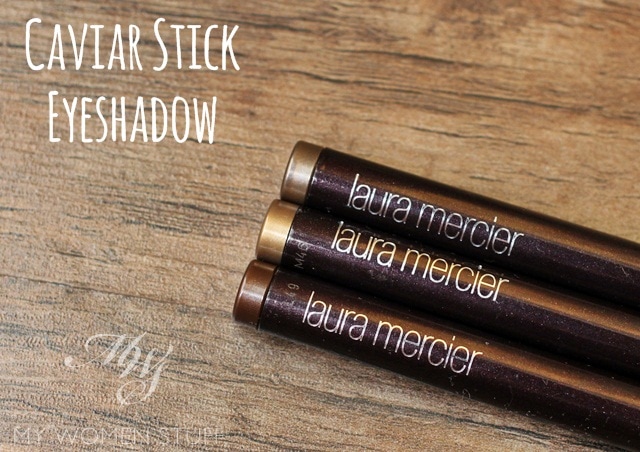 In fact, I'd like you to meet my favourite brand of stick/crayon cream eyeshadows now available in the market. There are different brands that have them, but these from Laura Mercier are simply the best in terms of colour, application, texture and longevity.
I'm not sure why it took me so long to get to grips with it, but having done so, it's what I use when I want a very quick and simple eye look whether for day or night, and I can be assured that it'd stick around for hours without budging or fading.
The Caviar Stick Eyeshadow come in twist up pencil form in a slim, very portable packaging. The ends of the pencil indicate the colour in the tube, which makes it easy for you to identify the colour you want at a glance. Otherwise, the body is the signature Laura Mercier brown which can be confusing.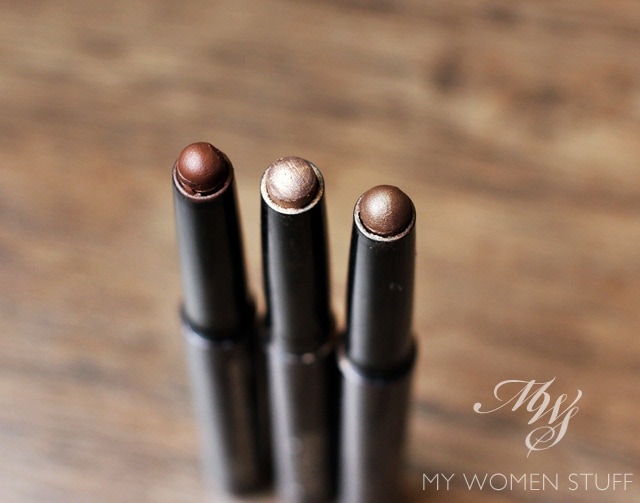 The crayon is easily twisted up and down and if I'm to be honest, doesn't look quite like much in the tube. I will warn you not to twist it up too far as it will then be liable to break off. So, just twist it up a few millimetres above the plastic rim, and that will be enough for you to swipe it on your eye.
The key is not to use too much, because these Caviar Stick Eyeshadow thingies are seriously pigmented! Here are swatches with just 1 swipe of the crayon down my arm.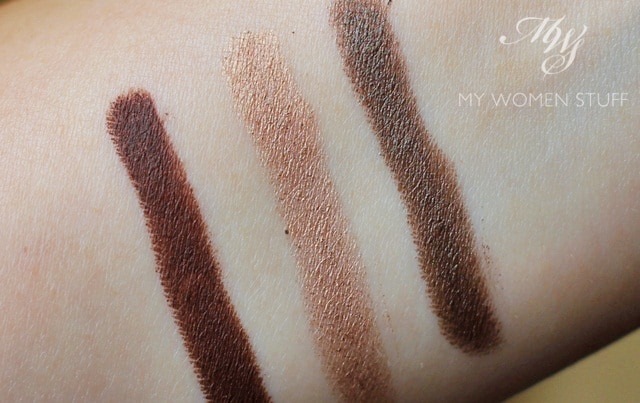 From left to right: Cocoa, Sand Glow, Khaki
Cocoa is a deep reddened brown that looks pretty much like cocoa. I don't usually gravitate towards colours like these, but it was gifted to me and I have found that it can work, if I cool it down with a touch of Sand Glow. It is very rich and intense, and if you layer it on, you can create a very interesting brown smokey eye look. There is no discernible shimmer in this one and it dries a little matte.
Sand Glow is shimmery golden beige neutral that works beautifully as an all over lid shade, brightening the eyes, or to draw on your lower lid, to make your eyes look bigger and brighter. I like using this one both ways and this has quickly become my to-go neutral eyeshadow. A slick of this on my lids, eyeliner and mascara and I'm done!
Khaki was a colour I picked out. It isn't a true khaki, if you ask me. The green tones are very subdued under the brown but I picked it because it is a very nice neutral shade. I wear this on my lid as a light smudge on light makeup days, and I've worn it heavy, as an evening eye. It works well both times.
The best thing about these crayons is the staying power. Man! You have to be quick to blend, because once it sets, that's it. It's not budging till you take a makeup remover to it. Bioderma gets it off, but not without a bit of rubbing, so I prefer using a bi-phase eye makeup remover.
To wear these, here's how I do it:-
When using a deep colour like Cocoa or Khaki, I draw a thick line close to my lashes, halfway up my lid.
Using my finger, I smudge the edges of the colour to blend out the harsh edges, and I'm done!
With the lighter Sand Glow, I colour in my lid and then use my finger to blend out the harsh edges
I end up with eye makeup that looks something like this:-
Note: Picture #1 should read Sand Glow – I'm not sure where Sunglow came from 😛
In all these looks, I tightline and line the lower lid part of the way with a black eyeliner pencil. For Sand Glow, I coloured in the lid and then blended out the edges with my fingers, and drew a line on my lower lie. It opens up the eyes and helps masks red rimmed eyes and makes you look more alert.
I didn't apply Cocoa or Khaki as intensely as I might for a more intense look. In both, I drew a thick line from the inner corner to the outer corner, close to my lashes and then part of the way up. Then, I blend the colour out to soften the colour, so what you see when I open my eyes is the lighter blended shade. If I wanted something more intense, I'd colour the whole lid, then blend out the further edges, so what you see when I open my eyes, is the full intensity of the crayon.
You can apply it how you like – your imagination is the limit 🙂
For an idea of what it might look when I zoom back out, here's a look of me wearing Khaki.
Khaki is a very work friendly colour, and my other favourite next to Sand Glow. I like using them both together for that POW! effect, because Khaki is a very pretty lid colour and Sand Glow, used to line the bottom lid perks up the complexion and makes you look awake almost instantly while defining the eyes.
You can also use these as a base for powder eyeshadow, or as a liner. If you have a liner brush, you can use it to pick off the colour to draw in a thin line. The texture is creamy smooth, the formula is simply amazingly longlasting and the ease of use is second to none. These days, when I travel or if I want a very quick, fuss-free eye look, I just whip out Khaki and Sand Glow and I'm ready in half the time it takes me to open an eyeshadow palette. Gets me loads of compliments too! 😉
In a nutshell

Laura Mercier's Caviar Stick Eyeshadow are cream eyeshadows in twist up crayon form. The texture is very creamy and very pigmented. One swipe gets you very intense colour that is very easy to blend out to lighten. The formula is also very long lasting. I have picture-perfect eye makeup from morning till evening with these. The only 2 problems I'd identify are the small selection of colours, and that you have to work quickly to blend before it sets. Once it sets, there's no budging it!

Pros: Creamy texture, Very pigmented colours, Easy to blend, Longlasting on skin once it sets, A little goes a long way

Cons: Small selection of colours, Have to blend it out quickly before it sets

Who will like this: Anyone who uses cream eyeshadow, Anyone who wants a very easy to use and fuss-free eyeshadow with fairly neutral colours
When I reviewed the Chanel Stylo Eyeshadow in Moon River a while back, I was asked how Moon River compares to the Laura Mercier Sand Glow. So, I did a side by side swatch comparison for your viewing pleasure 😀
Left-Right: Laura Mercier Cocoa Caviar Stick Eyeshadow, Laura Mercier Sand Glow Caviar Stick Eyeshadow, Chanel Stylo Eyeshadow in Moon River
You might be able to tell that where Sand Glow is pigmented but a light shade of golden beige, Moon River is a sheer metallic beige. What this means is that Sand Glow shows up much better on skin than Moon River. The shimmer in Sand Glow is elegant and pretty on eyes while Moon River tends to be very shimmery and shiny with a "wet" look.
Having used both, I would personally pick Sand Glow over Moon River for the reason that it's a more versatile colour that's easy to wear and shows up on skin without looking too shiny or shimmery. Moon River is pretty, but it was limited edition and for the price and texture, I'd get Sand Glow in a heartbeat.
Have you tried these Caviar Stick Eyeshadows? Do you have a favourite colour that you think I should own?
I am itching to get more, simply because I use these so often as they are so effortless. Laura Mercier came up with some lighter, more shimmery eye-brightening shades this year as opposed to the previous versions which are deep colours and work well as lid shades or as a quick smokey eye. This means, there's greater scope for blending now. So, I'm thinking of getting Amethyst, Plum, Jungle… Damn, I'll just have them all please? What's your fave? 😛
Paris B
Laura Mercier Caviar Stick Eyeshadow Price: RM89 Availability: Laura Mercier counters