Here's an interesting question I get sometimes, about when or whether to use cleansing oil or cleansing balm. I should say that I'm a proponent of using both, because I'm a proponent of double cleansing. It's the one facet of the Japanese skincare routine I started with, that I maintain and it seems to be a pretty popular practice or notion these days as well, to ensure your skin is properly clean.
However, what would you use as your first step of the double cleansing routine? Years ago, I'd have unhesitatingly said "Cleansing oil as a one step process to remove makeup and dirt from skin". But in the past 2 years, my answer would be "Cleansing balms because they feel more gentle on skin"
So naturally, I get people asking me which I prefer and why did I stop using cleansing oils when they're so much more convenient. I hope to explain myself here 🙂
Should I use Cleansing oil?
Do note the difference between a cleansing oil and the oil cleansing method. I know of many who are fans of the latter (a DIY cleansing method involving various oils and a hot flannel) but I'm not. I tried it once with olive oil and it was not only messy, it broke me out. Perhaps I did it wrongly, I don't know, but don't ask me to give it another go. I never will. Period.
Popular types of cleansing oils would be those that go on dry skin and emulsify when water is added. A popular brand would be Shu Uemura, the bestselling item in the brand, and one I know many people love. I've used many brands over the years and you can read the whole repository here. My favourite is the Kose Softymo cleansing oil which I used to stock up in Hong Kong. They're very affordable and they work very well.
So, should you use a cleansing oil? My answer would be, why not? It's convenient. The oil literally melts and lifts off makeup so it serves as a one-step makeup remover and cleanser in one. The trick to using a cleansing oil, to me, is this:-
Use enough product – do not skimp. Use enough to have a fairly thick layer on your skin. If this means you have to use more product, do. Or switch to a more affordable cleansing oil. The recommended use is at least 3 pumps. I bet most of you use less 😛
Massage and emulsify properly – be sure to massage the oil all over your face for a few minutes before properly emulsifying it with warm water. If you don't emulsify it properly, it will stick to the skin and can cause you to break out.
However, from my own experience, let me warn you that cleansing oils can be potentially drying to the skin if you use it daily as I used to. It's not something you notice immediately, but I realised it over time, and I realised that this maybe because cleansing oils claim to deep-cleanse your skin.
With regular use, the drying effects of cleansing oil resulted in my skin breaking out as well, and becoming dehydrated. So, I eventually stopped using cleansing oils altogether, as a daily cleanse. However, I do keep a small bottle in my travel bag because when you're travelling, it can come in very useful as a one-step first cleanse. I still don't use it very regularly, and when I do, I use a washcloth (after emulsifying, I remove using a wash cloth which gets my skin cleaner more quickly).
Based on feedback I get, cleansing oils appear to work well or perhaps, better for those who have oilier skin, who could benefit from regular deep cleansing. If you use heavier makeup, you may also benefit from using a cleansing oil because it 'melts' and lifts off makeup better than a makeup remover. But if you have drier skin, then you may find that a cleansing oil may cause you to break out, in which case, I'd venture a suggestion that it may be due to the drying effects of using a cleansing oil regularly.
Who will prefer using cleansing oils:-

Those who use heavy makeup regularly
Those who prefer a one-step makeup remover and cleanser in one
Those who have oilier skin
Should I use a cleansing balm instead?
My introduction to cleansing balms is a recent one but fortuitous. When I decided to drop cleansing oils from my routine, I needed an alternative to a first cleanse and cleansing balms appeared on my radar. I quickly set up my cleansing balm repository, which is a work in progress 😀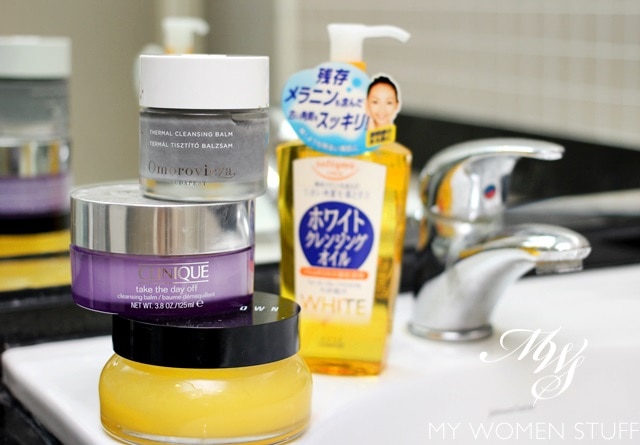 A cleansing balm is quite literally a cleanser in a more solid balm form, that you similarly apply all over your skin, massage in and then remove. Some cleansing balms will emulsify upon contact with water (e.g. The Body Shop Camomile butter, Clinique Take The Day Off cleansing balm) or claim to be removable with water (e.g. Bobbi Brown Extra Balm Rinse) but most don't, and that includes my personal fave, Antipodes Grapeseed Butter Cleanser.
If you are used to using a cleansing oil, the first thing you will notice is how much harder or more troublesome it is to remove the product and that puts many people off. The secret therefore is a warm wash cloth or face flannel. The trick to using a cleansing balm for me is this:-
Use enough product – like cleansing oils, you need enough product to massage into your skin for a proper cleanse. Do not skimp, or just get something more affordable.
Use a warm wash cloth to remove – Instead of trying to emulsify the product or remove with only water (and potentially risk not properly removing the product) use a warm wash cloth to remove the product from your skin.
From personal experience, I'd say that having drier skin now than I did before, I find that my skin accepts a cleansing balm more comfortably. It still cleanses my skin well, but it has a heavier and sometimes more oily texture, that comforts drier skin better. Also, thanks to cleansing balms, I've discovered the use of a wash cloth or face flannel in my skincare routine and I swear, it's quite literally changed my skin 180°!
The downside to using cleansing balms is the hassle (not everyone likes using a face cloth) and the inconvenience (I find it doesn't clean off makeup as well as cleansing oils do, and it's hard to remove eye makeup so I still use a makeup remover or cleansing water before hand). I know of oily skinned ladies who also enjoy using a cleansing balm so I might venture the suggestion that a cleansing balm is more suited to most skin types, and particularly those who have drier skin, provided you are willing to put up with the inconvenience.
Who will prefer using cleansing balms:-

Those who do not use heavy makeup regularly
Those who are prepared to use a wash cloth/face flannel in their skincare routine
Those who have drier skin
Cleansing Oil or Cleansing Balm: Which is better?
Neither and both will be my answer! 😀
Use whichever makes you and your skin feel most comfortable. There's no need to follow the crowd. If everyone in your peer group is using cleansing oils but you feel that it's breaking you out or you don't like the tightness and dehydration that you feel after that, switch to a cleansing balm and see how you like it.
Ditto cleansing balms. They are all the rage right now in so many blogs that you may feel that you're missing out by not using it (and you are! 😛 ) but if you don't like the hassle that comes with using a cleansing balm then don't.
I have met some people who look a little shamefaced when they tell me they use a cleansing oil instead of a balm and I tell them "Hey, that's fine! Use a product that you are comfortable with because that will ultimately keep you in your routine." and there's nothing to be ashamed of, because you're still taking care of your skin, just using different products. Ultimately, that's all that matters 🙂
Cleansing oil or cleansing balm – which are you using and which do you prefer?
I started out with cleansing oils and then moved on to cleansing balms. Having used both rather extensively, I can safely say they're both different yet similar. If you use a waterproof sunscreen often (I'd say daily but I know some of you cheat) then it's quite important to have a first cleanse with either an oil or a balm to lift it off, because some of those can really stick to the skin!
Paris B